bennnn - stock.adobe.com
Caringo ships cheaper, denser Swarm object storage servers
Caringo's dense new Swarm Server Appliances on Supermicro hardware offer a starting raw capacity of 168 TB in a single rack unit and lower prices over its prior Dell-based models.
Object storage specialist Caringo revamped its Swarm Server Appliances to enable customers to pack more data into a smaller footprint, updated its software, and introduced 24/7 support.
Caringo launched the appliance line in 2017 on Dell hardware, but the company is switching to denser, more compact Supermicro servers. Caringo claims the switch will cost customers 20% to 30% less than the original products.
"Dell didn't have a system that could come close to cramming all of these disks in a 1U," Caringo CEO Tony Barbagallo said. "We had a 1U for the management servers, but the storage servers were 2Us and the Single Server Appliance was actually either a 2U or a 4U. Supermicro's really got the density equation taken care of with these boxes."
Caringo's new 1U Single Server Appliance (SSA) uses 12 Seagate Exos 14 TB HDDs for storage and two Seagate Nytro 3.84 TB SSDs for management services. The capacity is 168 TB raw, or 114 TB usable after factoring in data-protection overhead. The estimated street price is $59,000, inclusive of three years of maintenance and support for the Swarm SSA.
Alternative to AWS
Enrico Signoretti, a research analyst at GigaOm, said Caringo Swarm often appeals to small and midsize companies because of its low starting capacity point. He said it could offer an interesting and compelling alternative to AWS S3, which charges fees for egress and other functions.
"When you buy object storage, you want something that is efficient in every aspect because dollar per gigabyte is everything -- not just when you buy it, but when you manage it," Signoretti said. "If you can double the capacity in the same data center footprint, that's a huge saving."
Scott Sinclair, a senior analyst at Enterprise Strategy Group, said the industry has seen an uptick in the demand for unstructured storage, both on and off premises. He said appliances can offer the advantage of simplicity and speed of deployment.
"IT admins can trust that the software and the hardware have been validated together, reducing the burden on the IT organization," Sinclair said.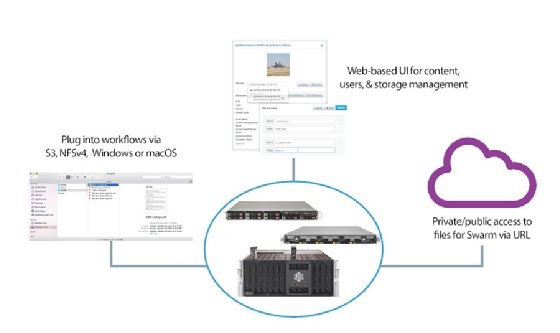 Scale out to PBs
Caringo's customers can scale out to petabytes by purchasing s3000 Storage Servers loaded with 12 HDDs, and an m1000 Management Server equipped with four Seagate Nytro 960 GB SSDs and a faster NVMe-based Micron 250 GB SSD. Caringo's Adrian Herrera, vice president of marketing, said most customers start with a 500 TB deployment that consists of three s3000s and one m1000.
Caringo also sells a 4U hd5000 High-Density Storage Server that has 16 HDDs and offers a raw capacity of 840 TB. The hd5000's usable capacity varies based on the data protection scheme the customer chooses.
When you buy object storage, you want something that is efficient in every aspect because dollar per gigabyte is everything.

Enrico SignorettiResearch analyst, GigaOm
Swarm supports replication and erasure coding. Caringo's SSA uses a 5:2 erasure coding scheme that enables the system to restore a file even if two of the seven data segments are lost or unavailable.
Caringo works with customers on erasure code recommendations for higher-capacity deployments.
Caringo's latest Swarm 11.1 update is an incremental release. Architectural improvements boosted performance by 20% for high-throughput workloads, Herrera said. Caringo also updated its Amazon S3 API support to ensure compatibility and upgraded to Elasticsearch 6 for search functionality.
Caringo added an around-the-clock platinum product support option with advanced monitoring and real-time alerting.