Caringo Swarm adds single server option, multi-cloud support
Caringo aims its Swarm Single Server object storage appliance at companies that want object storage but don't need petabytes of it in a multinode cluster.
Caringo enhanced performance and added cloud tiering upgrades to its Swarm object storage, and added a single-server appliance that allows organizations to start with smaller implementations.
The new Swarm Single Server option gives customers an entry point of 96 TB of raw capacity. It uses hardware from vendor 45 Drives, a division of Protocase. Like most object storage, Caringo Swarm software is designed to scale out to hundreds of petabytes across clusters of servers. The vendor has sold preconfigured M, S and E Series servers on Dell hardware since 2016, with a minimum configuration of four servers at a starting raw capacity of 288 TB.
The Caringo Swarm 10 release includes the SwarmNFS 2.1 file-to-object converter with improved streaming performance, and added policy-based data tiering to multiple public clouds in the FileFly data migration component.
Caringo CEO Tony Barbagallo said the idea for the Swarm Single Server came from feedback from small movie studios and post-production houses that found it too complex to set up an object storage cluster. He said Caringo had to optimize Swarm software to get it to work on a single appliance.
"In any typical object storage environment, you have to make that initial investment in three or four physical servers to get started," Barbagallo said. "We broke through that barrier. We had to make enhancements and optimizations in the base software to allow these things to happen."
Caringo containerized its Swarm storage software operating system to run on a 15-drive-bay single box. The appliance includes 10 HDDs for storage, two SSDs for the Elasticsearch indexing database and two SSDs to boot the virtual machines, leaving one spare bay if needed. The Swarm Single Server uses a 4:2 erasure coding configuration with four HDDs for data and two for parity, and spreads the bits across the 10 storage drives. Customers have the option to change the erasure coding or replication policies.
Scott Sinclair, a senior analyst at Enterprise Strategy Group, said the single server can shorten both deployment times and the sales cycle.
"Object storage traditionally has had long sales cycles because it tends to involve large deployments with multiple servers in clusters," Sinclair said. "But we're increasingly seeing organizations that want the scale and metadata capabilities of object storage in a smaller form factor that they can deploy very quickly. Time to provisioning is becoming incredibly important. Companies can't wait six months to stand things up anymore. Part of this mindset comes from the cloud, where they can go and provision infrastructure very quickly. And companies like Caringo that were predominantly on premises have to sit down and respond."
Marc Staimer, president of Dragon Slayer Consulting, said most organizations don't need the petabyte-range scale that object storage promises.
"The vast majority of people don't need huge amounts of storage," Staimer said. "If you look at the thousands and thousands of organizations out there, there's a reason a lot of them are going to the cloud. It's not because they need huge amounts of storage. It's because they want convenience."
Barbagallo said the Swarm Single Server might also appeal to larger production companies that store data on a project basis, or serve as a backup appliance for small enterprises outside of media and entertainment. He said the media asset manager software that many companies use now supports the Amazon S3 API for back-end storage, so users could swap out NAS boxes for Caringo object storage.
The Caringo Swarm Single Server lists at $49,995, with Swarm software components licensed separately.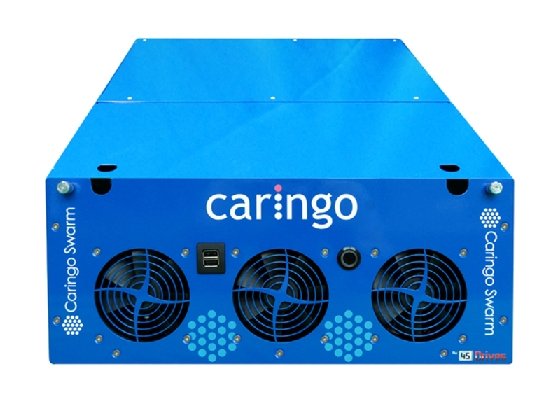 FileFly 3.0 features multi-cloud support
Caringo also upgraded its FileFly migration software. FileFly 3.0 is the first version of the product that can run independently of Swarm. FileFly does the file-to-object conversion and enables users to tier data from Windows and NetApp file servers to Amazon Web Services (AWS), Microsoft Azure and Google Cloud.
One drawback to the FileFly tiering is that users need to rehydrate the data in the original Windows or NetApp storage in order to use it, according to Staimer. He likened the Caringo approach to hierarchical storage management products.
Adrian Herrera, vice president of marketing at Caringo, said FileFly's data tiering to public cloud storage is intended for remote sites or disaster recovery. He said customers can also tier data to Swarm, where it is directly viewable and accessible.
Herrera said Caringo noticed that large organizations, especially in content-driven industries, want to bring their data back from public-cloud to on-premises deployments or build out their own storage services internally.
"There are additional costs for organizations that continue to access data, and that makes the cloud expensive," Herrera said. "We're also seeing a lot of security and copyright concerns. Especially in the media and entertainment space, organizations really need to keep that data in-house."
Caringo Swarm 10 performance
Caringo cited a U.K.-based research institution's proof of concept to explore the possibility of replacing a parallel file system. Barbagallo said the institution achieved 35 GB per second read throughput and 12.5 GB per second write throughput with the Swarm 10 object storage. He said the new SwarmNFS 2.1 software enabled file data to be ingested into Swarm object storage at a rate of 1.6 GB per second sustained, with no front-end caching.
"With all object stores, the read and write speeds are going to be dependent on the particular hardware that it's running on," Barbagallo said. He said the main challenge for the research institution was removing the network bottleneck through the use of a 100 Gigabit Layer 3 Ethernet network and 40 Gigabit Ethernet switches to each of the racks.
The new Caringo Swarm 10 software adds support for multiple VLANs and subnets. Swarm 10 also supports the latest Elasticsearch 5 technology, enabling analysis tools such as Grafana and Kibana to run directly from the metadata indexed into the open source search engine.
On the management front, Caringo combined the content and storage hardware administration user interfaces (UIs) and added new capabilities in Swarm 10. For instance, users can now edit object metadata from the UI in addition to making changes programmatically, as they could in the past, Barbagallo said. He said users do not need to copy an object into a new object to edit or add metadata, as they do with many other object stores.