2jenn - Fotolia
Kaminario storage dons Silk, vows smooth cloud migrations
Here is the story behind why Kaminario changed its name to Silk and launched the Silk Cloud Data Platform that builds on Kaminario storage stack and runs in Google cloud.
Kaminario, an early all-flash SAN startup, has shifted its core emphasis to support legacy applications in hybrid clouds. The vendor also changed its name to Silk as a metaphor for weaving together cloud and on-premises environments.
"The Kaminario name entailed [visions of] monolithic storage hardware. We wanted to break that association. That is not where our future is," Silk CTO Derek Swanson said.
Silk claims to offer scalable block storage in the hybrid cloud at a lower price than the major public cloud providers. The Silk Cloud Data Platform is a revamped Kaminario storage stack that scales compute and storage resources independently. The stack includes VisionOS, Flex and Clarity software components.
VisionOS is built on top of open source CentOS. The update adds a virtualized data plane. Silk Flex infrastructure as code automates VisionOS instances on premises or in the cloud. Silk Clarity analytics includes a database for managing container clusters. The Silk Cloud suite runs in Google Cloud Platform (GCP).
"We created a virtual shelf of disk using cloud infrastructure, ephemeral [containers] and small virtual machines. Through code, we present that capacity as a virtual shelf to the controller, and it functions the same way as it would on premises," Swanson said.
Swanson said most customers license Silk as composable infrastructure to rapidly expand or reduce resources on demand. Customers can buy Kaminario K2 arrays as storage pods in the public cloud or locally as prescribed local building blocks from Silk integration partner Tech Data.
"Our focus is to provide more services higher up the stack to give a cloudlike experience, with ease of deployment, ease of scalability and ease of orchestration of the different elements," Swanson said.
A Silky-smooth transition?
Kaminario hovered just outside the top five in all-flash array revenue for several years, but growing interest from hyperscale cloud providers enabled it to refocus its sales effort, said Eric Burgener, a research vice president of storage at IDC.
"They had cloud customers saying, 'We don't want your hardware. We want your software and we want to run it on our server hardware.' That's when Kaminario made the pivot out of the hardware business and turned to a software-only model," Burgener said.
One of those customers is TPG Software, which provides accounting software to banks and investment houses. TPG uses a SaaS model to deliver its services in GCP. TPG used Kaminario to consolidate workloads and adapt to unpredictable demand spikes. TPG founder Slavek Rotkiewicz said the move helped cut operating expenses by 30%. He said his costs are considerably less than using a public cloud such as AWS, Microsoft Azure or Google.
"Kaminario did a great job engineering [a product] that has the ability to scale up or scale down on demand in the cloud. If we were to turn this on in Azure, the meter would be running, and we'd get a big bill at the end of the month. We always had to make sure we had the right hardware infrastructure and the right operating system. What Kaminario gives us is a great alternative to all that," Rotkiewicz said.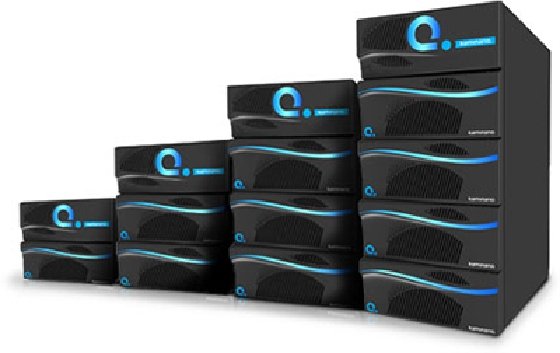 Kaminario launched K2 arrays in 2010, at a time when demand for all-flash storage started to supplant disk. For the rebranding to succeed, Kaminario has to surmount the obstacles that doomed some of its fellow flash startups.
Violin Memory was an all-flash pioneer, but has scaled back operations and on its third CEO in five years. Like Kaminario, hybrid vendor Reduxio dropped out of the flash array business in favor of storage software and data management of Kubernetes-based containers, although it doesn't yet have product generally available.
Another vendor, Tegile Systems, was part of a Western Digital Corp. (WDC) all-flash buying spree several years ago, although WDC has gradually divested many of those flash assets. Kaminario offers its consumption-based storage virtualization services on Western Digital Corp.'s NVMe-based OpenFlex hardware enclosure, although customer traction for that product is unclear.
Other early flash startups, including XtremIO, Texas Memory Systems and SolidFire, were acquired by large storage vendors. Pure Storage had the greatest success of the all-flash startups, surviving today as a public company and one of the leading storage array vendors.
Hardware arrays are being challenged by license-based consumption of storage infrastructure. In part due to the global pandemic, worldwide sales of external networked storage systems plummeted 5% last quarter, according to IDC. All-flash arrays generated $2.5 billion, up nearly 8%. Hybrid arrays also produced $2.5 billion, but that marked a decline of nearly 9%.
Although the cloud is its future, Silk CTO Swanson said Kaminario storage still manages to compete for data center deals with larger vendors, including Dell EMC, Hewlett Packard Enterprise and NetApp. "Mostly, we get requests to replace legacy equipment with a smaller footprint that can easily lift and shift data into the cloud."