Scanrail - Fotolia
Kaminario K2.N gives composable infrastructure an NVMe twist
Kaminario's K2.N all-flash infrastructure creates multiple virtual arrays from clustered resources. Compute nodes and NVMe shelves connect via RDMA over Converged Ethernet.
Kaminario is preparing the next version of its K2 all-flash array, a rack-scale system with compute controllers and nonvolatile memory express flash drives that can be used to build what it calls a "composable infrastructure."
Kaminario's flagship K2 all-flash array features a dual controller and four 24-drive SSD shelves.
The K2.N consists of storage controller nodes and NVMe flash shelves connected via a Remote Direct Memory Access over Converged Ethernet back-end fabric. Hosts talk to the K2.N cluster using a standard Fibre Channel or iSCSI protocol as an NVMe-over-Fabrics connection.
The all-flash vendor also introduced Kaminario Flex software to virtualize shared capacity on the K2.N array. Kaminario Flex reallocates storage controllers between K2.N arrays in real time across a data center. The Flex code derives its intelligence from Kaminario's Clarity predictive analytics.
Creating virtual private arrays with K2.N and Kaminario Flex
Kaminario defines composable infrastructure as the ability to create dedicated storage, or clusters of virtual arrays, on demand by pulling resources from a shared mesh. Others call this rack-scale architecture or software-defined infrastructure.
Kaminario creates a virtual private array by combining a set of 1U compute servers, or c.nodes, with 3U media nodes, or m.nodes, equipped with an NVMe all-flash shelf. The K2.N nodes treat all capacity in the mesh as though it were local. Flex lets users virtually reconfigure how compute and storage are allocated and composed.
"This is what allows us to create composable infrastructure. We compose capacity and compute resources to form virtual private arrays that behave as shared storage systems, but enjoy the benefits of the centralized resource pool. You don't have to manage spares and overprovision each array. You can actually handle management and provisioning at a data center level," said Eyal David, CTO at Kaminario, based in Needham, Mass.
Eric Burgener, a research vice president for storage at IDC, said Kaminario Flex-powered K2.N flash should find adherents among data centers that need to move data between racks without latency.
"What Kaminario has done is create a software layer that allows you to effectively create composable infrastructure for storage," Burgener said. "Let's say you have three racks of Kaminario storage in your data center. You can virtually define a dedicated array that is specifically set up to meet the requirements of one application or multiple applications. You can pull resources from different racks. It's like creating a virtual machine, but for storage."
"If you've got NVMe devices in your array, the K2.N is something you could consider. You could still use Fibre Channel or iSCSI if you want. But if you use Kaminario Flex, you're going to want to use [it as] NVMe over Fabrics," Burgener added.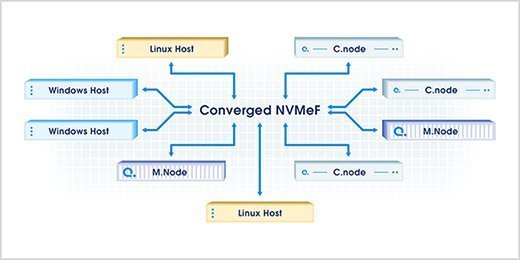 All-flash NVMe arrays evolving in line with customers' expectations
Kaminario K2.N arrays join a list of products based on NVMe-based solid-state drives. Among all-flash array vendors, Pure Storage sells its FlashArray//X with integrated NVMe modules installed directly on blades, and Tegile Systems this month unveiled its IntelliFlash N-5000 Series with an internal PCIe fabric.
Legacy vendor Dell EMC previously sold an NVMe all-flash array -- the DSSD, designed with a custom NVMe mesh -- but that product was discontinued in March.
As is the case with competing NVMe all-flash arrays, Kaminario K2.N swaps NAND-based SSDs for PCIe-attached NVMe flash cards. Kaminario is banking its Flex orchestration will prove enough of a differentiator to gain a foothold in the market.
IDC defines rack-scale flash as those with PCIe-connected NVMe SSDs, a native NVMe backplane and communication fabric, along with drivers for host connectivity. Few end-to-end NVMe storage systems are on the market, and most are limited deployment of products by E8 Storage, Excelero and other startups.
A single K2.N c.node is rated by Kaminario to handle 400,000 IOPS, with deliverable throughput up to 5 Gbps. Each m.node scales effective capacity to 600 TB, with 8 TB NVMe SSDs.
Kaminario K2.N arrays are built on AIC's dual-port HA202-PH active-active NVMe system, Broadcom NetXtreme Ethernet network interface cards, Brocade and Mellanox switches, and Supermicro X11 SuperServer hardware. Kaminario's VisionOS operating system provides data management, data reduction, snapshots, RAID and replication across a cluster. David said K2.N is targeted mainly at web-scale enterprises running mixed workloads with variable response times, including data analytics and transaction processing.