Alexandr Mitiuc - Fotolia
Kaminario K2 array boosts performance, capacity
New Kaminario all-flash array features higher performance and capacity, improves data reduction guarantee to 4:1 and offers faster storage networking options.
The new version of the Kaminario K2 all-flash array will hold twice as many drive shelves as its predecessor, with higher capacity SSDs and a promise of greater data reduction.
Kaminario will upgrade its data reduction guarantee to 4:1 with the first-quarter release of its sixth-generation K2 all-flash array. The vendor also pledges the Kaminario K2 Gen 6 system will roughly double performance over the Gen 5 model, thanks to new Intel Broadwell CPUs.
Kaminario said throughput would increase from 3.2 gigabytes per second (GBps) to 6.2 GBps for a dual-controller K-Block, tested with a benchmarked 4K 100% read workload. IOPS would spike nearly 50%, from 250,000 to 370,000, under a tested 32K 100% read workload, according to Kaminario.
The Kaminario K2 Gen 6 K-Block will support up to four 24-drive shelves compared to a two-shelf limit with the K2 Gen 5 model. The new Gen 6 model also supports 3.84 TB triple-level cell 3D NAND SATA SSDs from Samsung versus the 1.92 TB per-drive limit with the K2 Gen 5 drive shelf.
The Kaminario K2 system scales up through the addition of shelves and scales out by adding modular K-Blocks, each of which consists of an active-active controller set. Kaminario's VisionOS software upgrade permits customers to add new Gen 6 modules nondisruptively to existing Gen 5 models.
This is classic software-defined storage, in that the hardware underneath is commodity gear.

Tim Stammerssenior analyst, 451 Research LLC
Kaminario said the new system scales to 960 TB for a 42U four K-Block configuration, with eight fully active interconnected K-nodes and each K-Block equipped with four shelves of 3.84 TB SSDs. The system would deliver 1.5 million IOPS and 25 GBps throughput, according to Kaminario.
"Where they stand out from the other primary all-flash arrays is they tend to have higher bandwidth," said Eric Burgener, a storage research director at IDC, Framingham, Mass.
Kaminario did not provide pricing for the new K2 Gen 6 array. Shai Maskit, director of technical marketing at Kaminario, said pricing is below $1 per GB.
Tim Stammers, a senior storage analyst at New York-based 451 Research LLC, called the K2 Gen 6 release an "evolutionary step."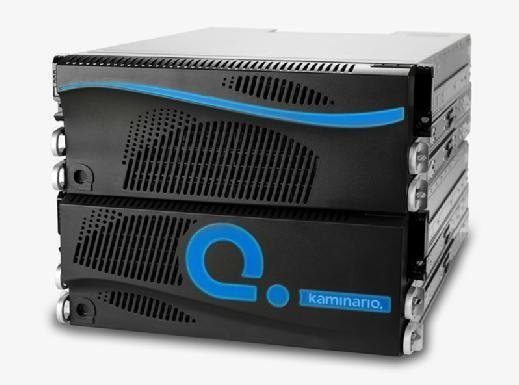 "The stand-out improvements are the boost to capacity and performance, and the doubling of the maximum numbers of drive shelves per node," Stammers wrote in an email.
"The OS is the heart of Kaminario's technology," Stammers said. "This is classic software-defined storage, in that the hardware underneath is commodity gear."
Data compression improvements
Improvements to Kaminario K2's data compression technology will increase the effective capacity of a K-Block. Kaminario estimated the effective capacity of a single four-shelf Gen 6 K-Block, filled with 3.84 TB drives, would be 1 PB after data reduction. A four K-Block configuration would have a maximum effective capacity of approximately 4 PB, according to Kaminario.
Kaminario's Maskit said data reduction consists of compression, deduplication, zero detection and pattern removal. He said the Gen 6 improvements include a stronger compression algorithm that uses a dedicated PCI Express (PCIe) card, freeing up CPU power for deduplication and I/O background processing.
Kaminario will guarantee a data reduction ratio of 4:1 through enhancements to its ForeSight Storage Assurance program, the new name for the previous K-Assured program. The prior data-reduction guarantee was 3.3-to-1 under K-Assured. The vendor supplies free hardware to customers who fail to achieve the 4:1 reduction ratio on data that has not already been compressed by another system or application.
Maskit said the ForeSight Storage Assurance program also includes guarantees for performance (based on workloads and block sizes), availability, SSD longevity and maintenance costs.
Higher speed networking options
The Gen 6 model uses 16 gigabit per second (Gbps) Fibre Channel (FC) adapters that can later be upgraded to 32 Gbps by replacing the transceivers. Maskit said many customers still run 8 Gbps FC, and few currently run 16 Gbps.
K2 Gen 6 also supports 25 gigabit Ethernet (GbE). Maskit said Kaminario went with the 25/50/100 Ethernet roadmap because it envisions higher industry adoption for that set of standards versus the 10-GbE-to-40-GbE progression.
Maskit estimated that 70% of Kaminario's customers use FC and 30% use Ethernet-based networking. But he said new customers tend to favor Ethernet, and he expects the mix to change over the next few years.
NVMe support
Other future-proofing technologies with the K2 Gen 6 model include front-loading, hot-swappable PCIe and nonvolatile memory express (NVMe) slots. Kaminario said the K2 system will be able to accommodate storage-class memory devices, such as Intel's upcoming 3D XPoint, and nonvolatile dual in-line memory modules (NVDIMMs), which can sustain a power failure without data loss.
Maskit said Kaminario collaborated with its server manufacturer, Super Micro, to ensure the K2 system would be "future-ready." He said Kaminario has already tested the system with devices such as NVMe SSDs and NVDIMMs.
"You don't really need NVMe performance for most mainstream workloads yet," IDC's Burgener said. "But we think within four years -- in the 2020 to 2021 timeframe -- that's going to take over from SAS and Fibre Channel and some of the other interfaces that are using on shared storage arrays today."
Maskit said the most common workloads running on Kaminario K2 flash arrays include Oracle and Microsoft SQL Server database systems; virtualized environments, such as VMware ESXi and Microsoft HyperV; NoSQL databases, such as MongoDB; and OpenStack.