sommai - Fotolia
Dell layoffs mark the latest distress signal from tech companies
Dell layoffs started this week and may extend to next year. It is the latest among IT infrastructure vendors to tighten budgets amid COVID-19.
Dell Technologies is the latest IT giant to slash headcount.
The scope of the layoffs at Dell EMC is not immediately known, nor which Dell business units were affected. Dell said in a statement it is evaluating its business to ensure it has the "right number of team members in the right roles." The company did not specify how many people were let go or whether additional layoffs are expected.
Dell, based in Round Rock, Texas, is the revenue leader in servers and storage products. Posts by users on message board TheLayoff.com indicate the Dell layoffs affected human resources staff and employees at the Dell EMC storage division. Those claims could not be independently verified.
Dell acquired storage vendor EMC in 2015 for $67 billion, which remains the largest-ever IT deal. Most of Dell's $34.1 billion in reported core debt is tied to the EMC acquisition.
Like most of its competitors, the server and storage hardware is coping with declining revenue related to the pandemic. Dell Technologies' overall revenue tumbled 3% last quarter, reflecting that many customers are struggling to pay for Dell server and Dell EMC storage gear.
"Every server, networking and storage vendor is setting expectations for an ugly second half. Most analysts are predicting a downward trend of about 10% across enterprise infrastructure. These are the high-margin businesses," said Steve McDowell, a senior analyst for storage with Moor Insights & Research.
Dell instituted several initiatives this year to preserve liquidity and trim costs. Matching contributions were discontinued to U.S. employees' retirement accounts. It also froze raises and suspended external hiring at least through 2021.
Dell started 2020 with about 165,000 full-time employees, including 31,000 at its VMware subsidiary. The VMware figure includes a limited number of job cuts enacted in January.
Most Dell employees started working remotely due to COVID-19, a setup company executives -- including CEO Michael Dell, who said he would forgo his $950,000 salary this year -- expect to be the operational norm going forward.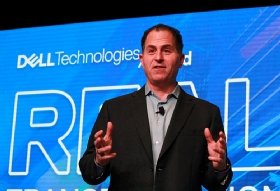 McDowell noted Dell's strong first half was fueled by increased spending on client computing for remote workers, although that business has started to level off.
"Whatever's happening doesn't seem to be stalling product development," McDowell said, pointing to expected product launches scheduled for VMworld and Dell Technologies World conferences later this month.
The Dell layoffs are the latest distress signal for technology companies. Other storage vendors are feeling the pinch of an economic slowdown. NetApp, a chief rival of Dell EMC storage, last month announced layoffs would affect 6% of its workforce, mostly affecting engineers of all-flash SolidFire division. Pure Storage in March winnowed out 100 jobs, or about 3% of its overall workforce.
Software-as-a-service platform vendor Salesforce cut about 1,000 jobs recently, something its CEO, Marc Benioff, had pledged publicly to avoid for a 90-day period at the start of the pandemic. Other IT vendors are walking a tightrope to avoid staff cuts. Cisco recently started to offer its products as a service to counter market contraction for traditional network hardware.
Dig Deeper on Storage architecture and strategy