cherezoff - Fotolia
Moonwalk software streams data to cloud archives
The free Starter Edition of Moonwalk's archiving software migrates up to 25 TB of data to repository or clouds as files or objects, as well as supporting AWS, Microsoft Azure and Google clouds.
Moonwalk Universal unveiled a Starter Edition for its file migration software, which the Australian-based vendor plans to use to help it break out from its OEM-centric sales model.
Moonwalk, which has an office in Palo Alto, Calif. and headquarters in Australia, has been selling software in North America since 2006. But it is less-known than most of its rivals because approximately 80% of Moonwalk software sales are through system integrators and OEM partners who rebrand the software.
Moonwalk 12, released today, includes a free Starter Edition, which has the same features and platform support as its Enterprise Edition but only archives up to 25 TB of data. Starter Edition customers can purchase support.
Public cloud connection plays major role in archiving
Moonwalk software automatically moves inactive data off primary storage to cheaper storage or public clouds. User policies determine how long files must be inactive before the Moonwalk software moves them. Moonwalk retains the files' namespaces and metadata when moving them. Moonwalk supports the Amazon Simple Storage Service (S3) API and writes data as files or objects depending on the target.
Early versions of Moonwalk software moved data to cheaper disk inside a storage array or to a dedicated archiving system. Now, the cloud plays a major role in archiving, and Moonwalk software includes storage connectors to Amazon Web Services, Microsoft Azure and Google Cloud Platform. Moonwalk also supports Windows Server 2016, NetApp, Hitachi Cloud Platform, Dell EMC Elastic Cloud Storage, IBM Bluemix and Spectrum Scale, Scality Ring and Caringo Swarm on-premises and cloud storage.
Administrators set policies and manage Moonwalk's REST API through the application's AdminCenter. When admins want to recall a file, Moonwalk software streams it back from the secondary target to the original primary storage. Moonwalk encrypts and decrypts data on the fly.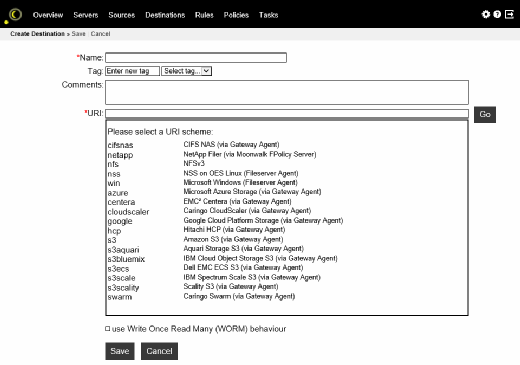 Randy Kerns, senior strategist at the Evaluator Group analyst firm, said Moonwalk's unique trait is that it does not require customers to install and separate databases or build indexes.
"If you're running [Veritas] Enterprise Vault or other archiving products, there is a database required," Kerns said. "You have to install free databases or tag onto a larger database and manage that database. Moonwalk does not require that. That's why it's simpler and easier for OEMs to install and manage."
Kerns said the Starter Edition can help establish Moonwalk's brand outside of its OEM partners. "Now, they'll get visibility," he said.
Along with market leader Veritas Enterprise Vault, Moonwalk's archiving competitors include Commvault, Komprise, Rocket Software's Arkivio, ASG-Digital Archive and Quantum StorNext.
Cloud dictates new sales, pricing models
Moonwalk Starter Edition is available as a download from the vendor's website.
"We're hoping to see a more direct sales approach and adoption of small enterprises who could benefit from features that the cloud offers without having to commit to a product that will cost a lot to get started," said Michael Harvey, Moonwalk vice president of business development.
Moonwalk added its S3 API in 2008, but Harvey said the cloud plays a much more significant role in archiving now. He said the public cloud has done more than just give customers an off-site archive repository. It has changed the way customers pay for and use software. Moonwalk follows the Amazon pricing structure with a pay-as-you-go, per-GB model. That alleviates the need for a sales person -- or even an OEM partner -- to close deals.
"Amazon's set the price point, so I don't think we'd get away with charging anything more than a penny or two per gig," Harvey said. "When you get to that price point and that end of the market, you can't afford to have a human being anywhere in the process. You have to have Amazon-type billing. That's what we didn't have 10 years ago."
Kerns said archiving software is replacing the need for appliance gateways in many cases for archiving data to public clouds.
"The cloud has made this market more interesting and more exciting," Kerns said. "Most object storage vendors have integrated NAS or will be doing it soon to eliminate the need for gateways, and that will make it more important."