Torbz - Fotolia
3 ways to ease the green data storage transition
Energy-efficient storage promises several benefits. Finding the right approach requires carefully assessing available technology, where you keep your data and costs.
As more organizations contemplate transitioning to an energy-efficient data center, green data storage is gaining attention. With several storage technology choices available, the main challenge green storage adopters face is finding and following their best approach to energy savings.
Here are three important factors to keep in mind when making the transition to green data storage.
1. Use the right technology to lower power, cooling needs
The number of storage technologies suitable for use in a green data center is growing rapidly. Persistent memory, NVMe, SSDs and HDDs can all have a place in a modern, energy-efficient storage architecture, but it will depend on your organization's capacity, performance, endurance, scale, power, form factor and security requirements, said Vik Malyala, senior vice president at IT technology firm Super Micro Computer Inc.
However, it's important to carefully match the technology to your organization's requirements. "Using the right technology for the proper workload will result in lower power and cooling costs," Malyala said.
Using flash storage and SSD arrays instead of spinning-disk technologies can help data center managers minimize their carbon footprint. Flash and SSDs generate less heat and consume less power. "Organizations should consider deploying SSD and flash arrays as the first choice for high-performance and high-end applications, as well as flash storage," said Alicia Johnson, a principal in the technology transformation practice at business advisory firm EY.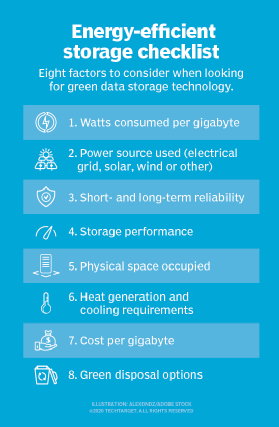 Flash storage and SSD arrays use less power and are constructed with nonhazardous materials compared to spinning disks, Johnson said. "Removing the mechanical component of spinning disk eliminates the rotational speed as a performance factor, heat generation and overall power consumption, which can provide measurable [cost] savings as well," she said.
Although they consume significantly more energy than their green data storage counterparts, high-capacity magnetic disks currently hold a considerable capacity advantage over flash and SSD storage. However, that situation is expected to change soon. "This capacity gap will be crossed within the next two years," Johnson said, "and flash and SSD will surpass the high capacity and low performance of magnetic storage."
The biggest remaining challenge to flash and SSD storage -- other than price -- is the cumulative wear and tear on flash cells and the technology's short life expectancy compared to magnetic storage, she added.
2. Offload data to the cloud
Sending data storage to the cloud is another way that enterprises can embrace green data storage. By turning to the cloud, an enterprise can effectively transfer storage-related energy consumption to its public cloud provider.
Virtually all major cloud services have committed to adopt green operations. Last September, for instance, Google promised that its Google Cloud service will run entirely on solar and wind energy by 2030. "Cloud computing -- although, not yet at 100% efficiency -- is the path to power consumption reduction," said Pieter VanIperen, founder and managing partner at IT advisory company PWV Consultants.
Cloud storage adopters can also take advantage of the savings inherent in the benefits of scale. Because public clouds are widely shared, the CPU utilization level is typically higher. "When one company doesn't have a large load, another company can use that compute without increasing the power consumption," VanIperen said. "This will play a huge part in any business's ability to go green."
Using the right technology for the proper workload will result in lower power and cooling costs.

Vik MalyalaSenior vice president, Supermicro
Additionally, since the cloud relies on automation and infrastructure-as-code approaches, cloud data centers are increasingly removing human involvement and experimenting with alternate cooling technologies. One example of this approach is Microsoft's Project Natick undersea data center experiment, he said.
3. Carefully estimate costs
Typically, there are upfront costs when a business goes green. Cloud storage has monthly and annual charges based on the services selected. Once a business has migrated to the cloud, it can expect costs for data storage and business functions will decrease, VanIperen said.
When estimating green storage costs based on technologies outside of the cloud, the focus should be on power consumption per gigabyte. High-density multi-level cell storage arrays, for instance, offer an attractive ROI for addressing the green data center, Johnson said. On the other hand, "high-capacity [magnetic] disk drives provide the best available watts-per-GB, enabling the organization to improve its carbon footprint without sacrificing performance or user experience," she added.
Before going with green data storage, IT leaders should also understand the performance and capacity requirements that will be needed to achieve maximum application performance. "Workload signatures play a large role in determining the right mix of storage technologies to use," Malyala said.
Although the cost for differing capacities and performance will be readily apparent, workloads and the ability of devices to move to a low-power state will also directly affect storage cost. "The longevity of the equipment, certification that allows repurposing in a different tier, disaggregation options and Capex-Opex analysis to replace aging equipment are among the factors that should be taken into consideration," Malyala said.