buchachon - Fotolia
6 features your multi-cloud management tools should have
When evaluating cloud management platforms, IT decision-makers should make sure they have these key functions and that they meet their organization's specific requirements.
More than ever, IT teams are using multiple cloud platforms to meet storage needs. However, managing multi-cloud environments can be daunting, especially as applications grow more complex and users become more distributed. Administrators need multi-cloud management tools to guarantee that resources are secure and meet applicable compliance standards. And they also need them to help maximize each cloud platform's capabilities, while minimizing costs.
To address these issues, some teams are turning to a cloud management platform (CMP) to bring the disparate environments under control. A CMP is a suite of integrated software tools that an enterprise can use to monitor and control public, private, hybrid and multi-cloud environments.
Although CMPs can vary widely, they should provide the functionality necessary to manage storage and other resources across a multi-cloud environment. The Cloud Working Group of the Object Management Group -- formerly known as the Cloud Standards Customer Council (CSCC) -- has outlined six functions that comprehensive CMPs should support: systems integration, general services, service management, resource management, governance and security, and financial management.
This article provides an overview of each of these functions, based on the CSCC definitions, and looks at how various CMP products are meeting these standards to be effective multi-cloud management tools.

1. Systems integration
To support multi-cloud management, a CMP must be able to integrate with internal and external systems. For instance, the CMP should support published APIs from public cloud platforms, such as AWS, as well as private platforms, such as OpenStack. It should be able to integrate with third-party systems, such as directory services and source control management applications.
Although CMPs can vary widely, they should provide the functionality necessary to manage storage and other resources across a multi-cloud environment.
Among the multi-cloud management tools available, Cisco CloudCenter supports the Amazon S3 web interface for storing and retrieving data. A CloudCenter connection to an external repository requires only a host name and endpoint URL. CloudCenter provides preconfigured integration capabilities for more than 20 data center and cloud environments, as well as for tools such as Docker, Chef and Puppet. Cisco also provides an API to enable other platforms to integrate with CloudCenter.
Another CMP, Morpheus, offers tools for extending the platform and integrating with other systems. Administrators can integrate source code management and build automation with tools such as GitHub, Gradle and Jenkins. Like CloudCenter, Morpheus can integrate with Chef, Puppet and other systems.
2. General services
General services cover the management foundation necessary to enable integration. The CMP should include a centralized portal for accessing CMP components, viewing system information and carrying out administrative tasks. It should provide service catalog features that give users easy access to the organization's cloud services. General services also include analytical and reporting capabilities that offer insights into service consumption and optimization.

Most major CMP players provide a range of general services. RightScale, for instance, offers a single console for managing workloads across any cloud or server. Scalr provides a service catalog feature that enables self-service provisioning with just a few clicks. A Scalr catalog can include single servers or entire application stacks that incorporate cloud services, automation rules and autoscaling.
Reporting and analytics are also important functions for multi-cloud management tools to have. The Turbonomic CMP continuously analyzes real-time workload demands and matches them to storage and other available resources, whether located in a private, public or hybrid cloud or an on-premises virtualized environment.
3. Service management
The service management component of a CMP refers to service-level management, service monitoring and capacity monitoring, with the goal of simplifying service requests and achieving business service levels. To this end, the CMP should be able to monitor and report on all managed cloud services, while tracking capacity information about storage and other resources.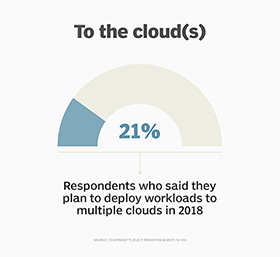 Morpheus automatically configures a newly provisioned system for uptime monitoring, with support for proactive, customizable alerts. Compare this with Turbonomic, which offers real-time monitoring across a variety of systems, including storage products from providers such as Dell EMC, NetApp and Nutanix. Turbonomic also lets administrators define quality-of-service levels, such as transaction throughputs.
4. Resource management
Resource management includes the features needed to manage and deliver cloud resources. For example, a CMP should support resource discovery, resource tagging, asset and license management, and cloud-to-cloud migration. Effective multi-cloud management tools should provide orchestration capabilities that automate management processes, as well as facilitate provisioning and deprovisioning of cloud resources.
All the major CMP players offer extensive resource management capabilities. RightScale, for instance, provides cloud discovery features that include the ability to find running workloads. RightScale also supports universal tagging across platforms, such as being able to tag storage accounts in Azure Resource Manager.
Turbonomic offers automatic, real-time workload placement, provisioning and scaling. With Scalr, administrators can create customized, self-service provisioning portals that target specific types of users. And Morpheus supports bare-metal, virtual machine and container orchestration across multiple public and private clouds, as well as workflow approval automation and threshold-based scaling.
CloudCenter also provides an orchestrator tool that decouples applications from the underlying infrastructure, while hiding the complexity of the cloud resources. CloudCenter also supports image and application profile management, which includes the application's networking and storage properties.
5. Governance and security
The goal of governance and security is to ensure that the cloud resources and services are managed in accordance with an organization's policies. To this end, the CMP must provide a policy engine to support policy-based management of the cloud services. It also should include the logic necessary to track and manage compliance. Finally, the CMP should provide identity and access management, along with encryption capabilities.
Most CMPs take governance and security seriously, as they should, given the importance of protecting data in the cloud. CloudCenter encrypts data at rest and in motion, provides identity management and authentication, and supports single sign-on based on Security Assertion Markup Language 2.0.
Other products are equally diligent. For instance, Scalr uses a policy engine and role-based access to support policy management, taking a hierarchical, top-down approach that reduces operational overhead. And Turbonomic can import existing policies, such as high availability, affinity or anti-affinity, in addition to supporting the creation of new policies. For example, administrators can create workload placement policies for specific data stores.
6. Financial management
The financial management category refers to tracking cloud resource consumption and spending. Capabilities include metering resource and service usage, allocating costs to specific groups, offering chargeback reports to internal stakeholders, providing invoicing services and forecasting costs.
Morpheus' financial management capabilities provide insights into public cloud costs and include inline comparison tools. In addition, its monitoring and analytical capabilities can help IT decision-makers better forecast and optimize spending. Scalr also can track spending, generate financial reports and create custom alerts to help avoid exceeding budgets.
The future of cloud management
The multi-cloud management tools and features covered here are a sample of the ways in which vendors are delivering CMP services, based on the functions outlined by the CSCC. The CMP market is young, and the functions outlined will evolve as the industry matures and the use of cloud for storage grows.
Until then, IT decision-makers evaluating CMPs should consider the six functions identified by the CSCC, taking into account their own organization's specific requirements. They should also keep in mind the rapidly changing nature of the multi-cloud universe and how that might impact their operations going forward.