Evaluate these 15 multi-cloud management platforms
Dig into the benefits -- and drawbacks -- of the top tools and services to help enterprises manage their hybrid and multi-cloud environments.
Work in IT long enough and it seems like the same things occur repeatedly, with new names to keep them fresh. One of these is the cycle of consolidation and decentralization. Mainframes once ruled the data center, but we've progressed through an era of decentralization that takes many forms: edge computing, working from home, cloud architectures -- and, most recently, hybrid cloud and multi-cloud infrastructure.
The appeal to move some workloads to inherently redundant and reliable cloud services was to combine the tight controls and sunk cost of on-premises infrastructure with the cloud's scale, flexibility and efficiency. However, IT architects soon chafed under the limitations of some services and waxed for the freedom to choose best-of-breed products from various clouds. Likewise, IT and business executives saw in multi-cloud the opportunity to analyze resource usage against cloud service costs to optimally place workloads on the cheapest alternative.
In either case, correctly implementing a multi-cloud strategy requires software to:
manage resources spread across several environments;
accurately assess the regularly changing service portfolio and pricing models of each;
recommend the best destination for each workload;
automate workload placement, configuration and maintenance;
summarize resource usage and costs; and
predict usage and costs based on trend analysis using sophisticated machine learning models, not simple linear regressions.
As with most things cloud, multi-cloud management doesn't neatly fit a universally accepted definition, and, as a result there's a muddle of product feature sets. Nonetheless, most vendors of cloud-agnostic management software have arrived at roughly the same place, even if they took different paths there, often through acquisition and assimilation.
The most comprehensive cloud management software products incorporate features in five categories:
automation and orchestration for both applications and individual VMs;
security, including identity management and data protection/encryption;
policy governance and compliance, including audits and service-level agreement metrics;
performance monitoring of both the infrastructure -- compute instances, storage, networks -- and applications; and
cost management through resource optimization and billing estimates.
Gartner adds service requests, cloud inventory and multi-cloud migration and backup to its definition of a cloud management platform, but many companies already have systems in place to provide those functions.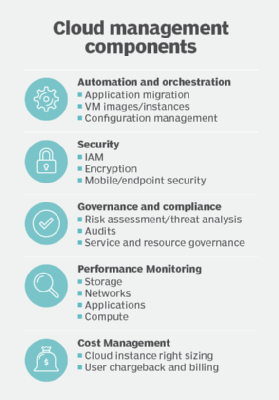 Dig Deeper on Cloud deployment and architecture