Fotolia
Published app monitoring helps IT see the complete picture
IT can use published application monitoring to gain insights into app-related performance issues. ControlUp, which recently added it, is one vendor that delivers these metrics.
For users who rely on published applications to get their jobs done, it is critical that IT gather metrics to help ensure that performance problems do not crop up.
Published apps typically run on a Remote Desktop Session Host server but behave as if they're installed on a user's endpoint. They can streamline an organization's desktop deployment because they allow IT to deliver a single app to multiple users rather than having to install an app multiple times on each endpoint. But admins also need to be able to monitor those applications, and there are a variety of options available for published app monitoring -- including a new capability from ControlUp.
"If there's a performance problem with the published apps that [users] use every day, it doesn't matter how well the desktop is performing because they need those apps to be productive," said Rory Monaghan, an independent consultant in Phoenix.
Why you need published app monitoring
The concept behind published app monitoring and virtual desktop monitoring is the same -- track the health and performance of the user's app or desktop, respectively -- but the execution is a bit different. Monitoring tools use different application programming interfaces to collect the data for each technology, for instance, said Kent Erickson, principal product manager at Zenoss, an IT services company in Austin that offers application monitoring tools.
"There's some difference in the kind of information that you want, too," Erickson said.
Some of the important information includes idle times, who's using an app and how many instances of the apps there are, as well as peak usage times and total session counts. It's also helpful to be able to manipulate apps, including hiding them or changing certain features, said Ron Waselenchuk, a LAN and Citrix administrator at Lee Health, a Florida-based healthcare provider.
Published app monitoring tools provide these metrics and often offer simulations where IT can see how apps run under specific circumstances. Even with the value these simulations can provide, however, not every organization running published apps wants this feature, Monaghan said.
"It takes a lot of overhead to run this kind of simulation in an environment representative of your production environment," he said. "Many organizations would just be unwilling to set up such an environment. It's not a huge priority as it only appeals to a certain size of customer."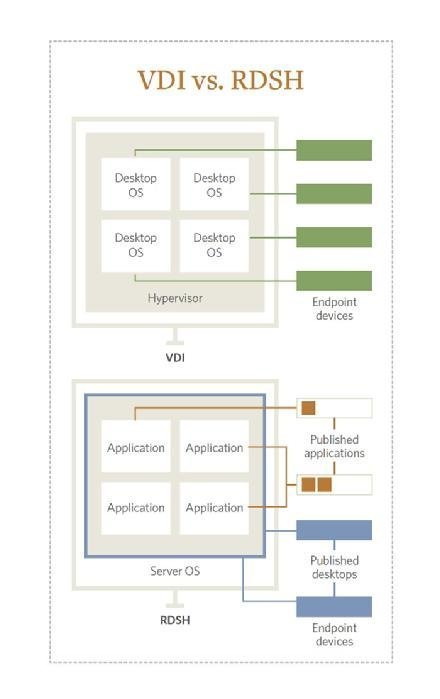 Published app monitoring options grow
Published app monitoring metrics were the number one feature request from ControlUp customers -- 80% of which use published apps, said Gadi Feldman, head of research at the company. They wanted metrics on active application instances, the number of servers running an app and the percentage of servers actively running an app out of all the servers that publish that app, he said.
ControlUp in January added metrics for the real-time health of published applications in Citrix XenApp and XenDesktop deployments in ControlUp Console 7.1. In previous versions, the company offered insights into processes and servers that could help IT figure out how published apps were performing, but it did not include the metrics outright. Now, the tool includes information on the number of instances of a published app, how long it takes to log on, the average amount of CPU used and more.
If there's a performance problem with the published apps that [users] use every day, it doesn't matter how well the desktop is performing because they need those apps to be productive.

Rory Monaghanindependent consultant
Lee Health, which has four main campus hospitals and about 200 other offices, turned to ControlUp three years ago to monitor its Citrix servers after Citrix cut some information from its monitoring panels, Waselenchuk said. The healthcare provider does not yet have the new published app monitoring capabilities, but Waselenchuk is interested in upgrading to the new version of ControlUp because most of his users work with Epic Systems' electronic medical record software as a published app, he said.
"We have close to 300 applications if you count multiple variations of them, so I would look forward to using that feature," he added. "Being able to monitor certain aspects of [the apps] may make up for some of the inadequacies in the new Citrix console."
ControlUp is not the only vendor offering published app monitoring. Login VSI was one of the first vendors to do so, and it allows IT to create synthetic users that simulate the user experience. Goliath Technologies also offers simulation capabilities in its Application Availability Monitor, which mimics a user's experience to see how long it takes an app to load and for different actions to occur. Lakeside Software's SysTrack Reporting delivers information on published app user counts and launch counts, as well as data on how many users within a specific group of people are working with an app.
Don't stop with published apps
To get insight into everything necessary in a desktop deployment, IT pros need monitoring tools that look at storage, networking and more, which means organizations must ultimately mix and match tools, Monaghan said.
"You kind of need that 10,000 foot view at everything, the entire path for your published applications ... and not many products out there actually give you that view," he said.
Effective monitoring can help achieve better teamwork among different siloes of the IT department. When IT has a complete view of what's going on and the metrics to back it up, individuals can't shirk their responsibilities as easily.
"A lot of people in an organization are really good at being defense lawyers, saying, 'Oh no, the applications aren't launching, that's your problem,'" Monaghan said.
Dig Deeper on UX and performance monitoring and management