ControlUp is a monitoring software company that sells tools IT professionals can use to manage, monitor and analyze virtual desktop and application performance.
The company's desktop management platform enables IT professionals to aggregate and track each virtual desktop in their deployment with the ControlUp Real-time Console, which features many of the industry standards for desktop managers, including 24/7 monitoring and alerts and user-trend tracking.
It also includes strong published application metrics, integration with XenDesktop to boost real-time visibility and more. IT professionals can use the console to observe the health and performance of their organization's systems and take actions such as ending, killing or changing the priority of desktop processes, screenshotting session activity, and more.
ControlUp Insights
ControlUp Insights is analytics report-generating software that IT can purchase as part of the Real-time Console. It is not available as a standalone product.
This software aggregates data on user experience, resource consumption and system health, which it uses to produce detailed reports that help IT identify problems on a large scale -- such as the network as a whole -- and small scale -- such as a single endpoint.
ControlUp NetScaler Monitor
ControlUp's NetScaler Monitor helps IT evaluate the performance of Citrix NetScaler, a product that delivers virtual applications directly to endpoints.
NetScaler Monitor allows IT to enable and disable deployments, track deployment times and kill problematic sessions.
NetScaler Monitor can also help IT track application configurations, ensure that the applications are running properly and reconfigure the application deployments when necessary.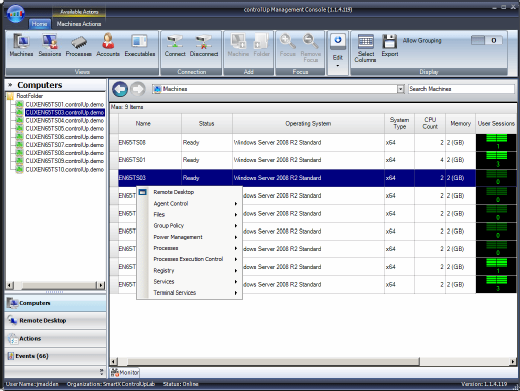 ControlUp App Profiler
ControlUp App Profiler is an application monitoring product that allows IT professionals to take an in-depth look at application load times and performance after they deploy applications.
By configuring standards for application load times and performance on App Profiler, IT professionals can ensure that each application session is meeting their chosen performance standards.
If a session isn't meeting the standards, App Profiler helps IT professionals identify why an application is underperforming and to determine how to fix the issue.
ControlUp Mobile
ControlUp Mobile is a mobile application IT professionals can use with devices running Google Android and Apple iOS that allows them to view 24/7 real-time time monitoring and alerts on the move.
The application allows push notifications for various events, including everything from logons and logoffs to error and warning alerts.
IT professionals can customize the notifications they receive based on type and urgency. They cannot take action to solve a problem with ControlUp Mobile however. To fix a problem they must log on to a desktop or laptop and access the ControlUp Real-time console.
ControlUp Logon Simulator
ControlUp Logon Simulator allows IT professionals to assess the health of their deployment by repeatedly running synthetic logons to identify any backend issues that might be slowing down user logons. IT can use synthetic monitoring to actively seek out problems rather than reacting once the help desk receives enough user complaints.
Once IT accurately identifies the problem it can immediately take action with ControlUp Real-time and target the issue, whether it is on an end-user device or a part of the network.
ControlUp's competitors include ManageEngine Desktop Central suite, KACE Systems Management console, Citrix Director, Liquidware Stratusphere UX and TechExcel ServiceWise suite.
This was last updated in
May 2018
Continue Reading About ControlUp
Dig Deeper on Virtual and remote desktop strategies