Fotolia
Google, Parallels improve Windows on Chromebooks
The Google-Parallels technology provides access to Windows software on Chromebooks. The new product could make Chrome OS laptops more attractive to enterprises.
Google and Parallels have addressed jointly the needs of businesses that use Chromebooks but still require access to legacy Windows applications.
Last week, the partners released the Parallels Desktop for Chromebook Enterprise, the first product to run a Windows virtual machine directly on enterprise Chromebooks. Other options offered a virtualized version of Windows through a browser extension.
With the new technology, Chromebooks users can flip back and forth among Windows applications and software running on Chrome OS, even while offline. The capability means enterprises could run Microsoft 365 on a Chromebook.
Businesses that have adopted Chrome OS often struggle to access Windows applications. Even if they don't depend on the programs, organizations may still need to run a Windows app when interacting with customers, taking part in events, or collaborating with other firms.
Industry observers said the latest release removes a significant hurdle in adopting Chromebooks in the workplace.
"There's a greater ecosystem developing around Chromebooks to make them more palatable to the enterprise," Forrester Research analyst Andrew Hewitt said.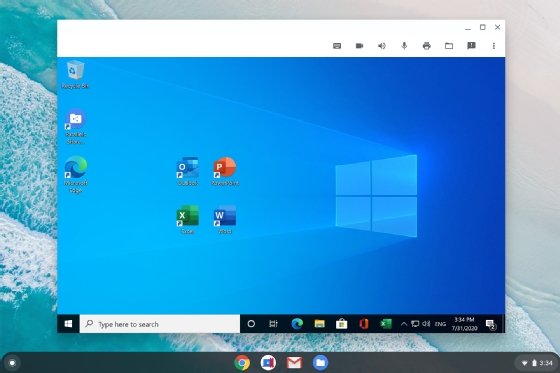 A roadblock to adoption
A July IDC survey found that 51% of U.S. businesses have increased their deployment of Chromebooks. IDC analyst Shannon Kalvar said almost 40% of enterprises wanted to increase their use of Chromebooks significantly next year.
But compatibility with Windows apps has been a roadblock for Chromebooks in the enterprise. Windows virtualization on Chromebooks typically uses browser extensions that hurt performance.
"None of this stuff is magic," Kalvar said. "The more layers [of abstraction] you add, the higher resource utilization."
Parallels removes some of that baggage by running the virtual desktop directly in the OS, rather than through a browser extension, Kalvar said. Thus, it eases demands on a device's processor and memory.
As companies buy laptops to support a much larger remote workforce during the pandemic, they must keep in mind the costs of managing those devices for years to come, Hewitt said. Chromebook management tools are more straightforward but have fewer features than their Windows counterparts.
"Managing a Chromebook is a lot more like managing a mobile device," he said. "There are less options, which makes it inherently simpler to manage."
Features
The Parallels software runs a Windows desktop either in a window or full screen on the Chromebook. Once installed, it enables offline work as well. Workers can run both Chrome OS and Windows apps simultaneously and can copy and paste content between them. Users can also choose which browser -- in Chrome OS or Windows -- will open web links clicked on in either environment.
Nick Dobrovolskiy, senior vice president of engineering at Parallels, said the product handled printing as well -- something that can be a challenge for virtual desktops. When inside Windows, workers will be able to print with any printer available to the Chromebook. Users can also print through Windows 10, provided it has the proper drivers.
On the administration side, Dobrovolskiy said the software allows IT to set up a golden image downloaded when a company installs Parallels. The software works with the Google Admin console, allowing IT professionals to manage software licenses and set the hardware space for the virtual machine download.
Parallels Desktop for Chromebook Enterprise does not yet support cameras, microphones and USB devices. The company plans to release those features in the future.
The software is currently available only to enterprise customers at an annual, per-user cost of $69.99.
Dig Deeper on Virtual desktop delivery tools