Dell, Google team up on Chromebooks for enterprise
The Latitude 5400 and Latitude 5300 2-in-1 give enterprise users the Dell Latitude hardware with the Google Chrome operating system in an effort to provide security and speed.
Dell Technologies and Google have partnered up in an effort to bring the Chromebook user experience into the workplace. The Latitude 5400 and the Latitude 5300 2-in-1 are part of the new Chromebook Enterprise line.
The laptops come with "secure and seamless Chrome Enterprise," according to Dell's website, and are paired with cloud-native support services. Both computers have an 8th generation Intel Core processor, up to a Core i7 and up to 32 GB of memory.
The intention of the partnership was to combine the power and security of Latitude hardware with the speed of the Chrome operating system. Dell claims the Chromebooks for the enterprise are the only 13- and 14-inch devices with mobile broadband capability.
Chromebooks have long been a favorite of school districts due to the low cost, possible because of the modest processor, RAM and storage requirements. Dell, Hewlett Packard Enterprise, Acer, Asus, Lenovo and Samsung all license the Chrome OS.
Both computers come with the ExpressCharge technology, designed for a faster battery charge, though Dell claims the battery included will last all day. In an effort to appeal to "design-conscious users," the devices have narrow border screens, post-industrial carbon fire and compact chassis.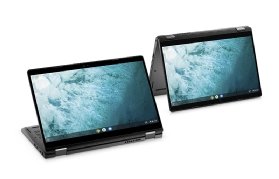 The Latitude 5400 has a 14-inch display, offered at a 1366x768 resolution or 1920x1080 resolution. The 5300 2-in-1 has a 13.3-inch display in the 1920x1080 resolution. The screen can also flip 180 degrees to be used as a tablet.
Both computers have Wi-Fi and Bluetooth 5.0, with optional LTE connectivity. They also include USB 3.1 Type C, USB 3.1 Type A, HDMI 1.4 and uSD 4.0 memory card ports.
The keyboard is configurable with 10 localized language keyboards, and the devices are available in 50 countries. They also offer pre-OS hardware diagnostics and give Dell ProSupport Suite customers access to SupportAssist technology, which is designed to predict and proactively identify user issues before they impact productivity.
The new Latitude Chromebook Enterprise devices are available for sale as of Aug. 27. The Latitude 5300 2-in-1 starts at $819, while the Latitude 5400 starts at $699.