Fotolia
Dell Latitude PCs get redesign with IT, mobile workforce in mind
Dell's Latitude PCs get a new look and new features that could make it easier for IT admins to support a mobile workforce, according to analysts.
Dell's redesign of its Latitude PCs is a move to make a more mobile-friendly PC with improved battery life, charging capabilities and security features.
The newly designed line of Dell Latitude PCs also come preloaded with Dell's Unified Workspace. The platform combines Dell devices; VMware's Workspace One, which helps IT deploy devices and applications; and Secureworks, which provides information security to the platform.
Bob O'Donnell, president and chief analyst at Technalysis Research, a consultancy based in Foster City, Calif., said the sleeker, longer-lasting PCs with Unified Workspace can make a difference to IT departments that need to deploy large amounts of PCs to its workforce.
"A lot of companies will be happy to have [Unified Workspace], especially ones that already have VMware infrastructure," O'Donnell said. "It provides IT the tools to have more granular control of getting apps installed, support issues and give people the flexibility to move from device to device."
With Dell Unified Workspace preloaded on the Latitude PCs, Dell is including a product onto enterprise PCs that will make it easier for IT to deploy and manage those devices, O'Donnell said. But for organizations to really benefit from the new feature, companies will also have to license VMware SaaS infrastructure.
"It's not exactly a free giveaway," O'Donnell said. "You still need some VMware infrastructure to make it a mobile workforce."
Latitude PCs physical upgrades
Even if an organization isn't built around VMware for mobility, it can still choose Dell Latitude PCs as a suitable option for its workforce, thanks to some physical features, battery life and charging capabilities, according to Mika Kitagawa, an analyst at Gartner.
A lot of companies will be happy to have [Unified Workspace], especially ones that already have VMware infrastructure.

Bob O'DonnellPresident and chief analyst, Technalysis Research
"Increasing the worker productivity is probably the most important task for the IT department," Kitagawa wrote in an email.
The Latitude redesign is targeted at a workforce that spends time in the office, at home and out in public and will need a PC that can maintain security and connectivity while adapting to a changing environment. It includes quick charging options such as ExpressCharge charging docks, which can provide up to an 80% battery charge in one hour, and ExpressCharge Boost, which can charge a battery up to 35% in 20 minutes, according to a Dell press release.
While employees also look for productivity gains, they may be attracted to the PC's "stylish design," which includes lightweight machined aluminum or carbon fiber materials, a backlit keyboard and an anti-glare display, according to Kitagawa.
O'Donnell agreed. With most PCs operating with the same core technology, sometimes it's the cosmetic features that can help separate a mobile PC from the crowded pack, he said.
"Things like durability, improving the keyboard and being lightweight are all things Dell has done," O'Donnell said."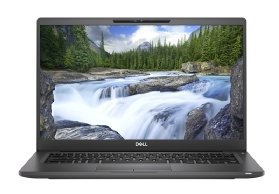 The 10th generation of Dell Latitude PCs also includes security enhancements, ranging from fingerprint sign-in to camera privacy shutters and smart card readers to better protect credentials to Windows Hello IR cameras, which support access control like facial recognition and fingerprint scanners. The security features are available as option add-ons, according to a Dell spokesperson.
"What Dell means by the evolving workforce is these workers who are not totally deskbound, but their work place can be anywhere," Kitagawa said. "There are requirements to fulfill such a work style, including a longer battery life, faster battery charging, security enhancements and easy sign in. I believe the new [Dell Latitude PCs] achieved a lot of these requirements."
The Dell Latitude PCs come in three tiers: the Latitude 7000 series, the Latitude 5000 series and the Latitude 3000 series. The 7000 series, described as Dell's premium business-class notebook, includes a 13- and 14-inch PC, as well as a 2-in-1 detachable tablet and also includes ExpressConnect, which detects and connects to the strongest Wi-Fi provider, resulting in fewer dropped connections. The 5000 series includes 13-, 14- and 15-inch models, as well as a 13-inch 2-in-1 tablet. Dell's entry-level 3000 series includes 13-, 14- and 15-inch models. Prices for Dell Latitude PCs start at $599 and get up to $1,299. The charging docks are priced between $229.99 and $329.99.