Dell Latitude 9510 and XPS 13 preview: Best in business
The Dell Latitude 9510 and XPS 13 unveiled at CES 2020 redefine the business laptop, touting features like 5G, AI, impossibly long battery life, maxed out displays and more.
Dell Latitude 9510
Unveiled at CES 2020, the Dell Latitude 9510 is the first in Dell's newly announced Latitude 9000 series, a lightweight, premium-class 15-inch PC offered as either a laptop or 2-in-1. At just 17mm thick and starting at 3.2 pounds, the Latitude 9510 is portable, but large enough and powerful enough for business use. Dell also packed the Latitude 9510 full of artificial intelligence features to improve overall productivity and battery performance.
The notebook ships with up to 10th Gen Intel Core i7 CPUs, integrated Intel UHD graphics, up to 16 GB of LPDDR3 SDRAM memory, up to 1 TB of SSD storage and 4- and 6-cell battery options.
The displays on both form factors are impressive; the colors are bright, and the picture is sharp. The laptop display is 16:9 FHD anti-glare with 400 nits of brightness, while the 2-in-1 display is 16:9 FHD, touchscreen, anti-reflective and anti-smudge with Gorilla Glass, 400 nits of brightness, and active pen support.
Dell claims the Latitude 9510 offers up to an astounding 30 hours of battery life on one charge -- but with AI-fueled ExpressCharge, the machine learns user behavior to save battery or rapid charge when necessary.
Other AI features based on Dell Optimizer technology include ExpressResponse to quickly launch and switch between frequently used apps; ExpressSign-In, which senses a user's presence to enable fast, secure login; and Intelligent Audio, which eliminates echoes and background noise to improve conference calling.
The Latitude 9510 is one of the first to support 5G, in an elusive way -- Dell incorporated 5G antennas into the speakers surrounding the keyboard to provide 5G connectivity without sacrificing the InfinityEdge display or high-quality audio.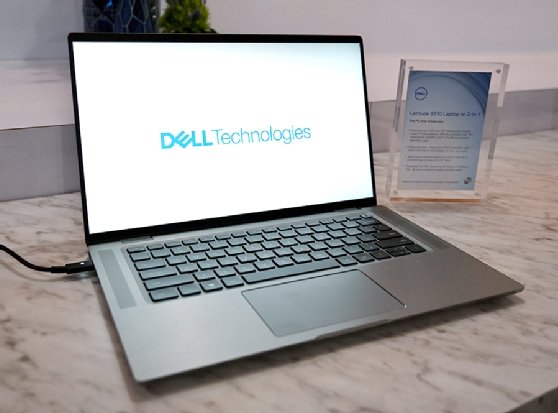 Dell also introduced new keyboards and touchpads with the Latitude 9000 series -- and hit a homerun with both. The touchpad was particularly impressive: smooth to the touch, conducive to swiping and highly responsive.
With businesses in mind, the Latitude 9510 has no shortage of ports and slots for ultimate connectivity. Ports include USB 3.1, two USB-C with Thunderbolt 3 support, HDMI, uSD Memory card reader, external uSIM card tray option, optional SmartCard reader, optional Touch Fingerprint Reader in the power button, and a wedge lock slot.
The Latitude 9510 laptop and 2-in-1 will both be available in March.
Dell XPS 13
For an even thinner, smaller and lighter experience, Dell introduced a new XPS 13 model that only improves on the previous iteration.
Despite the 2020 XPS 13 touting approximately the same dimensions and weight as the 2019 XPS, it's still portable and light -- about 2.6 pounds. And, the similarities end there. The new XPS 13 is jam-packed with upgrades every way you look.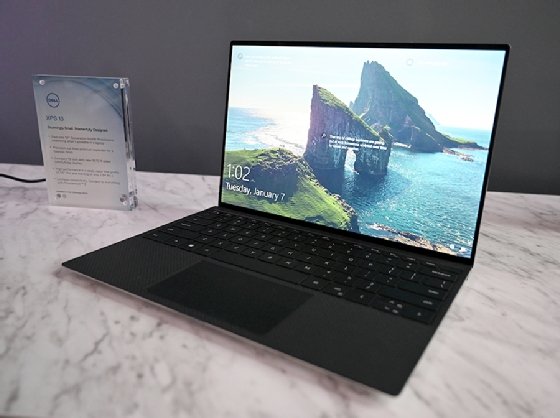 The XPS 13 ships with 10th Gen Intel Core CPUs, up to 32 GB of LPDDR4 SDRAM, up to 2 TB SSD storage and either Intel UHD Graphics or Iris Plus Graphics. Dell claims the XPS 13 battery can last 13 hours without a charge.
Both the Latitude 9510 and XPS 13 utilize Wi-Fi 6 technology that Dell claims provides up to three-times faster network connection than previous designs.
The new XPS 13 most notably features four InfinityEdge bezels, increasing display size by 6.8% from the previous version for an overall 91.5% screen-to-body ratio, rivaling and surpassing many high-end smartphones. Dell claims the XPS 13 is 25% brighter than predecessors, and we believe it -- like the Latitude 9510, the display is stunning. Dell offers the XPS 13 in both touch and non-touch display options.
And even with a downsized chassis, Dell managed to keep the webcam in the impossibly thin top bezel (and avoided putting the camera below the screen -- a spec users outwardly despised in earlier versions for its unflattering angle); it was so discreet, we almost didn't see it there.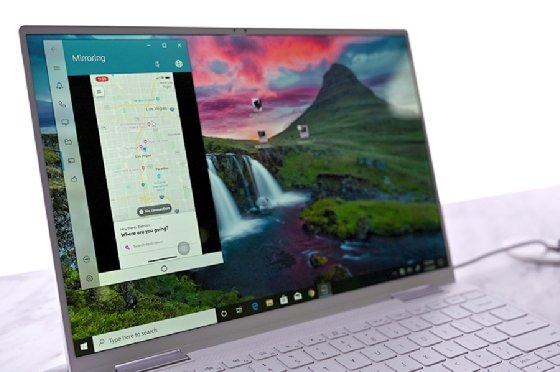 Dell also maxed out the deck elements, featuring an edge-to-edge keyboard with larger keycaps, as well as a larger touchpad, which made for an overall pleasant typing experience. The power button also doubles as a fingerprint scanner for quick biometric login -- or users can use facial recognition in the camera to unlock their device.
Ports are more limited on the XPS 13 than on the Latitude 9510, including two Thunderbolt 3 ports, a microSD card reader and a 3.5mm headphone/mic jack.
The XPS 13 ships with Windows 10 Home or Windows 10 Pro, but is also offered in a Developer Edition. The Developer Edition comes with Ubuntu 18.04 LTS preloaded and up to 32 GB of RAM and fingerprint reader support.
The 2020 XPS 13 starts at $999.99 and will be available this month. The XPS 13 Developer Edition starts at $1,199.99 and will be available in February.
Dig Deeper on Mobile operating systems and devices