CenturionStudio.it - Fotolia
Dell XPS 13 (2020) review: The best Windows 10 laptop
The Dell XPS 13 is more expensive than other Windows 10 laptops, but is it worth it? Its impeccable design, stunning display and impressive spec sheet suggest yes, at least on paper.
At the high end of the Windows PC market, you'll find vibrant and bezel-free displays, sleek designs and nifty proprietary features. Functionally, these devices differ little from their boring and less expensive counterparts. But the really good ones, like the 2020 Dell XPS 13, couple flash with productivity chops that more than justify the added cost.
In fact, the Dell XPS 13 Windows 10 laptop best exemplifies this. It looks great. It's a performance powerhouse. It's comfortable, responsive and easy to use. It's also pricey.
At its base configuration, the Dell XPS 13 has an Intel Core i5 1035G1 processor (10th-generation), 8 GB 3733MHz LPDDR4x RAM and a 256 GB M.2 PCIe NVMe SSD. It has a 13.4-inch 1920x1200 non-touch display, runs Windows 10 Home and comes in silver with black carbon fiber palm rest. It costs $1,200 at the time of this writing.
Fully tricked out, the Dell XPS 13 has an Intel Core i7 1065G7 processor (10th-generation), 16 GB 3733MHz LPDDR4x RAM and a 2 TB M.2 PCIe NVMe SSD. It has a 13.4-inch 3840x2400 touch display, runs Windows 10 Home and comes in alpine white with composite fiber palm rest. It costs $2,310.
Users can mix and match upgrades, and our review unit splits the difference. It has an Intel Core i7 1065G7 processor (10th-generation), 16 GB 3733MHz LPDDR4x RAM and a 500 GB M.2 PCIe NVMe SSD. It's white, with Windows 10 Home and a 1920x1200 touch-enabled display. It costs $1,750 at the time of this writing.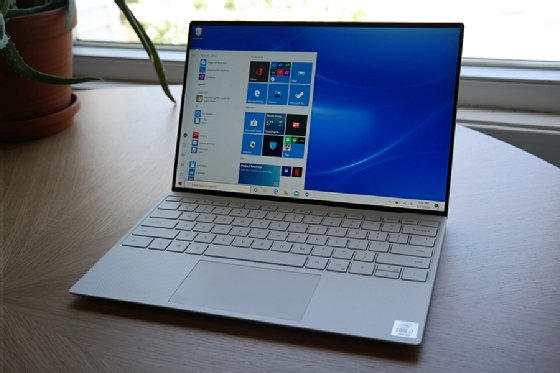 Dell XPS 13 build and design
A premium device most saliently justifies its price tag with build quality and design choices. And the Dell XPS 13 feels solid. It measures .58 x 11.6 x 7.8 inches (HWD), and weighs about 2.8 pounds. Its footprint is slightly smaller than most other devices with similar specs, and 2% smaller than the previous Dell XPS 13, which had a 13-inch display. It rivals most in weight.
It looks great. It's a performance powerhouse. It's comfortable, responsive and easy to use. It's also pricey.
The XPS 13 is a standard laptop. It's not a 2-in-1, it doesn't fold and it doesn't have a tablet mode. The display opens to about 130 to 140 degrees, common for most devices in this class. The act of opening it reveals that it's well constructed. The low-profile screen hinge is sturdy, and there is no creak or flex under moderate strain, even on just the display lid. It's also well balanced, and works well with literal lap use, with no risk of toppling over. Its glass-fibre build is cool to the touch and will likely keep things looking fresh even after extended travel time in a laptop bag. Dell even claims the alpine white XPS 13 will resist yellowing over time thanks to its UV and stain-resistant coating. Overall, the Dell XPS 13 should continue to look relatively fresh well into its lifespan.
It only has four ports (two Thunderbolt 3 ports, microSD and 3.5 audio), but they are easy to find through touch and to blindly utilize. That's a small design perk that has a big effect in terms of usability.
Another big help is the outlet adapter. It ships with both grounded and ungrounded plugs -- think traditional laptop charger and mobile charger -- for powering up in any setting.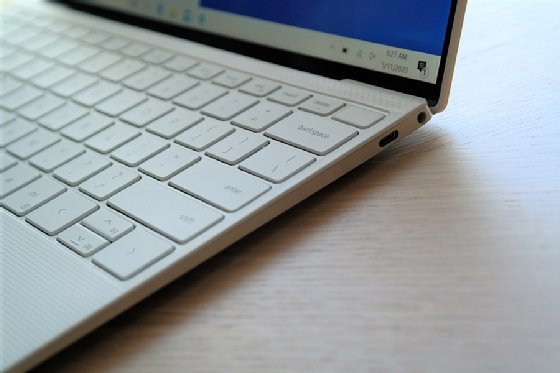 Dell XPS 13 display and speakers
Dell's InfinityEdge display is a real head-turner, and it looks incredible. It gets its name from the impossibly thin bezels, each measuring less than .2 inches. This display is almost literally edge to edge. Measuring 13.4 inches, corner to corner, with a 16:10 aspect ratio, it's 6.8% larger than the previous Dell XPS 13, with the same size lid.
Our Dell XPS 13 review unit features a 1920x1200 resolution, 500-nit brightness and supports touch. It rivals the other top-of-the-line Windows PCs in terms of color reproduction and brightness. It effectively cuts through overhead glare and resists fingerprint smudges. The touch panel is also very responsive and accurate; it's tough, too, thanks to its Gorilla Glass 6 coating.
For most users, the 3840x2400 is likely overkill. But those working on very large spreadsheets or dashboards daily, or outputting to a large 4k monitor, will appreciate the added pixels.
Dell packed in a few software extras for tweaking the display settings, specifically Dell CinemaColor and Dolby Vision HDR. Both prove useful, particularly CinemaColor, which has multiple display modes, including for media consumption and evening use.
The stereo speakers' slits sit just in front of the ports, on the sloped underside of the XPS 13, and pump out relatively robust and clean sound. They are top-notch compared with other devices this size and in this class, and are more than suitable for personal use. That's faint praise, though, considering laptop speakers are often functional at best.
Dell XPS 13 ports and webcam
Ports include:
2 USB Type-C Thunderbolt 3, DisplayPort/power delivery (4 lanes of PCI Express Gen 3)
microSD card reader v4.0 1
3.5mm headphone/microphone combo jack
That's it, and that's the tradeoff. You can have a thin-and-light device, or you can have a bunch of legacy inputs and ports. As far as thin-and-light devices go, it's a decent haul. We love the fact that both USB inputs charge the Dell XPS 13 -- that's especially convenient, and prevents users from having to awkwardly drape the power cord around the device. We also like the microSD card slot. Every device should have one, and many don't. Most users will likely miss a full-sized USB-A input, HDMI or other video output, and a dedicated Ethernet jack. There's also no dedicated lock slot.
Thankfully, the Dell XPS 13 ships with a USB Type-C to USB-A v3.0 adapter. Users will still need to invest in a USB Type-C hub for additional video outputs and USB inputs.
Hidden in one of those ultra-slim bezels, centered above the display, is integrated the 720p, 2.25mm webcam. You can't even see the tiny lens pinhole, unless you know it's there. There's a tiny indicator light when it's shooting, but no shutter mechanism to block the lens. That's too bad.
It's also too bad that it's a mediocre camera. It'll do for Zoom conferences and other video chats, though it provides grainy pictures, and is especially poor in moderate to low light. This is true of most Windows PCs -- any recent iPad webcam is far superior. This is an area where Dell and other Windows PC makers need to step up.
Dell XPS 13 keyboard
The Dell XPS 13 has a full-sized keyboard, with backlighting, and dedicated number and function key rows. The Chiclet-style keys are 9% larger than the previous Dell XPS 13, and the trackpad 17% larger. In practice, you can feel the difference. This is a very spacious keyboard, and the keys have about 1 mm of travel. That's plenty, and the Dell XPS 13 has a very comfortable typing experience. The only quirk is the power button sits in the upper-right corner, where the delete key typically sits. It also doubles as a fingerprint reader and causes no issues.
The large, single-piece trackpad is also very responsive. We often feel claustrophobic using the built-in trackpad on thin-and-light devices. Not here, thanks mostly to its large size and responsiveness.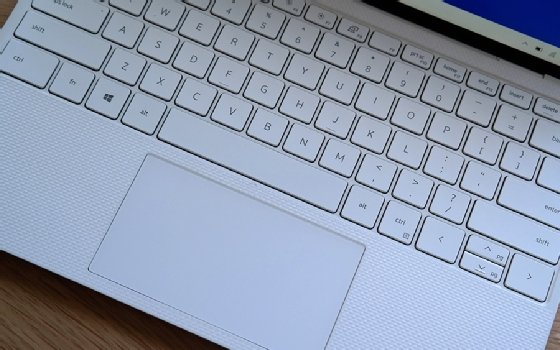 Dell XPS 13 performance, software and battery
Our Core i7-powered Dell XPS 13 handled Windows 10 Home extremely well during testing, as expected of any device with this level of spec sheet. We experienced no bugs, and the device started up quickly from a cold start. Every so often, the fan would kick in with a quiet whir, though the device remained cool to the touch. We expect even the base configuration with the Core i5 and 8GB RAM will have no trouble with day-to-day productivity tasks.
The Dell XPS supports Windows Hello Face and Windows Hello Fingerprint login, and both work as intended. In testing, both registered faces and fingerprints 10 out of 10 times, following a quick setup procedure.
In addition to Dell CinemaColor, Dell packs in a handful of other utilities, which rise above general vendor software. Dell Mobile Connect is especially useful for pairing with an iPhone or Android device, as it enables on-XPS virtualization of the smartphone, as well as file sharing. We found Dell Update as a convenient means to check various system drivers and software updates. We also liked Dell Power Manager, as it provides more granular power and battery control than standard Windows options.
The Dell XPS 13 also ships with minimal bloatware, including Candy Crush Friends and Farm Heroes Saga, both of which are easily uninstalled.
The Dell XPS 13 laptop battery lasted an impressive 9 hours and 9 minutes streaming media over WiFi with the screen brightness maxed out. This is about the minimum you can expect from the XPS13 battery in a practical setting, and it's very good. Using Dell Power Manager, we expect the XPS 13 will have no trouble running from morning to night on a single charge. The XPS 13 also has settings for quick charge, which gets the battery to about 80% in an hour. Quick charge is probably the most utilitarian advances in mobile tech over the last half-dozen years, and we're happy to see it migrate to notebooks.
Dell XPS 13 Windows 10 laptop review conclusion
The Dell XPS 13 is one of the best laptops available today. Even looking past Windows PCs, it rivals every MacBook, Chromebook and iPad on the market. It arguably has the best display going, and its design and build quality set the standard for what we expect from a high-end device. It sips power and runs without a hitch, with a comfortable keyboard and large and responsive trackpad. The complaints are minor nitpicks, or common to the form factor. The camera is subpar, and there's no mechanism for blocking it. It ships with a bit of minor bloatware. It lacks legacy ports.
The price remains its biggest drawback. In terms of raw productivity potential, devices that cost half as much can do just as much, even if they are bulkier with thicker display bezels. A device like the Dell XPS 13 reveals its value with repeated use. You'll never have to fight with its keyboard or trackpad, its ports are easily accessed, its display will lessen (but not eliminate) eye strain, and it won't have to be plugged in as often.
Our advice: Go with the Dell XPS 13 Windows 10 laptop if there's room in the budget.
Dig Deeper on Mobile operating systems and devices