JRB - Fotolia
Exchange Server vNext will have subscription requirement
The news from Microsoft from this year's Ignite show for Exchange administrators was: You can keep your on-premises email platform, but you'll have to pay for it like Office 365.
No more free rides. That's the news from Microsoft Ignite for Exchange customers.
On the server side, Microsoft said it plans to release a new Exchange Server -- codenamed Exchange vNext -- in the second half of 2021.But, in a departure from previous on-premises versions, there are financial strings attached.
According to an Exchange team blog, Exchange Server vNext will require "the purchase of a subscription license. Subscription entitles access to support, product updates, security and time zone patches."
This subscription policy will also apply to the new versions of SharePoint Server and Skype for Business, also due out in the latter half of 2021, the company said. No further details on pricing were made available but Microsoft has an "ask me anything" event slated for Oct. 8 where further information may be revealed.
This pricing change is a shift from previous Exchange versions where, once the organization paid the commercial license, it owned the product and received support -- typically five years of mainstream support followed by five years of extended support. Microsoft changed the Exchange Server 2019 lifecycle when it released the product in October 2018. This version of Exchange will get slightly more than five years of mainstream support followed by 645 days of extended support with an end-of-life date in October 2025.
While pricing and licensing details are sparse, if past is prologue, then Exchange Server vNext could follow the same scenario of System Center, according to Rob Helm, analyst at Directions on Microsoft. He noted Microsoft stopped selling licenses and required enterprises to buy Software Assurance to continue to use the product and receive the cumulative updates and security patches.
"Microsoft could finally use this as an opportunity to completely cut over to a true subscription model where, the minute you stop paying, the software stops working," Helm said.
A blog from the Microsoft Exchange team indicates customers can use Exchange 2019 to do an in-place upgrade to the next version of Exchange Server. During an Ignite presentation, Greg Taylor, director of product marketing for Exchange Server and Exchange Online, said Microsoft will let customers go from three supported versions of Exchange to the next version, which is a change from the usual two.
Microsoft recommends companies on Exchange 2013/2016 start to plan a migration to Exchange 2019. The in-place upgrade option to Exchange vNext is only available from that version. Customers on older Exchange systems will have a more labor-intensive upgrade process that would involve two systems on separate hardware running side by side if they migrate rather than do an in-place upgrade.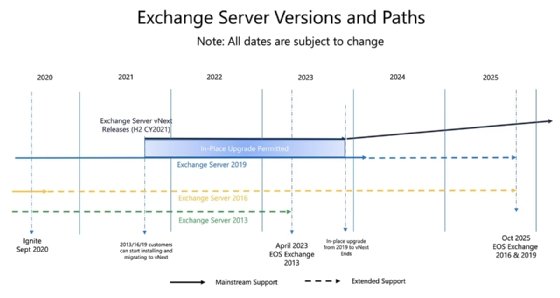 "Once the next version of Exchange is released, [customers] will then be able to perform an in-place upgrade to that version, making the move to 2019 the last major upgrade they will ever need to do," the company wrote in a blog.
The move from Exchange 2019 to the next version will be similar to a cumulative update and will require less effort from IT, Taylor said. Customers have two years from the release of Exchange vNext to do an in-place upgrade. After that, it will require a migration, which includes more heavy lifting from IT, including moving mailboxes and building new servers.
Microsoft said it will continue to support running both the existing Exchange deployment and Exchange vNext until a cutover can occur.
Just as new versions of Windows Server have added features found in Azure, it's possible much of the code that now powers Exchange Online could appear in Exchange Server vNext, Helm said.
"It may be more expensive for Microsoft to exclude some of these new capabilities from Exchange Server than it would be to just include them," Helm said. "It might be technically more difficult to maintain a separate, less capable version of Exchange for on-premises use that Microsoft will have been running for several years."
Microsoft regularly touts the success of its Office 365 platform, noting more than 250 million paid seats in a recent earnings report. Many in IT are familiar with the refrain of the advantages of moving to the cloud: The service provider handles support, including outages, updates and patching concerns; reduced infrastructure costs related to hardware and its support; and faster rollout of new features and updated functionality. Now that Exchange vNext will push enterprises into a pay-as-you-go model of the cloud -- without all its benefits -- why do some enterprises still want on-premises Exchange Server?
"They have requirements. For example, to archive and back up in a controlled way they still can't do online," Helm said. "An organization might move all their mailboxes to Exchange Online, but they still need to have a little bit of Exchange Server on premises, often because they have some application running on premises that needs an email server to send email. Or they want to manage their user directory on premises in which case if it has Exchange users, and they need at least a couple of Exchange servers to do that."
Exchange hybrid users still in limbo
There was no news out of Ignite for customers running an Exchange Server 2016 hybrid setup that uses Active Directory to synchronize passwords from the data center to the Microsoft cloud.
Exchange Server 2016 changes from mainstream support to extended support on Oct. 14, meaning the product will no longer receive new features or updates to enhance its functionality, just critical-rated security updates. The end-of-life date is five years away, but the clock is ticking. Microsoft said it does not have a way to move those customers off that platform.
Because customers using this hybrid setup have a free hybrid key -- something that is not offered with Exchange Server 2019 -- Taylor said those customers should remain on that platform for the time being.
"If you're only keeping the Exchange Server 2016 for your hybrid recipient management, then I'm going to tell you perfectly fine to keep it on 2016," Taylor said. "Please do until we have a solution for getting rid of that last Exchange server."
Other Exchange news out of Microsoft Ignite 2020
Hybrid Configuration Wizard updates. The Hybrid Configuration Wizard is a Microsoft tool released in 2015 to help enterprises construct a hybrid Exchange arrangement with mailboxes in the cloud. Microsoft updated the tool to design multiple connections from one on-premises organization to several cloud tenants. A Microsoft blog indicated, if modern authentication is enabled, this multi-tenant configuration is not possible, but the company is working on an update.
Exchange Server 2019 mailbox role requirements calculator. Microsoft changed its practice of not providing this Excel spreadsheet available to download without downloading the ISO of Exchange beforehand. As Taylor noted in his presentation, this frustrated many in IT. Microsoft provides the calculator at this link.
Exchange Online cross-tenant mailbox migration. In public preview, administrators can move mailboxes directly from one tenant to another. When organizations merge, the current migration method requires an offboard/onboard process for each mailbox. The cross-tenant feature promises to handle much of the technical complexity to make a batch migration less of a chore. Microsoft has a PowerShell script to run this procedure but plans to add its functionality to the Exchange admin center.
Exchange Online reply-all storm protection and plus-addressing. Microsoft gives administrators a way to temper the existing reply-all storm protection feature that curbs system disruption when someone replies in email to everyone in the organization. The global detection threshold is set to 10 replies to more than 5,000 recipients in one conversation over one hour. The update allows administrators to change these threshold settings. The plus-addressing feature lets users put a + sign after their address to create a temporary address, similar to what is available to Gmail users. This feature can be useful for filtering and screening email.
Dig Deeper on IT operations and infrastructure management