Windows Server 2019 preview draws Azure closer
Windows Server 2019 will come with a number of enhancements to cater to administrators who want a tighter connection to the Azure cloud platform, Microsoft said.
Microsoft touted new Windows Server 2019 features around cloud and containers, but some IT professionals want to see how the new operating system handles more nitty-gritty tasks.
The first Windows Server 2019 preview included new capabilities around hybrid cloud computing, security, application development and Active Directory. It also boasted an improved in-place upgrade feature and raised concerns about price increases.
If the in-place upgrades work as well in the new version as they did in Windows Server 2016, that might nudge some users on older Windows Server versions to make the switch, said Didier Van Hoye, a technical architect based in Belgium and a Hyper-V MVP.
"Many of our customers still cannot treat their servers as cattle," Van Hoye said. "They have their holy cows, so to speak. If they can move with this in-place upgrade, and if Windows Server 2019 has great application compatibility, then that is a tremendous benefit."
Microsoft delivered a test version of Windows Server 2019 last week and said general availability will come in the second half of this year. IT professionals can download the Windows Server 2019 preview build when they sign up for the Windows Insider Program for Business.
Windows Server 2019 features for virtualization and storage
Windows Server 2019 adds a new scale-out failover feature, dubbed cluster sets, which aims to increase availability and flexibility to shift VMs across other clusters. These will reduce the risks associated with building a large failover cluster on a single domain, Van Hoye said.
"It's normally better to have multiple clusters instead of just one giant cluster. But then, of course, you lose some capabilities," Van Hoye said. "Cluster sets take away those limitations and give you the same virtual machine mobility and ease of migration you have within a cluster."
The preview release boosts the node count by orders of magnitude, Microsoft said. Windows Server 2016 capped the nodes per cluster at 64.
Other notable storage improvements in this release are deduplication with Resilient File System -- which gives the relatively new file system feature parity with NTFS -- and increased capacity with Storage Spaces Direct software-defined storage, said Jeff Woolsey, principal program manager for Windows Server at Microsoft.
The Windows Server 2019 preview build adds shielded VMs for Linux -- a feature Windows Server 2016 introduced for Windows VMs. It also includes Windows Defender Advanced Threat Protection Exploit Guard to block malware attacks on server hosts and an encrypted networks function to safeguard data as it travels between VMs and hosts.
Windows Server 2019 preview paves road to cloud
This emphasis on security goes hand in hand with any cloud aspirations an IT department might have, Van Hoye said.
"They need that insurance that data will be kept private," he said.
Windows Server 2019 also catches up to the Windows client's ability to work directly into Azure Active Directory without the on-premises Active Directory component required by previous server versions.
This enhancement, coupled with Project Honolulu, enables administrators to right-click on a VM for seamless use of Azure services for backup, replication and protections via the Azure Security Center, Woolsey said. Project Honolulu is a free remote server management application that unites multiple administrative tools in one web-based interface.
There are no immediate plans to add similar hybrid features for other clouds, because the customer demand is for "deep Azure integration," Woolsey said.
Project Honolulu is still in its nascent stage, but it shows promise as a feasible replacement to the classic Microsoft Management Console (MMC).
"To entice administrators to move away from MMC, that replacement has to be better," Van Hoye said. "Until now, we've seen some replacements or new ways of doing things that were good, but not better. They had missing features. You ended up doing part of your work in the older tools and had this fragmented toolbox to get your job done."
No RDSH in Windows Server 2019 preview
The Windows Server 2019 preview does not include the Remote Desktop Session Host (RDSH) role. Read what Brian Madden has to say about the lack of Windows Server 2019 RDSH and the rumored Windows 10 multiuser feature.
Windows Server 2019 picks up Semi-Annual Channel features
Windows Server 2019 represents the next version of the server operating system's Long-Term Servicing Channel (LTSC) that Microsoft recommends for general use, such as file servers, apps that need a GUI and various infrastructure roles. Releases for the Semi-Annual Channel (SAC) for Windows Server arrive every six months, with features for organizations with advanced application development needs -- particularly around containers.
Windows Server 2019 takes features that originated in the SAC releases, including Linux containers support, Windows Subsystem for Linux, and support for the open source command-line tools bsdtar and curl.
These infusions of Linux on Windows systems could be a boon for administrators who need to maintain control in a mixed-OS data center.
The SAC and LTSC both have Server Core deployment options, but they are not interchangeable. Microsoft tailored Server Core in SAC for container use and removed its infrastructure role capabilities, such as Storage Spaces Direct, after customers said the six months between releases made it difficult to upgrade, Woolsey said.
This divvying of duties between the two server channels makes sense, Van Hoye said.
"For the core infrastructure, reliability and longevity is a bit more important than being able to access the newest feature," he said.
Microsoft plans to trim the size of Server Core from 5 GB to 1.6 GB in Windows Server 2019 in a move to improve application performance and cut download times, said Erin Chapple, director of program management for Windows Server, in a blog post. The company also intends to improve Kubernetes cluster management in storage, networking and compute, Chapple said.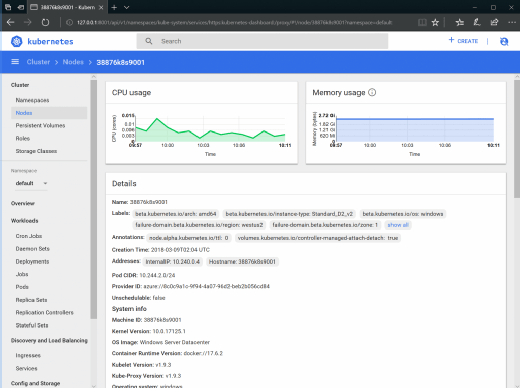 Goodbye R2, hello price increases?
R2s are done.

Jeff Woolseyprincipal program manager for Windows Server at Microsoft
The Windows Server 2019 preview also marks the end of Microsoft's R2 naming convention. Starting with Windows Server 2003, Microsoft released an R2 version of the server OS, which included fixes and new features, about two years after the main release. Ordinarily, an R2 release would be next for Windows Server 2016, but "R2s are done," Woolsey said.
The change in the naming scheme was a marketing decision, but it's also a way to break bad IT habits, Woolsey said. Many admins did not install a new server OS until the R2 release appeared based on the presumption that it signaled a more stable release, but that's no longer the case, he added.
In years past, an organization could move its client access licenses (CALs) from the preceding Windows Server version to the R2 release without a price increase. Organizations did not have to buy CALs until the next new server release. But price increases for Windows Server 2019 CALs are "highly likely," according to Chapple's blog post.
This change might not come as a surprise to many, because Microsoft hinted as much when it dropped the R2 version in SQL Server 2014. These gradual price increases for on-premises products, coupled with the challenges of implementing these rapid release cycles, make it difficult to avoid the added cost of Software Assurance, said Wes Miller, research analyst at Directions on Microsoft.
"In general, all of Microsoft's products have been increasingly pushing towards subscriptions in one form or another," he said.
Dig Deeper on Microsoft messaging and collaboration