Hyper-convergence forms core of Windows Server 2019 features
The latest server OS release from Microsoft upgrades many of its software-defined features to make it easier to use a hybrid cloud model.
A move to a new server OS is not a light undertaking, but do the Windows Server 2019 features pack enough punch to sway enterprises to make the switch to this release or Windows Server 2016?
Microsoft released Windows Server 2019, the next installment in its Long-Term Servicing Channel (LTSC), to general availability in October 2018. This heir apparent to Windows Server 2016 may well be the one version that stays on an organization's servers for quite some time.
The usual questions come up every time a new server release arrives: What's new? Is it worth upgrading? And what's the direction of the product?
Microsoft folds in more hyper-converged features
Microsoft retooled Windows Server in this release to tempt companies that want to consolidate their infrastructure and save money by utilizing their existing hardware.
Hyper-convergence lets an organization shape its compute, storage and networking layers. Microsoft has been touting the software-defined features in Windows Server for the last few releases. Windows Server 2019 brings many improvements to software-defined networking, but Microsoft's engineers also did some extensive work in the storage and compute areas.
Between enhancements and performance improvements in Storage Spaces Direct -- better support for commodity disks, persistent memory, and deduplication and compression capabilities -- along with software-defined network (SDN) subsystems designed to operate at 40 Gbps, Microsoft tuned Windows Server 2019 for use with the Azure cloud platform.
Windows Server 2019 marks the first release with all the necessary pieces in place -- Hyper-V for compute, upgraded SDN features and software-defined storage capabilities -- to take advantage of the hybrid cloud model. This server release gives organizations more flexibility to dynamically adjust workloads and to avoid disruptions.
Microsoft plays it safer with Windows Server 2019
There is a relatively new approach to security that asserts perimeter and edge defenses aren't enough and IT departments should eye their own internal corporate network with suspicion. Windows Server 2019 adopts this defensive stance and ups the ante with many of its security enhancements.
Microsoft improved the security and isolation of critical workloads running in virtual machines via shielded virtual machines that now support Linux OSes, as well as Windows Server.
Containers are primarily Linux workloads, and Microsoft's addition of this native tooling and command structure on Windows Server is huge.
Windows Defender Advanced Threat Protection (ATP) runs in the background on Windows Server 2019, looking for potential malicious activities and shutting down attack vectors before any damage occurs.
Microsoft introduced a key component in ATP in Windows Server 2016 called Windows Defender Application Control (WDAC), which uses code integrity policies to prevent untrusted applications from running on a server. Microsoft reinforced WDAC in Windows Server 2019 to ease some of the deployment issues administrators had by including default code integrity policies to give automatic clearance to default Windows applications and Microsoft products, such as SQL Server.
Admins get a new management tool
Server administrators get a boost in productivity and efficiency with the Windows Admin Center, a web-based administrative console for managing Windows Servers across an enterprise.
This free Microsoft tool, formerly known as Project Honolulu, is an elegant, single-pane-of-glass management interface that extends the capabilities of many of the traditional Microsoft Management Console-based wizards and tools to see each server -- Hyper-V Server machines, Windows Server 2012 R2 and higher, servers on premises or in Azure -- in one place in a regularly updated role that does not depend on either an internet connection or Microsoft Azure.
Microsoft says Windows Admin Center gives admins an easier way to manage SDN features, such as microsegmentation, switching and load balancing, in Windows Server 2019.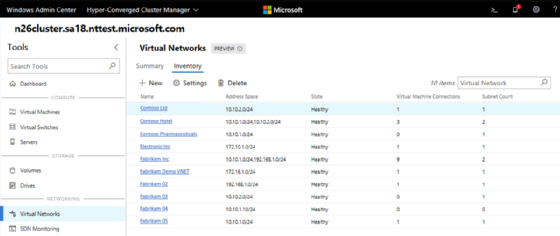 Because this is the LTSC release, there is a GUI -- or the Server with Desktop Experience as Microsoft calls it -- to manage the OS, unlike the Semi-Annual Channel release, which offers two deployment options -- Server Core and Nano Server -- without a GUI. Microsoft trimmed the size of the Server Core image for Windows Server 2019 by between 50-80%, depending on the workload type. This cuts down on overhead and makes it easier to consolidate even more workloads on a server.
Linux gains a foothold in Windows Server
Windows Server is catching up to what Windows 10 has had since 2017 with the Windows Subsystem for Linux (WSL), which is available in the Server 2019 release.
It's a curious, and potentially quite useful, addition to Windows Server 2019 for many shops. Building WSL into the OS gives admins the ability to run Linux-based workloads -- not necessarily complex ones, but scripts and simple tasks -- which has the potential to be a game-changer in the data center. Containers are primarily Linux workloads, and Microsoft's addition of this native tooling and command structure on Windows Server is huge.
Microsoft hints at the end of Windows Server Essentials
A recent blog post from the Microsoft Windows Server team has indicated the future of one Windows Server edition is in doubt.
"There is a strong possibility that this could be the last edition of Windows Server Essentials," according to the blog.
Microsoft removed the GUI enhancements and wizards that made Essentials an attractive product for smaller shops with its 2019 Essentials edition. What remains is a product that is identical to Windows Server 2019 Standard, other than some physical restrictions on needing to hold a domain's Flexible Single Master Operation roles, a lack of trustability and so on. For companies that need the Essentials wizards or client backup, it would be best to stick with Windows Server 2016 Essentials.
Is it worth switching to Windows Server 2019?
Most of the features in Windows Server 2019 are no surprise because many of them have been in production via the Semi-Annual Channel releases. You won't get some of the more advanced security and software-defined features unless you pick up the more expensive Datacenter Edition.
Is this a release organizations should upgrade to or should they stick to Windows Server 2016? As is often the case, it depends. But there are several conclusions one can draw from this release.
Windows Server is about the enterprise. Smaller businesses, even the medium-sized organizations, won't find much that will compel them to change to Windows Server 2019. Those companies are probably better off switching to an Opex model and moving to the cloud. For organizations with fewer than 20 servers, I recommend using Windows Server 2016.
For businesses in heavily regulated industries, shielded virtual machines with Linux support alone could be worth the cost of admission for Windows Server 2019. This feature alone makes Server 2019 an order of magnitude more compelling than Server 2016.
For businesses with extensive hybrid investments, the better administrative experience and hyper-converged infrastructure support mean the data center or Azure is effectively the same from an IT perspective. The new Windows Server 2019 features make this a lot closer to reality than 2016.