5 skills every Hyper-V administrator needs to succeed
Windows Server skills aren't complete without these five Hyper-V skills, which range from failover clustering to storage, and remain essential for virtualization administration.
To be an effective Hyper-V administrator, admins should build specialized knowledge on a wide range of foundational skills that cover Windows Server, failover clustering and storage.
Hyper-V has a reputation for being simpler to install, use and manage than competing hypervisors. Even so, using Hyper-V in a production environment requires a variety of specific and general skills. To use Hyper-V effectively, a Hyper-V administrator needs these five skills.
Build Hyper-V admin skills on fundamental Windows Server knowledge
This one might sound like a no-brainer, but a working knowledge of the Windows Server OS is critical. Hyper-V is a Windows Server component after all, but there's more to it than that.
There are several reasons why a solid base of Windows Server knowledge is crucial. If admins host VMs on Hyper-V, it's likely that many of the VMs will run Windows as the guest OS.
Another reason is that a big part of virtualization management requires the control of resource contention. A Hyper-V administrator must know how to use tools, such as Windows Performance Monitor, to find and address performance bottlenecks.
Hyper-V deployments depend on failover clustering
Failover clustering echoes the necessity of Windows Server knowledge because failover clustering is a feature of the Windows OS.
A Hyper-V administrator should build any production Hyper-V deployment on top of a failover cluster. Otherwise, a Hyper-V host can become a single point of failure.
The only exception to this is when smaller organizations that lack the expertise or financial resources to build a failover cluster instead opt to use Hyper-V replication. Replication doesn't provide the same level of protection as failover clustering, but it gives smaller shops something to fall back on if a Hyper-V host suffers an outage.
Understand the breadth of the System Center suite
A mastery of Microsoft's System Center suite of products is another essential skill for a Hyper-V administrator. Hyper-V includes a built-in management tool called Hyper-V Manager that provides basic management capabilities, but it is only a viable option for small organizations due to some limitations.
It can quickly become time-consuming to manage all of these virtual networking resources unless admins firmly grasp key networking concepts such as the TCP/IP stack, subnetting and routing.
The main problem with Hyper-V Manager is that its management functions are host-centric. It doesn't provide a consolidated view of VMs across all of the Hyper-V hosts. This isn't usually a problem if there are only a few hosts, but Hyper-V Manager can make it difficult to locate a specific VM if there are several hosts.
Microsoft's System Center suite offers an alternative to Hyper-V Manager: System Center Virtual Machine Manager (SCVMM). SCVMM offers a consolidated view of the entire virtualized environment, and it enables admins to go beyond Hyper-V Manager's capabilities. For example, admins can use SCVMM to automate the VM creation process with templates.
There are several other products in Microsoft's System Center suite, and these products are also useful. Other System Center products can assist in everything from patch management to application deployment.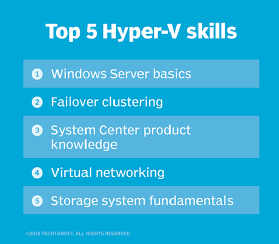 Virtualization complicates networking
A Hyper-V administrator also needs a solid understanding of networking. VMs use the host's network adapter, but virtualization adds a layer -- sometimes several layers -- of complexity.
Hyper-V introduces virtual networking hardware such as virtual switches and virtual networking adapters. It's also possible to create network segments that only exist in a virtual environment. It can quickly become time-consuming to manage all of these virtual networking resources unless admins firmly grasp key networking concepts such as the TCP/IP stack, subnetting and routing.
Become familiar with storage requirements
Storage is obviously a huge topic, and many larger organizations have employees whose entire job focuses on storage management. Even so, Hyper-V administrators should understand storage system fundamentals.
In a Hyper-V environment, VMs compete with each other for hardware resources. Storage IOPS is most often the resource in shortest supply. As such, virtualization admins must know how to determine storage performance requirements for virtualized workloads and how to ensure that the underlying hardware configuration will meet those requirements.
Dig Deeper on IT systems management and monitoring