natali_mis - stock.adobe.com
Exchange troubleshooting tools help unclog email issues
When problems with email occur, they can stem from an improper configuration of the Exchange Server system. Here's how to unravel some common messaging platform problems.
While Office 365 and Exchange Online are all the talk in the messaging world, there are still a lot of mailboxes in the data center. Most estimates say there are more Exchange mailboxes running on premises right now than there are in Office 365.
Exchange Server's importance to your organization means it's crucial to hone your abilities to diagnose a problem when an outage occurs. Every issue is different, but there are some common problems that can be fixed with some Exchange troubleshooting tools to get the system back up and working in short order.
Troubleshooting an Exchange outage can be difficult. There is added pressure when a problem with the messaging platform occurs because everyone in any organization relies on email. This process can be complicated because there are four different versions of Exchange supported by Microsoft: Exchange 2010, 2013, 2016 and 2019. There are significant differences among these products, but there are some tools and tips that should work with all of them.
Verify your deployment
One way to avoid an outage is to get Exchange set up properly. A good Exchange Server deployment is always going to be your best weapon in the fight to keep messaging services online.
A good Exchange Server deployment is always going to be your best weapon in the fight to keep messaging services online.
Here are some tools you can use to verify a correct Exchange deployment:
The Exchange Server sizing calculator: Microsoft's Exchange team published an Excel spreadsheet that helps you properly size your Exchange Server deployment with tailored requirements for RAM, storage, networking and CPU for your Exchange hardware. My experience with troubleshooting messaging platform outages has often shown most problems occur due to improper sizing of Exchange Server.
Jetstress: Jetstress measures the IOPS on your Exchange servers and reports on the ability of the hardware to handle the load. The problem with Jetstress is that the testing process for IOPS can, and often will, stress your server to the point of failure. This means that you need to run Jetstress before you install and configure the Exchange bits. Furthermore, testing IOPS is a good reason not to use virtual servers for Exchange. Jetstress will cause your server to fail during the testing process, which will affect the other servers running in your virtual server environment.
Using Remote Connectivity Analyzer
It's difficult to pin down the cause of an Exchange outage when you can only examine the system from inside your network. With some issues, what you really need is a way to look at Exchange from the outside. Microsoft offers a web-based tool that can see how your Exchange platform responds to requests that come from outside your network.
Remote Connectivity Analyzer -- formerly known as Exchange Remote Connectivity Analyzer, or ExRCA -- started as an on-premises Exchange troubleshooting tool but has since been expanded to cover other Microsoft products, such as Skype for Business and Office 365. The first tab on the website is dedicated to Exchange Server troubleshooting tests. Remote Connectivity Analyzer can test ActiveSync Exchange web services, Outlook connectivity and internet mail flow.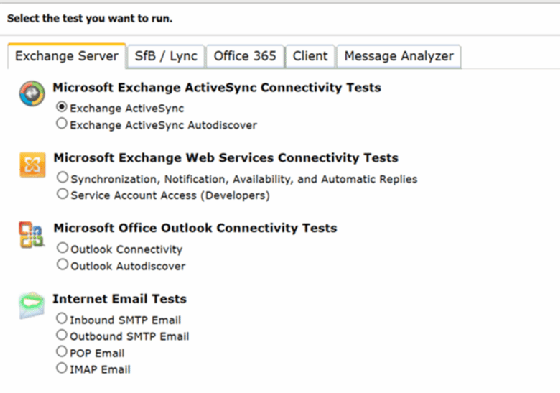 The Message Analyzer tab parses the email headers to show detailed information about a specific email's path. These tests are fairly simple to run and can give you a lot of information about the state of your Exchange servers without needing to give someone access to your network.
How to use Telnet to verify connections
While Remote Connectivity Analyzer is one of the great Exchange troubleshooting tools for testing what the outside world can access on your Exchange environment, sometimes, you need to figure out if you can access the outside world from inside your network. One simple tool to do this is Telnet.
You can install Telnet as an optional feature on all Windows workstation and server OSes. Once Telnet is added, it just takes a simple command with a valid Simple Mail Transfer Protocol (SMTP) destination to verify you can get out from your network to that destination.

Telnet makes it plain if firewall configurations block the transmission of mail out from your network or if the destination network is down.
Working with Windows logs
While not exactly an Exchange troubleshooting tool, Windows logs provide a lot of useful information when attempting to analyze a messaging problem. This might seem like a basic idea for many IT veterans, but some less experienced administrators might have difficulty deciphering what they find in the logs into actionable information.

For Exchange troubleshooting purposes, you should concentrate on the Application log. Filter the log for red events, and then search on the internet for more information about the specific errors you are seeing.
Dig Deeper on Microsoft messaging and collaboration