Get started
Bring yourself up to speed with our introductory content.
Jump into the world's travel tech sandboxes
The old adage that the journey is as important as the destination holds just as true for advancements in travel technology as it does for the act of traveling itself.
We'll get to a world where driving yourself is outdated, where faces and fingerprints replace our passports altogether, or where travel options include hyperloop trains as well as (hopefully much faster) planes.
Today, however, we're still on the journey to that world. The next couple years will be an exciting time for travel tech as advancements made in the past decade begin to scale up and make network-wide impacts. Below we'll explore a few of those advancements and the new experiences travelers should expect (or perhaps attempt) to add to their adventures.
Get a driverless ride in autonomous 'zoos'
While many cities, mobility companies, automakers and even pizza delivery giants are running limited tests of autonomous vehicles on public roads, the truth is that most of those self-driving cars are still being chaperoned through their daily drives by "safety engineers." Where there are no safety drivers, self-driving tests are limited to small, easily definable regions. Nobody can yet say with confidence how autonomous vehicles will be deployed at scale and within open context.
What we can say with certainty, however, is that autonomous vehicles can work when given dedicated space and could be deployed to make airport navigation more convenient and environmentally friendly.
Heathrow Airport in London has the proof. Its self-driving shuttles have been running on dedicated roadways since 2011. Airport officials told the BBC in 2014 that they replace an estimated 70,000 bus journeys each year. The pods also complete their journey faster than buses while reducing carbon emissions by 50% over typical airport shuttle buses and by 70% over individuals in cars.
Travelers should keep an eye out for similar tests popping up at U.S. airports in 2019. San Jose's airport is already testing an autonomous vehicle in a similar terminal-to-parking-lot loop, and cities hoping to rebrand as "smart cities," like Austin and Cincinnati, are also looking into autonomous vehicle options.
Be a biometric test subject
Whether it's an autonomous vehicle, a relative or ride-sharer dropping travelers off at terminal doors, getting through airports is consistently ranked as one of the top stressors for travelers along with money and safety. Thankfully, biometric security technology is having the rare effect of making airports more secure while also making airport processes more convenient.
The latest systems use automated document readers to check the electronic signatures embedded in authentic, government-issued IDs. Then, facial recognition is used to compare the document photo to the actual person. These steps let the system simply answer "yes" or "no" to the question "does this traveler match their ID, is it authentic and were they expected to travel today?"
Lines at baggage check can be shortened by letting travelers check in via facial recognition, retrieve boarding documents and tag their bags on their own. Travelers departing from the Twin Cities' airport in Minneapolis can try facial recognition bag checks with Delta, which started testing its system there last summer.
International travelers might enjoy faster, simpler boarding with facial recognition at Orlando's international airport, where all international travelers will be screened with facial recognition, or at another of the eight airports participating in the U.S. Customs and Border Protection's (CBP) Biometric Air Exit program. At their destination, immigration procedures might also be automated with facial recognition systems that match faces to a temporary data set of expected travelers' passport photos.
Today, testing of these biometric security systems is in earlier stages. CBP has been most active in pushing forward with facial recognition testing, but early success and growing demand for simple airport experiences has encouraged the TSA to explore facial recognition's impact on security procedures for domestic travelers. Expect to see biometrics popping up in airports all over the U.S. in the next year as interest and consumer comfort with biometric systems continue to increase.
Bring travel innovation with you
Believe it or not, rental car companies may soon offer travelers the easiest access to the latest travel technology. In the U.S. they're the largest buyers of new cars, replacing the vast majority of their fleets — millions of cars — each year with newer, more connected models.
Today, travelers can at least expect Bluetooth connectivity, even in budget options, but rental companies are quickly expanding their connected service offerings. As larger infotainment systems trickle down to the smaller models that become rental companies' budget options, new connected services, like in-car payments for parking, tolls, fuel or even your morning latte, will be available for the average traveler.
Technology creature comforts are expanding outside the cockpit, too. To compete with rideshare services, rental car companies are moving more of the rental process to mobile platforms and are even starting to deliver car keys to driver's phones. And while it's still early days for autonomous cars, rental companies' expertise in fleet management could make them an integral part of new mobility's future. For many people it's quite likely the first driverless car they ride in will be dispatched (or at least cleaned) by one of today's rental giants.
Interstate subways and flying cars are on the horizon, but travel and mobility won't change all that drastically for several more years. In the meantime, travelers should enjoy the journey and join in the live testing of technologies that empower personal mobility and keep us all safe on our way.
All IoT Agenda network contributors are responsible for the content and accuracy of their posts. Opinions are of the writers and do not necessarily convey the thoughts of IoT Agenda.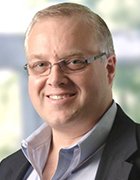 This article was co-written by Neville Pattinson. Neville is senior vice president of federal government sales at Gemalto, where he evangelizes the need for secure digital solutions to protect U.S. citizens' identity and privacy. He's passionate about security and identity initiatives and volunteers his expertise with the National Strategy for Trusted Identities in Cyberspace (NSTIC), the Secure ID Coalition and several other industry organizations.