Zigbee is a standards-based wireless technology developed to enable low-cost, low-power wireless machine-to-machine (M2M) and internet of things (IoT) networks.
Zigbee is for low-data rate, low-power applications and is an open standard. This, theoretically, enables the mixing of implementations from different manufacturers, but in practice, Zigbee products have been extended and customized by vendors and, thus, plagued by interoperability issues. In contrast to Wi-Fi networks used to connect endpoints to high-speed networks, Zigbee supports much lower data rates and uses a mesh networking protocol to avoid hub devices and create a self-healing architecture.
Zigbee specifications
Zigbee is based on the Institute of Electrical and Electronics Engineers (IEEE) Standards Association's 802.15 specification. Zigbee is built for control and sensor networks on the IEEE 802.15.4 wireless standard for wireless personal area networks (WPANs). The Zigbee WPANs operate on 2.4 Ghz, 900 MHz and 868 MHz frequencies.
The Zigbee specifications, which are maintained and updated by the Zigbee Alliance, boost the IEEE 802.15.4 standard by adding network and security layers in addition to an application framework.
The standards created by the alliance can be used to create multivendor interoperable offerings. Manufacturers that are developing custom applications that don't need to operate with the applications of other manufacturers can create their own specific variations and extensions.
As of this writing, there are three Zigbee specifications: Zigbee PRO, Zigbee RF4CE and Zigbee IP.
Zigbee PRO aims to provide the foundation for IoT with features to support low-cost, highly reliable networks for device-to-device communication. Zigbee PRO also offers Green Power, a new feature that supports energy harvesting or self-powered devices that don't require batteries or AC power supply.
Zigbee RF4CE is designed for simple, two-way device-to-device control applications that don't need the full-featured mesh networking functionalities offered by the Zigbee specification.
Zigbee IP optimizes the standard for IPv6-based full wireless mesh networks, offering internet connections to control low-power, low-cost devices.
Mesh networking
A key piece of the Zigbee protocol is its ability to support mesh networking. Zigbee uses a mesh network architecture for communication.
A mesh network is a local area network (LAN), wireless LAN (WLAN) or virtual LAN (VLAN) that employs one of two decentralized connection arrangements: full mesh topology or partial mesh topology.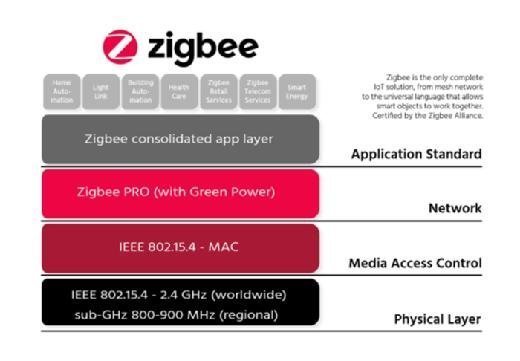 In a full mesh topology, each network node is connected directly to other nodes. In a partial mesh topology, some nodes are connected to all the others, but some are only connected to nodes they exchange the most data with.
The Zigbee protocol defines three types of nodes: coordinators, routers and end devices. Although all nodes can send and receive data, they each play a different role.
There is one coordinator in each network whose job is to store information about the network, including security keys. Routers are intermediate nodes, relaying data from other devices. End devices can be low-power or battery-powered devices, which can talk to the coordinator or a router, but can't relay data from other devices.
Zigbee Alliance
The Zigbee Alliance works to simplify wireless product integration to help product manufacturers introduce energy-efficient wireless control into their products faster and more cost-effectively. Alliance members create standards that offer reliable, secure, low-power and easy-to-use wireless communication, using an open standards development process to guide their work. The alliance is organized by committees, work groups, study groups, task forces and special interest groups.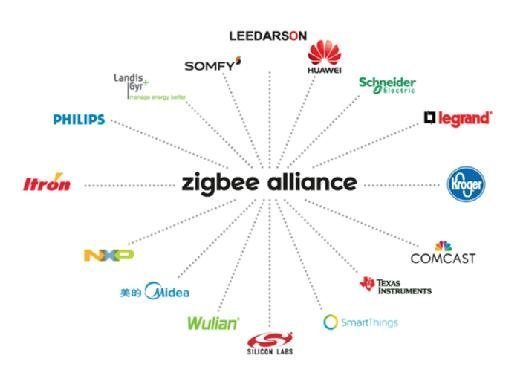 There are three types of membership with different rights and benefits:
An adopter offers access to final, approved specifications, participation in interoperability events and access to standard work/task group documents and development activities.
A participant offers voting rights in work groups and has early access to all Zigbee Alliance standards and specifications in development.
A promoter offers automatic voting rights in all work groups, final approval rights on all standards and a seat on the alliance's board of directors.
Who uses Zigbee?
Zigbee is used by a variety of cable and telecommunication companies in their set-top boxes, satellite transceivers and home gateways to provide home monitoring and energy management products to their customers.
Zigbee is also used by vendors that provide connected lighting products for homes and businesses. With Zigbee-based smart home products, consumers can control LED figures, lightbulbs, remotes and switches in home and remotely to improve energy management.
Utility companies can use Zigbee in their smart meters to monitor, control, inform, and automate the delivery and use of energy and water. Smart meters give the consumers the information -- and automation -- needed to reduce energy use and save money.
Zigbee-based products also enhance the shopping experience for consumers by enabling faster checkouts, in-store assistance and in-store item location. Zigbee helps retailers operate more efficiently by ensuring items don't run out of stock and supporting just-in-time inventory practices, as well as monitoring temperatures, humidity, spills and so on.
Zigbee supports a number of devices, including intelligent shopping carts, personal shopping assistants, electronic shelf labels and asset tracking tags.
Further development
Recently, the Zigbee Alliance rolled out "dotdot," a program to extend its interoperability technology beyond Zigbee. Dotdot, a universal language for the internet of things, lets smart objects work together on any network, unlocking new markets for members and unifying the fragmented IoT.
This was last updated in
June 2017
Continue Reading About Zigbee