kirill_makarov - stock.adobe.com
Autonomous delivery robots ready to roll and deliver
Delivery bots can solve last-mile delivery challenges, but are they ready for prime time? If challenges are overcome, targeted applications may be where delivery bots prevail.
Autonomous vehicles have captured popular imagination thanks to the promise of reducing the drudgery of driving...
Continue Reading This Article
Enjoy this article as well as all of our content, including E-Guides, news, tips and more.
in traffic. As a segment of that market, autonomous delivery robots could help enterprises save money and create new opportunities for moving goods the last mile to consumers. In many ways, they face bigger challenges than other types of IoT applications because they are designed to operate in less controlled environments that include hazards such as moving obstacles, vandalism and theft.
The technology is still in its infancy, but the autonomous delivery robots market is expected to grow at a compound annual growth rate of more than 14% from 2018 to 2023. Only a few companies, such as Starship Technologies Inc. and Savioke Inc., offer commercial delivery robots for use in restricted regions. But that could change in the near future because considerable research and money is going into making delivery bots practical. For example, Starship offers unmanned commercial delivery services of groceries in the U.K. and the U.S. Its robots have covered more than 125,000 miles in 20 countries around the world.
For its part, Nuro Inc. announced a major partnership with grocery chain Kroger to roll out an autonomous delivery service in Arizona and is doing a beta test in Scottsdale. More than a dozen other enterprises are experimenting with beta tests of delivery bots of all shapes and sizes. Many of these startups have attracted considerable funding. Nuro has raised $91 million and several others have raised more than $10 million, as well as backing from automotive giants like Daimler AG and Toyota.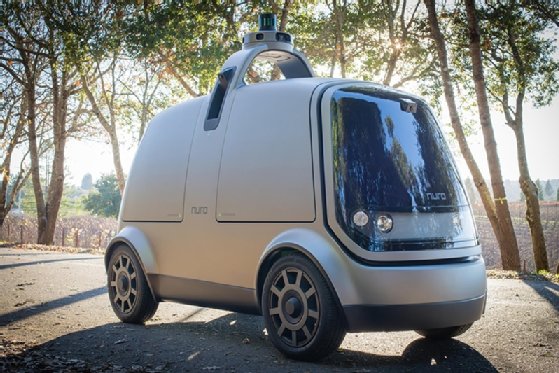 A recent McKinsey report estimated companies spent nearly $81 billion on last-mile delivery in 2015 worldwide, about 40% of that in the U.S., Germany and China. Last-mile delivery is expected to grow quickly as more consumers opt for same-day delivery. Autonomous delivery robots could help grow this market while reducing the amount of labor required.
Different types of delivery robots include:
Road-driving delivery vehicles from companies like Nuro and Box Bot Inc., with separate shipping bins for different orders;
Smaller sidewalk-based bots for city, office and hotel deliveries from companies like Aitonomi, Starship, Dispatch, Robby Technologies Inc. and Marble;
Robomart Inc. is working on an autonomous store that lets consumers summon a store to shop from home;
ai is working on walking bots that can bring packages upstairs; and
Companies like Alert Innovation are working on infrastructure for optimizing product deliveries inside stores in which the bots are imagined as a sort of 3D conveyor system.
Autonomous delivery robots challenges
Delivery bots need a robust 3D map suitable for self-driving vehicles. Road-based bots can take advantage of much of the 3D mapping work led companies like Waze Mobile and GM Cruise LLC. Sidewalk, office and hotel bot companies have to customize these maps for each environment. Furthermore, these maps have to be able to incorporate and respond to changes in the environment, such as obstacles that get left in a hallway or on a sidewalk. The bots can take advantage of sensors like cameras, lidar, GPS or an inertial sensor to improve or update these maps over time.
The field is benefiting from investments and research in autonomous cars, which reduces the development effort for road-based delivery bots. These seem well-suited for suburban environments, where a bot can easily pull to the side of the road and wait for someone to take the delivery. In the city, sidewalk-based delivery bots could pull up to the door without obstructing traffic. But these are facing some early pushback from normally progressive cities like San Francisco due to concerns about pedestrian safety.
"It takes time to map the complexities of geographies, but this is fundamental to enabling robots to operate and get them to 99% autonomy," said Ryan Tuohy, senior vice president of business development at Starship Technologies. Every aspect of the robot's interface interacts with this mapping process so the robot travels as accurately and safely as possible without obstructing or interfering with physical infrastructure in any location. They can cross roads, climb curbs and navigate around humans and objects in their path. Starship has mapped a variety of different cartographies across the globe, from the hilly landscape of the Bay Area in California to the complex urban sprawl of London, Tuohy said.
Starship traditionally had human handlers accompany robots to improve the understanding of the robots' interactions in real-world scenarios. "Today, we no longer need to use handlers and we're on track to an autonomous delivery service," Tuohy said.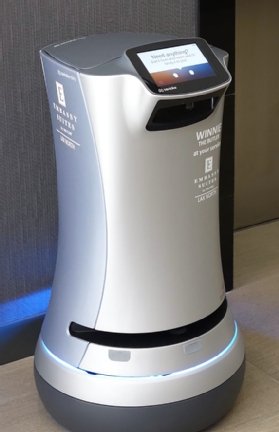 Having an integral understanding of the geography within which the robots work is great, but customers need a tool to interact with in order to glean benefits from the service. For example, Starship developed a smartphone app to orchestrate deliveries from different stores. The app allows people to choose exactly what they want from a grocery store or food outlet and when they want it delivered. Via an interactive map, the app even shows where the robot is as it makes the delivery.
Savioke makes hotel delivery bots that bring amenities and food to guests. This reduces many of the larger challenges around navigating less-controlled environments like city streets. But even there, the company has run into challenges with unruly guests kidnapping robots.
Savioke's "robots as a service" charges hotels a monthly fee based on the number of robots and deliveries. The company works with individual hotels to create custom maps and to customize the elevators required to bring the bots to different floors.
Finding the delivery bot sweet spot
In the short run, autonomous delivery robots may find the most success with targeted applications. For example, Aitonomi started out as TeleRetail, with a vision of delivering goods to consumers in sidewalk-driven delivery bots in Europe. But Torsten Scholl, co-founder and CEO of Aitonomi, said, "We found that limiting ourselves to one kind of vehicle is not useful because everyone has different applications for mobility automation. We can create the most value by being able to automate almost any kind of vehicle within limitations."
The company has been focusing on improving the hardware and software within test areas and areas where autonomous vehicles are permitted. Much of its work has been around customizing existing commercial sensors and focusing on the software for autonomous delivery. The biggest challenges are in making the robotic delivery vehicles practical in the wild. In the short run, it has found the best promise in moving goods between predetermined facilities or around larger facilities, which Aitonomi calls horizontal elevators.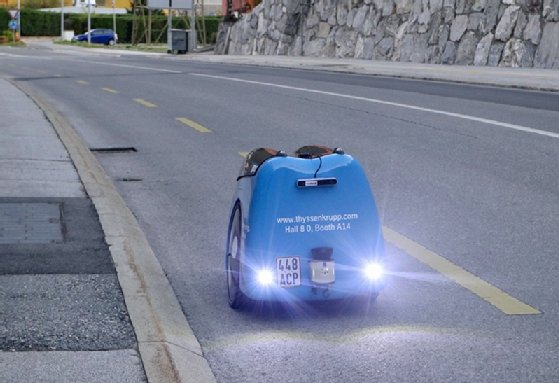 For example, Aitonomi's work with Swiss Post, the national postal service of Switzerland, started with the intention of fully automating a same-day delivery service. But in the near future, the company found it makes more sense to focus on moving packages between facilities on pre-mapped routes.
"For now, we think that shipping goods within industries is a more feasible way to approach it," Scholl said. "The market is still early for consumer delivery. I think a delivery person will be more effective than robots because someone has to come out of the house. It may take time to replace that with robots since it is both technically and legally challenging."
Starship's Tuohy is more optimistic about consumer delivery bots. "The world of delivery is changing forever," he said. "Robots are enabling new consumer-facing services to be deployed at a fraction of the cost and with less hassle for the customer. Technology advancements are key, of course, but it's really about making people's lives easier and delivering services that we all want and need to improve our lives."
Dig Deeper on Internet of things platform