bakhtiarzein - Fotolia
SDN for IoT supports networking devices
SDN and IoT are two terms flourishing in the IT industry, so organizations must prepare to combine them while the technology keeps developing.
Software-defined networking meets IoT at the crossroads of VPN exhaustion, uptime challenges and limited network...
Continue Reading This Article
Enjoy this article as well as all of our content, including E-Guides, news, tips and more.
resources. SDN will help drive the expansion of IoT-enabled devices, increase the efficiency of network resource sharing and improve IoT service-level agreements. In return, many vendors expect IoT will support SDN decisions and feed hungry policy engines.
But organizations are still in the process of developing the uses of SDN for IoT.
"The impact that internet of things devices will have on networks is just starting to be felt," 451 Research chief analyst Eric Hanselman said, "because, although the number of devices has been growing rapidly, they don't yet stress existing capacity."
So, how will SDN and IoT work together?
"SDN is only just beginning to be deployed and won't see full deployment by network operators for another two years. While that may seem a distant future, it's critical that providers and vendors are actively engaged today," Hanselman said.
"As the internet of things matures, its interconnection needs will invert those of existing trends -- namely, low data volumes in very high numbers of connections," Hanselman said. "The configuration flexibility that SDN offers can allow both network operators and enterprises to more flexibly allocate resources to cope with this shift. Network functions virtualization [NFV] can add scalability to the security and processing functions needed to handle this new wave of data."

SDN for IoT supports M2M device fleets
Enterprises face increasingly expensive investments in the data center for machine-to-machine (M2M) device fleet expansion when they rely on standard switching. VPNs work well for fleets of M2M devices that use SIM cards for voice communications on a mobile network. The number of VPNs that standard switching can support limits the size of a M2M device fleet that doesn't use SIM cards.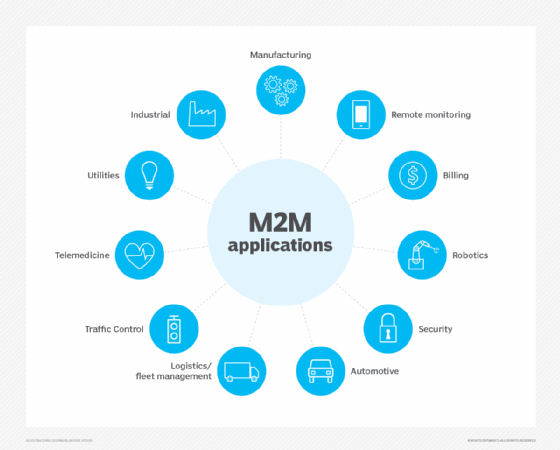 SDN can minimize that data center investment, and the programmable network enables IoT to address VPN exhaustion, according to Jeff Edlund, CTO of communications and media solutions at Hewlett Packard Enterprise.
As the internet of things matures, its interconnection needs will invert those of existing trends -- namely, low data volumes in very high numbers of connections.

Eric HanselmanChief analyst, 451 Research
"Today, the data center must provision another switch every time it reaches the maximum number of VPNs it can support with existing switches," Edlund said. "But, using programmable networks, flow control and SDN, devices in growing device fleets can talk to each other without that additional hardware investment."
SDN and NFV support uptime and IoT
Telecom networks provide connectivity from the IoT device to the cloud. These networks have traditionally been built using physical equipment, which ensured adequate uptime for services. As service providers start to deploy SDN for IoT and NFV in their networks, they face challenges maintaining the level of reliability customers have come to expect. In many cases, reliability is guaranteed by service-level agreements that providers have to meet regardless of the technology they use.
"Once service providers bring in SDN and NFV, they end up with new virtualized network applications that they haven't proven," said Charlie Ashton, former senior director of networking solutions at Intel subsidiary Wind River, a vendor that supports uptime for network infrastructure platforms to connect IoT-enabled devices to the edge management system in the data center. The vendor uses its carrier-grade Titanium Server that integrates an NFV software platform to provide the reliability that IoT-related services require.
"The Titanium Server for SDN and NFV deployments helps guarantee the level of service reliability that you need for IoT customers," he continued.
Other vendors provide a variety of IoT capabilities, Hanselman said, specifically citing Ciena's Agility Matrix, an NFV platform, and Alcatel-Lucent's CloudBand.