iconimage - Fotolia
SaaS IoT platforms jumpstart IoT app development
Starting an IoT deployment from scratch can be prohibitive, but an IoT SaaS platform can make the endeavor more realistic for organizations that want a competitive edge.
Organizations must figure out how to implement and apply IoT, how long it takes to get started and what it will cost. Questions like these often have discouraging answers, especially for smaller companies with little in-house infrastructure.
The cloud, like the internet before it, changed the IT game and became the great equalizer for organizations of all kinds and sizes. With the cloud, smaller companies could deploy enterprise-scale applications by renting, rather than buying, infrastructure. IoT isn't as clear-cut as cloud technology, either in form or substance, which means organizations must rethink their strategy and architecture. IoT is hardware-intensive and its applications are difficult to design, which sets smaller companies up for the same difficulty as they encountered before cloud offerings.
SaaS offers another way for organizations to invest in IoT without designing their own applications from scratch. Web-hosted applications are highly economical for organizations of all sizes and present smaller ones with a broad range of advantages, including lower cost of ownership, faster time to market, easy scalability and freed-up resources.
It should surprise no one that vendors have deployed SaaS IoT platforms to address the problem of adapting the enterprise for IoT-based applications, as well as many of IoT's hardware and infrastructure challenges.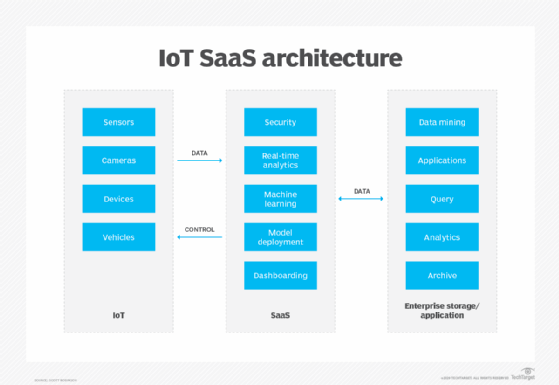 Learn SaaS IoT platform basics
The first, and often most, daunting challenge of an IoT implementation is figuring out how everything will connect together. Whether organizations use networks for sensors on a factory floor, cameras in a large metropolitan security grid or mobile gadgetry in traffic, IoT networks are often a complex sprawl that require a lot of time and expense to design, implement and debug.
Some IoT SaaS providers, such as EMnify, address the connectivity challenge through cellular connectivity via the cloud. A mobile core infrastructure creates virtual networking that configures devices as needed for particular applications when they connect to a cloud service. Security and scalability are far simpler in such a scheme.
The next big IoT challenge is aggregating IoT data once it's gathered. For example, many industrial tire manufacturers embed location, motion and impact sensors in their tires. With tens of thousands of such tires out in the world generating data, that's an analytical boon for the manufacturer, but only if that data makes it back to be analyzed. An IoT SaaS platform makes the collection of all that data practical and economical.
SaaS IoT platforms offer connectivity and data collection functionality at their core, but organizations should also look for additional features.
Understand typical SaaS IoT providers
SaaS IoT platforms offer connectivity and data collection functionality at their core, but organizations should also look for additional features.
One common capability is easy integration of IoT data with other kinds of information. This functionality is typical of offerings among the biggest tech giants, such as Salesforce IoT Cloud, which easily integrates mobile devices and sensor data with more conventional data. For example, an organization can use the integration to monitor its sales force in the field, interact passively and actively with mobile devices, and gather travel logistics from the vehicle that a salesperson is using.
Also consider capacity. How much can the SaaS IoT platform handle? Smart city tech is now more common, given the massive economies of scale that can be realized when municipal systems are automated. Implementing a smart city by building the IoT networks from scratch is a nonstarter, both economically and complexity-wise, but an IoT SaaS platform, such as the Google Cloud IoT platform, greatly reduces both.
Built-in machine learning is crucial. IoT data often must be perpetually analyzed to be of any use. The convenience of having machine learning embedded in the IoT SaaS platform can't be overstated. Microsoft's Azure IoT and IBM's Watson IoT platforms both offer this machine learning functionality.
Connectivity beyond the IoT SaaS platform is often an essential consideration. It takes time to set up the IoT hardware network and collect and analyze the data to send the results back to the organization. Often, as with Salesforce, there's no need to figure out how -- the data is automatically sent back. But if the data needs to make its way back into in-house systems, a channel is needed. Many IoT SaaS providers offer APIs that connect IoT processing to the central systems that will make use of the data. Particle, Oracle IoT and Altair SmartWorks all offer REST APIs for easy integration.
What you need and what to look for
Parsing IoT SaaS offerings and matching them up to what the organization needs may seem daunting, but vendor offerings are clearly defined enough that IoT technology leaders can apply conventional business decision support. A common paradigm is current state vs. future state with gap analysis.
Current state. There's data that could positively affect several processes. Where is it and what systems and processes would use it if it were available?
Future state. If a product is in place, what does the desired result look like? Which processes have changed? How have they changed? The desired data is gathered and analyzed with IoT and machine learning, and the result flows back to the enterprise on autopilot. What does that include?
Gap analysis. What's the to-do list to get from current state to future state? Organizations must answer these questions:
How are IoT devices connected?
How is IoT data aggregated?
Does it need to integrate with other data?
What's the volume and scope of the data and will it need to scale?
Is machine learning needed?
Will the IoT deployment require connectivity to the IoT SaaS platform?
Once these questions have been answered, it's straightforward to match those answers to the offerings of the many SaaS IoT providers out there. Pricing can be a determining factor because of the number of qualifying vendor offerings available. Calculating ROI for C-suite buy-in will likely be a refreshing undertaking.