kras99 - stock.adobe.com
Guard your network with IoT software security
IoT software security can present a challenge for IT admins and may call for specialized tools such as extended detection and response platforms.
IoT software security is usually the last thought for any cybersecurity team, which can put organizations at significant risk. However, with a little planning, they can close the security gap for their IoT systems and increase their security posture across their IoT fleet.
IoT security depends on protecting multiple levels, including the hardware, the firmware and the application layer. Even if organizations have secured the physical devices and turned on basic IoT security measures, the software remains vulnerable.
The challenge of securing IoT software
IoT software raises particular security challenges because of the number of devices in a network, the functions they perform, their network connections and the organization's current security strategy. The software often connects to the internet through gateways, making security vital at each transfer point.
The way existing network monitoring systems collect and present data makes it challenging to gain visibility into IoT software issues because they lack context. A security information and event management (SIEM) tool or intrusion detection system (IDS) alert identifies that there's an issue with a system. However, these alerts don't present the right information to security teams to fully understand what's going on.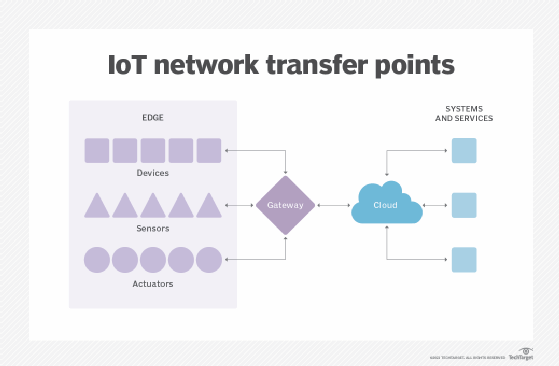 IoT software security considerations
How an organization secures its IoT software depends on several factors. Security professionals must consider the software's function, the device it's on, where it's physically located and how it connects to the network. Each factor limits the usable security options and how they affect the device and the software. Be aware of the tradeoffs that tighter security might require. For example, some software security options are highly effective but use more data and computing power and decrease performance.
Other considerations for IoT software security options include:
The threat model for the software, network and related systems. It's essential to understand what could happen to the software and anything connected to it so IT administrators can prepare.
Current IoT, security and network monitoring systems. This prevents organizations from duplicating monitoring efforts and saves money.
The price of the IoT software security product. If an organization needs to deploy a separate product or service, it will add costs that must be accounted for in the budget.
IoT software raises particular security challenges because of the number of devices in a network, the functions they perform, their network connections and the organization's current security strategy.
Top IoT software security products
Many organizations already have SIEM, IDS and endpoint detection and response tools in place, but they also have a new class of security tools to consider that can give context for IoT software security: an extended detection and response (XDR) product.
XDR software provides the context for the data gathered across the multiple layers of IoT devices, including the software. The more context, the faster IT administrators and tech professionals can analyze the situation. IT pros can use XDR to identify threats faster and respond more quickly to protect applications and data.
Here are three IoT software security products and their features that matter to application layer security:
1. Cynet 360
The Cynet 360 XDR platform is an autonomous break protection platform that provides extended prevention and detection across endpoint, network and user activities. Like most XDR products, it offers highly contextual security views and alerts. Its main feature is to launch fixes and protections automatically based on predefined alerts. Instead of just alerting security staff of a potential threat, the platform immediately alerts and launches a fix, alleviating an activity bottleneck for security teams and a widespread IoT app fleet.
Cynet 360 is available as a cloud service and has a free 14-day trial to test it out. For a complete price, organizations must get a quote.
2. Palo Alto XDR
Palo Alto's XDR product, Cortex XDR, offers cloud-based security that gathers and integrates security data from all endpoints. Like other products, it provides context for the data it collects and alerts teams when there's a threat. Its main differentiator is that it uses machine learning to profile behaviors and detect anomalies indicating an attack. The XDR product uses behavioral analytics and AI-powered threat detection to find well-disguised threats such as insider abuse, credential attacks, malware and exfiltration.
Cortex XDR is a SaaS application, and pricing is only available after booking a demo.
3. Trend Micro XDR
The Trend Micro Vision One product connects all aspects of a network -- email, endpoints, servers, cloud workloads and IoT applications -- to offer complete XDR monitoring, detection and remediation. Vision One delivers more deep activity data than other products that typically only offer detections and alerts. Security teams can use this data to detect and understand issues faster and protect IoT applications more effectively.
Vision One is a SaaS application and is available in a standalone or managed XDR option that includes detection and response services by Trend Micro security experts. Organizations must contact Trend Micro for pricing information.