Halfpoint - Fotolia
How to get the most out of AWS re:Invent 2019
Get the lowdown on this year's re:Invent before you go. With tips on travel logistics, session reservations and social outings, you'll be ready to maximize your time in Las Vegas.
AWS re:Invent will once again be the biggest cloud conference of the year. There's plenty to do and learn about at the show, but attendees can easily get overwhelmed.
The conference can be a logistical nightmare for those who don't do their homework. More than 50,000 people attended last year's conference, and, undoubtedly, more will attend AWS re:Invent 2019. The conference is spread across six venues, and bottlenecks are a common occurrence, as people pour out of sessions en masse and traverse the distributed campus.
But a little preparation can go a long way to ensure you pack in as many of the sessions and meetings as possible. The show kicks off Sunday, Dec. 1, and ends Friday, Dec. 6. Here's a roundup of what you need to know before you go to AWS re:Invent 2019.
Navigate the Las Vegas Strip
The main hubs of activity at re:Invent 2019 will be the Venetian, Aria and MGM Grand. There will also be some sessions and events at the Mirage and Bellagio. The campus layout is slightly different this year, so plan accordingly if you haven't already booked your hotel. Also, there will be a lot more activity at the MGM Grand, with double the amount of content there, compared with 2018.
AWS will provide free shuttle buses between venues, but it can take an hour or more to get from one conference hall to another. And don't forget to account for the time it takes to walk through the maze-like hotels in order to get to your specific session or meeting room.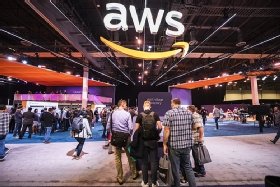 The travel logistics have resulted in much consternation in the past, so Amazon has changed its policies this year to prevent attendees from booking sessions in different venues that are less than 60 minutes apart. Also, there's a strict policy that you need to be in the room 10 minutes before the session starts, or else you lose your reservation.
In addition to taking the shuttles, attendees can walk, take the Las Vegas Monorail, or hail a taxi or ride-sharing service. The Monorail won't take you door-to-door from the MGM Grand to the Venetian -- the closest station is at the Linq -- but it will get you within a short walk and is often far less crowded. However, if you're travelling between venues that are relatively close, walking might be your best bet. It's a 20-minute walk -- without any detours -- from the MGM Grand to the Aria and a half hour walk from the Aria to the Venetian.
Mark Nunnikhoven, vice president of cloud research at Trend Micro and an AWS Community Hero, recommended strategically balancing venues throughout the week, because there are interesting activities distributed across the campus, whether it's the expo hall at the Venetian, the quad at the Aria or any of the other hands-on events at the various sites.
"Either pick one [venue] and switch around lunch time or pick a different venue every day," he said.
One other tip for avoiding long lines: If you're flying to re:Invent 2019, register at the airport after you land instead of at the conference halls.
Plan your sessions
Re:Invent 2019 has more than 2,700 sessions from which to pick, so narrowing down your favorites isn't easy. It's also highly unlikely that you'll land all the sessions you want. Reserved seating is open now, and some sessions are already sold out. It's so challenging, in fact, that non-AWS-hosted sites have emerged to help wade through the catalog.
AWS changed its session strategy last year and distributed topics equally across venues. That policy will continue this year, so you can still stay at one place and learn about a range of subjects. And, this year, there will be more repeat sessions. So, if you're in the north end of the campus and don't want to go to the Bellagio for a particular session that day, perhaps it'll be repeated closer to you the next day at the Mirage.
There are multiple types of sessions to attend, including the following:
Breakout sessions. These are typically held in larger rooms and span a range of expertise levels. This is where you can learn about new products or take a deep dive on a service you use regularly. It's also where tech leads from users such as Netflix and T-Mobile will share their experiences.
Workshops. These are hands-on labs where attendees can work with and learn about a particular service. They're also the longest sessions, typically lasting two hours.
Chalk talks. These are smaller sessions led by several AWS solutions architects. They'll walk through a real-life example and provide a short lecture, after which attendees will talk about the issue at hand.
Builder session. These are led by an AWS expert. Space is limited to six attendees, who work in a sandbox environment on new or existing technologies.
If you get to Las Vegas and still haven't booked any sessions, look for a set of digital monitors with a list of session rundowns. There should be an AWS expert standing nearby to review your interests and help make selections.
Of course, the biggest sessions are the keynotes. If they follow the pattern of the past two years, CEO Andy Jassy will do the heavy lifting with product news, and Amazon CTO Werner Vogels will follow up the next day and talk about some of the overarching themes driving the tech giant and the industry as a whole.
If you're interested in taking a deep dive on AWS, check out "Monday Night Live," hosted by Peter DeSantis, vice president of AWS global infrastructure. It'll probably be light on product announcements, but it's the closest thing most attendees will ever get to a peek behind the curtain at Amazon.
Of course, not everyone attends the keynotes. Lines form early, and some folks would rather forgo the nightclub ambiance at 8 a.m. Plus, these and nearly every other breakout session will be posted online shortly after the conference.
Social activities
There will be no shortage of social opportunities at AWS re:Invent 2019. The show kicks off Sunday with "Midnight Madness," a pep rally with music, games and food.
There's the annual pub crawl on Wednesday, the DeepRacer competitions for AI enthusiasts, and the massive re:Play EDM concert and adult playground Thursday night. There are also some more low-key gatherings this year, including arts and crafts, movie night and board games.
There will be themed networking lounges open in the daytime and spread throughout the venues on topics such as databases, financial services, AI and more. Don't overlook the opportunities to meet and talk with people from different professions. The conference was once a developer-centric crowd, but now hosts a wide range of attendees.
You'll still see plenty of hoodies, but there'll be folks in suits and everything in between. That's a reflection of how much the cloud market has changed over the years, but it also provides ample opportunity to learn from your peers, Nunnikhoven said.
"There is this wide and diverse audience," he said. "You get these different perspectives, which tend to spur much better conversations."