Sergey Nivens - Fotolia
IBM pushes automation, NLP in Cognos Analytics 11.1 update
Cognos Analytics' new features include an AI assistant that responds in natural language, predictive analytics capabilities and tools for better data storytelling.
IBM has added a host of AI-powered tools to its BI platform, Cognos Analytics, to enable more advanced analytics,...
Continue Reading This Article
Enjoy this article as well as all of our content, including E-Guides, news, tips and more.
while at the same time making the platform easier for consumers to use, the company said.
The new Cognos Analytics 11.1 platform features include an AI assistant, pattern detection, visualization recommendations, enhanced storytelling tools, and more advanced analytics and predictive analytics capabilities.
The update, revealed in a Sept. 27 IBM blog post, represents a "big investment," said Greg Adams, vice president of IBM Business Analytics, in an interview. The new tools, beyond adding more advanced capabilities, also make the platform easier to use for nondata-oriented employees and citizen data scientists -- a class of users that has been growing rapidly.
Following a trend
The new features in Cognos Analytics 11.1 make "the platform much easier to use to generate insights, especially the natural language search, which allows users to have real conversations with the data," said Wayne Eckerson, founder and principal consultant at Eckerson Group.
IBM is [in the] middle of the pack, which is a tad surprising, given their Watson heritage.

Wayne Eckerson, Eckerson Group
"It automates data preparation and data modeling tasks, so analysts can focus more on insights. It also auto-generates insights based on a field of interest selected by a user, using algorithms to tease out key drivers of a metric, for instance," he continued.
Still, Eckerson noted, these are features that "all the BI vendors are racing to incorporate."
"Some are a little bit ahead of others, but most will end up in the same place in 18 months. IBM is [in the] middle of the pack, which is a tad surprising, given their Watson heritage," he said.
Earlier this year, BI software vendor Alteryx Inc. released Alteryx 2018.3, which added enhanced visualization capabilities and set the stage for future updates that are said to increase the platform's augmented intelligence and smart capabilities.
Tableau also made a move to add more automation to its platforms this year with the acquisition of MIT startup Empirical Systems. The startup worked on a platform to automatically model data for analysis, and it provides predictive insights into that data -- features that Tableau noted it will work to add into its own platforms.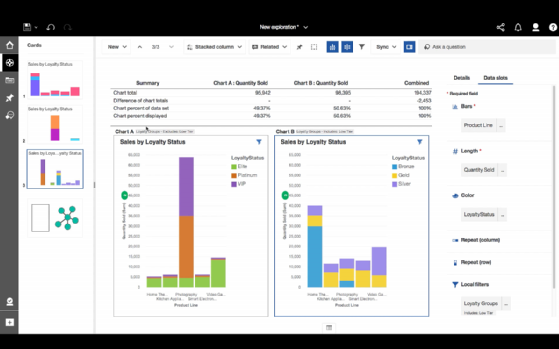 Easier to use
According to Adams, at IBM, "we know to really help people find insights, to really be self-service means people need to be automatically given insights, automatically have things brought to their attention, and we have to have things be really approachable."
That approach is reflected in the new AI Assistant. Taking advantage of new natural language processing (NLP) capabilities, the assistant in Cognos Analytics 11.1 enables users to type in questions and commands, such as a command to join data sets.
"The key with the conversation technology, it's not something that we wanted to bolt onto the side," Adams said. "We really tried to inject it, so it's part of your typical flow."
Advanced analytics
The new AI technologies in Cognos Analytics 11.1 work well with the newly introduced advanced analytics tools, Adams said.
The platform now has pattern detection, which can automatically discover and present relationships in data that's being explored.
Looking at a certain visualization, for example, the platform will automatically find related visualizations that could be used, Adams said. When selecting data, the system will also provide recommendations for visualizations.
With a new exploration tool in Cognos Analytics 11.1, users can drag and drop two visualizations for a "quick side-by-side comparison" that will automatically search for relationships, Adams said.
The update also includes enhanced predictive analytics capabilities; more data storytelling options, with the ability to create interactive narratives with sequenced visualizations and media; and easier-to-use reporting tools.
Setting apart and looking ahead
While Adams acknowledged other BI platforms have recently incorporated similar features, he claimed IBM's attention to data governance sets Cognos Analytics 11.1 apart.
"One of the nice things about Cognos is its enterprise-grade, trusted environment," he said, adding that IBM has also introduced a system to automatically detect AI bias.
In addition to the update, IBM has released a new subscription pricing model for the platform. The model sets the platform into three tiers: lite, premium and enterprise. The Cognos Analytics 11.1 update is available for the highest tier as of Sept. 28, and it will be available on the other tiers by the end of the year, according to IBM.