funkyfrogstock - Fotolia
GoodData adds self-service modeling tools to analytics suite
New self-service data modeling tools are the latest additions to the GoodData platform as the vendor overhauls its platform in an attempt to enable more users.
GoodData today unveiled two new data integration and modeling capabilities for its analytics platform on Friday, each designed to enable self-service users to prepare their data for analysis.
The vendor, founded in 2007 and based in San Francisco, began an overhaul of its platform during the summer of 2019, shifting from a focus on embedded BI to self-service analytics, and the new data modeling capabilities are part of that overhaul.
CSV Modeling, now generally available, enables users to create or prototype data models from comma-separated value files (CSVs) stored on Amazon S3 or kept on premises. With the new tool, organizations without cloud data warehouses have the ability to develop data models from CSV files, automatically update the underlying data, and build dashboards on top of those data models for analysis.
Cloud Data Warehouse Modeling, meanwhile, is scheduled to be available in early November and enables users to create data models using data stored in cloud data warehouses. Using a drag-and-drop interface, users are able to easily search and select datasets from their cloud data warehouse and create the data models that lead to analysis and insight.
And for those organizations that have some of their data stored in CSV files and some stored in cloud data warehouses, the new tools can be used in concert with one another and the data from each can be combined.
The development of the new tools, particularly CSV Modeling, which enables on-premises customers, ironically stemmed from an alignment GoodData made with Amazon Redshift in late 2019, according to CEO Roman Stanek. After developing the support for Redshift -- GoodData is also closely aligned with Snowflake -- the vendor discovered that a vast majority of the customers using its analytics platform still stored their data in CSV files rather than cloud data warehouses like Redshift and Snowflake, and those customers weren't being served by the support for Redshift.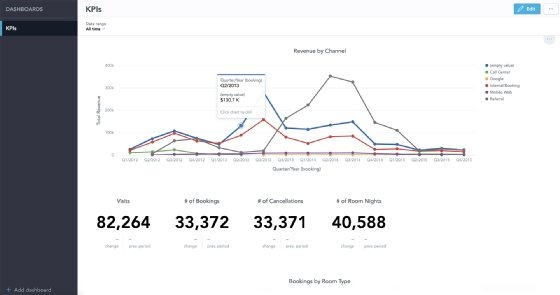 "As much as we all want to live in a world of Kafka [open source event streaming platform] and so on, most of the data is in CSVs, so one of our goals is to help companies to model their existing CSV files," Stanek said. "It's in the vein of making analytics self-service -- easy -- and as mundane as CSV files sound, 90% of the people who come to us tell us their data is in CSV files. It's a reflection of reality."
He added that beyond enabling organizations to discover relationships within their on-premises data and model that data, CSV Modeling is designed to help on-premises customers migrate to the cloud, where they can then use Cloud Data Modeling for their integration and modeling needs.
As much as we all want to live in a world of Kafka [open source event streaming platform] and so on, most of the data is in CSVs, so one of our goals is to help companies to model their existing CSV files.

Roman StanekCEO, GoodData
"It's this whole new world of how we can help people transition from the old world of on-prem applications that are very difficult to manage and help them move to the cloud," Stanek said.
Analysts, meanwhile, said the new data modeling tools are strong additions to the GoodData platform in light of the vendor's ongoing shift toward enabling self-service analytics.
Rick Sherman, founder and managing partner of Athena IT Solutions, said that the coupling of self-service data modeling capabilities with self-service BI capabilities makes sense for users of the GoodData analytics platform.
"There's an awful lot of focus right now on pipeline tools, pipeline capabilities, and to combine the BI product along with the data prep/data pipeline capabilities and self-service and bundle them together is exactly what they should be doing," He said. "It's strong. Because they've previously been oriented toward embedded analytics, they're trying to provide more of a full spectrum. It makes a lot of sense."
Meanwhile, Mike Leone, senior analyst at Enterprise Strategy Group, said CSV Modeling is noteworthy given that so many organizations don't yet use advanced BI tools.
"The CSV modeling aspect is particularly interesting from a self-service standpoint," he said. "Leveraging spreadsheets and CSVs are still one of the most popular ways to conduct analysis, especially for a wider end user base that doesn't have complete or unlimited access to a cloud data warehouse. This really enables them to do more with data and do it a lot faster than before."
Regarding the overhaul of the GoodData analytics platform, Stanek said the process is nearing completion after more than a year, and though he expects to release more new features before the end of the year, the fully revamped platform is planned for the first quarter of 2021.
He added that the redesign was motivated by the rise of cloud data warehouses like Redshift and Snowflake and the realization that opportunity lay not in developing an end-to-end analytics stack -- which would compete with cloud data warehouses during the data storage part of the analytics pipeline -- but in aligning with them and focusing on the data consumption part of the process.
As part of the project, GoodData is examining every part of its analytics platform piece by piece, keeping some, eliminating others, and updating still others to fit with the vendor's focus on self-service, according to the vendor.
In April, GoodData introduced a free self-service version of its platform -- it also has a Growth version that starts at $20 per workspace, per month and an Enterprise version with customized pricing -- and is continuing to add pieces in preparation for the launch of its overhauled platform next year.
"Going to self-service makes a whole lot of sense in order to get a broader use case," said Sherman, who noted that GoodData's customers needed a high level of technical expertise when its focus was on embedded BI. "That focus makes a whole lot of sense. They needed a broader audience and were seen as difficult to use, and they're certainly addressing that."
Similarly, Leone said GoodData's turn toward self-service analytics is a good direction for the vendor.
"It serves as a natural extension of what they already deliver to their customers -- a way to empower more end users to seamlessly access and analyze more data," he said.
With self-service analytics in mind, over the next few months as it readies the launch of its redesigned platform, GoodData is planning to release more tools designed to enable more people within organizations.
"We will be launching multiple releases which will make analytics more pervasive," Stanek said.
Dig Deeper on Business intelligence technology