Getty Images/iStockphoto
Acceldata update enhances data observability platform
The vendor's latest platform update adds four new capabilities, including low-code/no-code options for developing data quality standards and self-healing capabilities.
Acceldata has updated its data observability platform, adding new automated remediation and low-code/no-code options for developing data quality standards.
Based in Campbell, Calif., Acceldata is a 2018 startup that provides a data observability platform aimed at enabling customers to monitor their data throughout its lifecycle to make sure it's of high quality when needed to inform an enterprise's decisions and actions.
When organizations had relatively few data sources and kept all their data in on-premises databases, data observability was relatively simple. Now, however, most organizations collect data from a wide variety of sources and store it in numerous cloud and on-premises repositories, making data observability far more complex.
As a result, Acceldata and competitors including IBM Databand and Monte Carlo have emerged to address growing data quality assurance needs.
Recently, the vendor raised $50 million in venture capital funding to bring its total funding to more than $95 million and said it planned to use the funding, in part, to fuel marketing strategies that raise awareness of the importance of data observability.
New capabilities
Released on March 15, Acceldata's latest platform update includes a feature that uses machine learning to automatically detect and remediate incidents in the data pipeline. By doing so, the tool reduces the burdens on data engineers and decreases the time it takes for incidents to get resolved.
No-code/low-code lets a team quickly integrate Acceldata into their operations and begin to see the benefits of data observability on increasing data quality, which is critical to good data for decision-making.

Stephen CatanzanoAnalyst, Enterprise Strategy Group
In addition, the update adds a feature that lets data teams implement data governance guidelines that target data reliability with low-code/no-code capabilities or pre-built templates.
Like the new self-remediating capabilities, the new governance implementation tools target speed and efficiency, making them beneficial to users of Acceldata's data observability platform, according to Stephen Catanzano, an analyst at TechTarget's Enterprise Strategy Group.
"No-code/low-code lets a team quickly integrate Acceldata into their operations and begin to see the benefits of data observability on increasing data quality, which is critical to good data for decision-making," he said. "Poor-quality data leads to uninformed decisions, which no one can afford. Self-healing ... results from good data observability to learn and heal without burdening technical teams."
Beyond self-healing and low-code/no-code options for developing data quality and reliability rules, Acceldata's platform update includes the following:
Intelligent alerting that automatically prioritizes the most important alerts so that users can know which incidents to address first.
Targeted recommendations designed to enable users to proactively resolve any issues in their data and analytics operations.
Like Catanzano, Kevin Petrie, an analyst at Eckerson Group, noted the importance of Acceldata's new self-healing capabilities. He also highlighted the new targeted recommendations as a meaningful addition to the vendor's data observability platform.
"Data observability vendors ... help data engineers configure controls and monitor data flows, then spot and remediate issues with less effort," Petrie said. "Acceldata's new recommendations and self-healing capabilities, in particular, aim to guide decisions, take automated action and speed time to resolution. Enterprise data teams need this kind of assistance to support modern analytics workloads."
Regarding the reason Acceldata chose to build the four features launched in its latest platform update, customer requests were the primary motivation, according to Ashwin Rajeeva, the vendor's co-founder and CTO.
He noted that Acceldata has a product roadmap that plots out development for the next few years and simultaneously adds new capabilities on a release cycle of every three weeks. Customer requirements therefore help determine which of the many features on the vendor's roadmap get prioritized.
"We learn from working closely with customers," Rajeeva said. "The new capabilities reflect the implementation of our innovations and being responsive to customer requirements."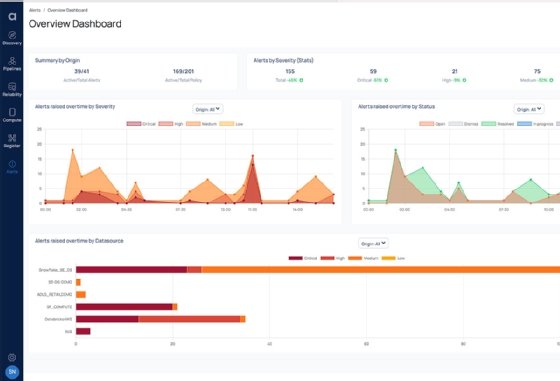 Future plans
Moving forward, data reliability and operational intelligence will feature significantly in future Acceldata updates, according to Rajeeva.
In addition, cost optimization will be a focus. Acceldata does not publicize its pricing, but cloud computing costs can be more expensive than expected, so the vendor aims to help its users keep those expenses under control.
AWS is one vendor that provides tools to help customers calculate their cloud costs.
Another area in which Petrie said he'd like to see Acceldata focus is on partnerships that make its data observability platform part of a larger ecosystem for data management and analytics. He noted that the vendor has existing partnerships with Snowflake and Databricks, but that Acceldata could benefit from adding more.
"Ultimately, data observability is part of larger DataOps and data management initiatives," Petrie said. "Data observability tools, therefore, need deep integration with the modern ecosystem of data platforms and data management tools. I'd expect more partnerships to help data teams manage data observability as part of a cohesive data environment."
Catanzano, meanwhile, said that while Acceldata seems focused on adding technological enhancements, it could benefit from adding features that help customers calculate their ROI in data observability.
"I would like to see how much does data quality improve, and what are the economic impact and cost reductions," he said. "This should be quantified into qualitative and quantitative benefits."
Eric Avidon is a senior news writer for TechTarget Editorial and a journalist with more than 25 years of experience. He covers analytics and data management.