News
Stay informed about the latest enterprise technology news and product updates.
IT salary satisfaction survey says IT directors squeezed in midmarket
A question for all of you midlevel IT managers and directors out there: What's got you down? According to new data from the CIO/IT Strategy Group poll on IT salary satisfaction, your subgroup in midmarket-size companies is the least satisfied with compensation.
Almost 31% of you were "somewhat dissatisfied" with your compensation — the largest slice of the pie (see charts). "Satisfied" was the next group, at almost 26%. "Not at all satisfied" came in just under 10%. So, more than 40% of you are not happy with your pay. The question is, are you just not getting enough money or are you working too hard for the money that you do get?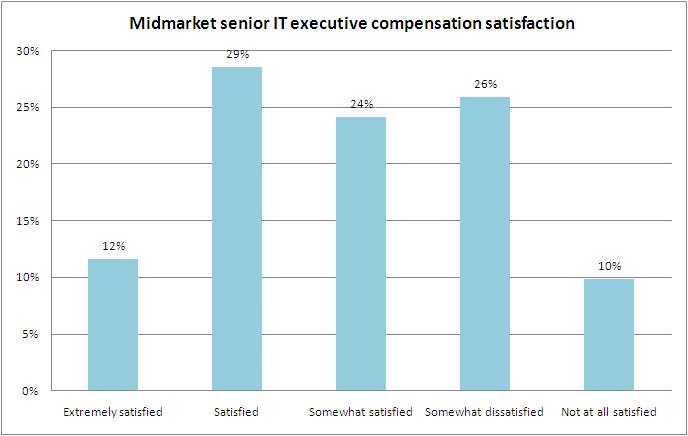 Senior IT executives in the midmarket are not much happier. More senior IT respondents are "satisfied" or "somewhat satisfied" (53%) compared with their direct reports (45%), though 26% still say they are "somewhat dissatisfied" — which is the second highest count.
Midlevel counterparts at large enterprise and small business register as a little more satisfied with their salary than midmarket directors. What to make of all this? It could be a kind of middle child syndrome. Because you really are in the middle of the middle-sized companies. Enterprises get all the money, but perhaps small business directors are more satisfied because they have more control over their jobs.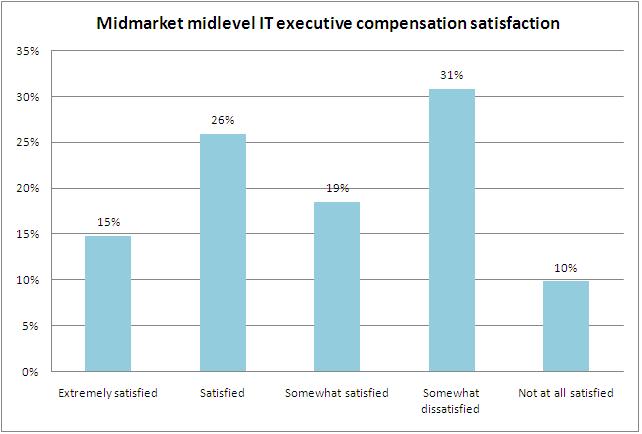 There's a lot of data to discuss. Read more about it in our reports coming out starting next week. In the meantime, if you have any thoughts to share, please email me at [email protected].