Fotolia
CTO: Hyper-converged infrastructure appliances cut costs
An Indianapolis school district's decision to deploy hyper-converged infrastructure appliances has reduced support overhead and cut acquisition and operating costs.
For the Metropolitan School District of Wayne Township, its first nudge into the new world of hyper-converged infrastructure appliances came from an old technology.
The school system, located in Indianapolis, had been using the once ubiquitous and now out-of-support Novell NetWare local-area network software. Five years ago, MSD of Wayne Township began moving away from NetWare and toward the Windows network operating system. With that big change underway, the district decided it might be smart to reconsider its storage choices as well, recalled Pete Just, CTO at MSD of Wayne Township.
The school's storage was built around IBM network-attached storage and storage-area network (SAN) products. "What we were looking for at the time was a place for new home directories for all of our users," Just said.
MSD of Wayne Township decided to consider hyper-converged infrastructure vendor Scale Computing as a storage supplier. The school system was aware of the success other customers were having with Scale's HC3 hyper-converged infrastructure (HCI) platform, Just said. Proximity was another factor, as Scale is also based in Indianapolis. HC3 combines server, storage and virtualization functions in a unified hardware appliance.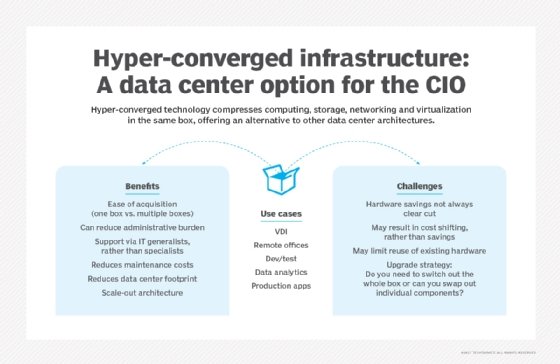 Hyper-converged infrastructure appliances: Less overhead
Just said the HCI platform approach was attractive since it required a lot less overhead than the storage systems the school had been running. He cited the difficulty in keeping up to date on the product-specific knowledge needed to manage a SAN and its supporting software. Maintaining a solid security footing was another issue -- making sure the latest updates have been applied to all the storage gear.
It has allowed us to do almost everything in-house.

Pete JustCTO, MSD of Wayne Township
"We just have a hard time finding the time to train our staff on those challenging environments and staying up to speed," Just said.
MSD of Wayne Township's IT staff members are mainly generalists, as opposed to specialists on particular platforms. As a result, the school district had to supplement its staff with outside experts to set up and maintain storage gear.
"You have to farm that out, which is, of course, at a high cost," Just said.
While many contractors offer discounts in the K-12 market, the school could still end up paying $200 an hour for expertise.
Soft and hard dollar savings
The adoption of the Scale HC3 platform has helped the school save IT support dollars since it no longer relies as much on outsourced technical services.
"It has allowed us to do almost everything in-house," Just said.
With respect to hardware acquisition costs, the initial purchase price of Scale hardware proved less than what it was spending on IBM storage. Taken together, the lower acquisition costs and reduced spending on services resulted in a 30% to 40% savings compared with the old environment, Just explained.
Another source of savings: MSD of Wayne Township pays a minimal ScaleCare Support service fee annually, as opposed to recurring licensing fees. Just said he has started to see those fees become "astronomical" with other partners.
A key takeaway from an HCI deployment
Hyper-converged infrastructure products allow for bite-sized incremental additions and avoid the expense of overprovisioning.
That's one takeaway Just cited based on MSD Wayne Township's deployment of Scale HC3. In past years, IT managers tended to overbuy resources to make sure they had sufficient capacity for unforeseen requirements down the road.
But with hyper-converged infrastructure appliances, an initial installation can grow in small steps as new requirements surface. In Scale's case, units called "nodes" may be added to the original hyper-converged cluster. Just compared the relatively easy upgrade of a Scale environment to updating a SAN, a process, he said that could prove nearly as arduous as setting it up in the first place.
The ability to quickly and incrementally upgrade an HCI environment means IT organizations can be more precise in determining their requirements.
"You really have to make sure you have a clear needs analysis of what you are trying to accomplish and what you are trying to work toward," Just said. "And realize that it is not hard to scale up later should you need it."
From storage to VMs
The initial Scale HC3 project focused on storage, but the school district a few months ago followed up on that installation with a second deployment that focused primarily on virtualization. Just said MSD of Wayne Township has already migrated a "select number" of virtual machines (VMs) to the Scale environment and plans to move more. The two deployments involve eight Scale HC3 appliances, or nodes, which provide 13 TB of storage.
Beyond VMs, the school system has moved some formerly SaaS-based K-12 applications back in-house on Scale's hyper-converged infrastructure appliances. Just said bandwidth was the main issue in unclouding certain apps. He said the school district has more students using computing devices, which sucks up bandwidth due to the increased student presence online. Teachers, meanwhile, are moving toward digital resources for lesson preparation, a trend that also increases the bandwidth requirement.
Those considerations have influenced MSD of Wayne Township to cut down on the number of apps hosted outside of the school system, Just said.
Classroom computing boost
The reduction in storage hardware, service and maintenance costs has freed up dollars to help the school district ramp up classroom computing. About 14,000 Chromebooks are now in use throughout the district. The Chromebooks run applications such as Google's G Suite and a learning management system called Wayne Learning Hub.
Going thinner on hardware support expenditures lets the district "go wide in terms of the amount of resources that we can push out to the classroom," Just said.
Dig Deeper on IT applications, infrastructure and operations