IT leaders discuss the role of AI during pandemic
While AI adoption was impacted by the pandemic, companies adapted. Enterprise executives explain why the results bode well for longer-term changes to how they do business.
Working from home, downsizing and health safety concerns are just a few of the disruptions companies have had to deal with during the COVID-19 pandemic and as a result have become more reliant on technology, specifically the use of AI in the workplace.
During Constellation's Connected Enterprise 2020 conference, IT executives discussed how they're using AI effectively during these turbulent times and what the outlook is going forward.
Navi Grewal, vice president and CIO at DuPont Safety and Construction, said the company continues to implement AI as part of its digital transformation initiative to improve internal processes and enable more automation.
"Going into 2021, we are planning more digital offerings for our customers and things like smart demand forecasting," Grewal said.
Another goal for next year is to embed services using AI to give customers more information about water quality. "We want it to be like a Tesla model where we're not just sending new hardware," she said, referring to how Tesla owners receive software updates that add new features to their electric vehicles.
Smarter hotel stays
Sanjay Sharma, head of IT at Jumeirah Group, a United Arab Emirates company that owns and operates a chain of luxury hotels, said he's excited about being able to phase out a performance development group in 2021 because AI will make it unnecessary. He said the company's hotel division is going to use data from customer stays to get actionable insights to drive improvements.
"AI needs to be an integral part to what we want to offer our customers and to our employees," Sharma said. The company already uses AI in a number of customer-facing applications for tasks such as room recommendations and to upsell.
"On the employee side, we want to go next level and transform our organization by moving from automation to more autonomous [capabilities]," he said.
Using AI to read and process documents
The law firm Berry Appleman & Leiden helps companies facilitate the visa process when hiring foreign workers. Part of that process is working through the government's Request for Evidence (RFE) forms required to achieve an employment visa.
Vince DiMascio, CIO and CTO at the firm, said he and his team have developed a system that uses AI to read the documents, understand them and help draft a response that matches what's needed for a specific industry and job.
"It's a smart system that uses really advanced natural language processing, classifiers and machine learning," he said.
While the system isn't expected to replace the employees, DiMascio said it is helping the company reassign employees and create new services and features and thus help drive innovation. Looking ahead to 2021, DiMascio said the firm continues to develop customer analytics that won't require proactively surveying customers.
"With multichannel inputs, we're getting a sense of what we're doing [best] and where there is friction that we can address," he said.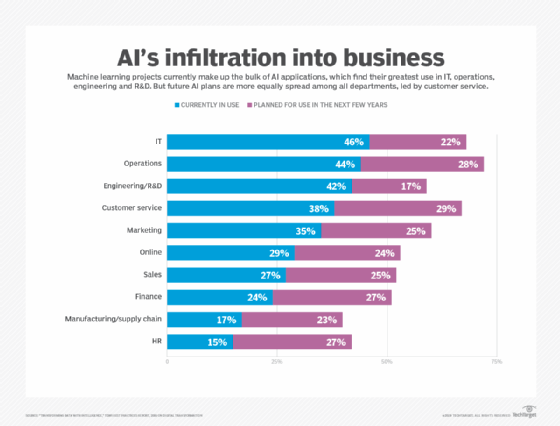 Using AI to study COVID-19 treatments
One company whose work is directly tied to the pandemic is Syneos Health, which does clinical research and studies on the efficacy of medicines, including those related to the coronavirus.
"We marry the qualifications of the doctors to the sponsor's requirements and narrow it down using analytics and machine learning," said Mukesh Sharma, executive director of business technology at Syneos Health.
According to Sharma, the AI-driven systems have paid off in the last six months. The company uses a Cloudera data lake, several machine languages and UiPath for robotic process automation (RPA).
"Our management expectation is to replace hard costs of sales," Sharma said. "We've been able to more efficiently find sites and hospitals to participate in the studies."
Beware outdated data
Companies looking to use AI effectively know those systems are only as good as the data they are based on. Tricia Wang, co-founder of Sudden Compass, said the pandemic has made a lot of data that is related to consumer behavior irrelevant.
"We are all going through a spatial collapse," Wang said. She noted that in the pre-pandemic era people spent most of their time in three different locations: home, work and play.
"During the pandemic our mental models for all three have come together on top of each and collapsed," she said. "Our entire social concept of how we experience space has collapsed."
For example, this means a clothing company needs to have a very different understanding of what their customers want to wear.
"All that data you thought you understood about your customer is out. People are spending more money on tops and sweats," Wang said during the conference.
As we eventually enter a post-pandemic phase, Wang said she expects entirely new trends in consumer behavior and preferences will emerge. "Companies that can collect quantitative data will have a competitive advantage and win," she said.