RPA in ERP modernizes legacy system with automation
Organizations are turning to RPA to automate business processes connected to legacy ERP systems rather than replacing them. Here's a look into how it's delivering benefits.
RPA adoption in the enterprise continues to grow and organizations are now investing in the technology to target processes connected to ERP systems.
Experts say combining RPA and ERP can deliver return on investment through increased speed and efficiency as well as reduced errors. However, they caution it's no panacea for ERP deployments that are already ailing.
Stefan Maurer, vice president of enterprise effectiveness, and his team of 100 staffers drive continual improvements throughout operations at Avnet, a distributor of electronic components. With a focus on innovation, digitalization and automation, they have been particularly active in optimizing back-end processes within the company's ERP system, identifying numerous tasks involving procurement, sales, customer service and other administrative functions to be handled by RPA bots.
"There were a lot of non-value-added services that could be done by software," Maurer said. "I can program something that a human is doing, and it can bridge the inflexibility and slow behavior of the ERP."
Using Kofax RPA software, his team has automated roughly 70 business processes, with approximately 85% of the robotized processes interacting with the ERP system.
The implementation of RPA in ERP has delivered returns well within two years, Maurer said, with the bots handling the manual, repetitive tasks with more speed and without human error, thus allowing the team to focus on the higher-value tasks.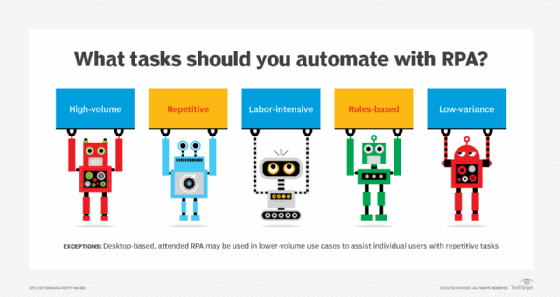 Expanding the use of RPA in ERP
The volume of tasks that can be automated in an ERP system is a strong enough reason for CIOs and their business counterparts to bring in RPA, experts said.
"There are low-value tasks that you can build bots to [handle and] extract hours," said Craig Le Clair, vice president and analyst with Forrester Research and author of the book Invisible Robots in the Quiet of the Night: How AI and Automation Will Restructure the Workforce.
Invoicing, accounting and order processing tasks are good candidates for automation, he said, because it can free humans from hours of mundane, repetitive work.
Using RPA to automate these ERP-related tasks allows organizations to reap the benefits of modernization without having to replace the system -- a complex, costly and time-consuming undertaking.
"It's a massive overhaul in terms of capital investment and in terms of resources -- so once an ERP is implemented, switching it out isn't easily done," said Kapil Kalokhe, senior director of business advisory services at Saggezza, a global IT consultancy.
It also helps organizations move forward with their agility and digitization efforts while contending with the legacy elements that come with ERP. Modernizing the processes adds agility that, without RPA, would either be almost impossible to achieve or would require a major overhaul of the ERP itself.
"RPA can be a bridge to a future state," Kalokhe said. "[It] can help be that interim solution that's more economical and can address the near term while [enterprise leaders] decide whether and when to upgrade or switch out their ERP. RPA is a very effective, efficient solution for that scenario."
However, IT teams cannot easily integrate all new applications with ERPs as those systems age, which may create layers of mundane work for human workers. For example, workers may have to manually combine the data from the newest apps and the ERPs to build reports, which slows down teams, adds inefficiencies and diverts resources from the higher-value reasoning and innovation tasks where human staff excels
"It's that kind of repetitive, tedious work that workers are tasked to do but is very inefficient where RPA is very useful," Kalokhe said. "RPA can easily go from application to application or system to system, replicating data entry and replicating the thinking of the two systems, and because it's a bot it won't make a mistake and it will always do what it's programmed to do."
No replacement for needed upgrade
Although RPA can improve processes that involve the ERP system and can add speed to enterprise architecture, experts cautioned against using the automation technology to prolong a legacy system that no longer serves the organization.
"RPA is a way for companies to help move forward with their digital transformation goals and to do that in a cost-effective manner, but it can introduce strategic issues when it's a better idea to upgrade and move to a cloud-based solution because you're going to get a more modernized system," Le Clair said.
Maurer had a similar view he and did not see RPA as a way to patch holes in an old ERP or to extend its life beyond what's beneficial to the company. He sees RPA as a valuable tool for generating business value, but not a tool for IT to use to support outdated tech.
According to Le Clair, organizations should continually evaluate whether their ERP system continues to serve business needs or whether it's holding them back before they move forward with an RPA deployment to ensure they're making the best decisions for their short-term, mid-term and long-term objectives.
"You don't want to institutionalize a legacy system with RPA if it's better to upgrade it. That's what the CIO should be doing, evaluating that ERP and asking if it's worth taking that tactical efficiency now if there's no roadmap to modernize it," Le Clair said. "But if there's no need to upgrade the ERP and back-office processes because it's not going to make the company any more competitive, then RPA is a very useful tool there."