Symantec CIO strategy: Add 'extreme value' to the business
Sheila Jordan's CIO strategy at Symantec focuses on bringing 'extreme value' to the business. Here, she discusses her top six IT priorities for achieving that goal.
The IT organization at Symantec Corp. has grown dramatically since Sheila Jordan joined the company as its CIO...
Continue Reading This Article
Enjoy this article as well as all of our content, including E-Guides, news, tips and more.
in 2014. At that time, Symantec had only 100 IT employees, as it outsourced much of its technology work. Jordan's CIO strategy was radically different: She brought the IT work back in-house, establishing a world-class IT department capable of supporting the cybersecurity software and services company as it pushed ahead with its strategic vision. She also oversaw the technology work required for some half-dozen acquisitions made by Symantec during her tenure and for the company's 2016 divestiture of Veritas Technologies.
Today, she oversees an IT staff of about 850 full-time employees, half of whom are in India and the other half based in the United States -- mostly at the company's headquarters in Mountain View, Calif. Now, several years into her tenure, Jordan is continuing to transform the IT department and how it supports the company as a whole. Here, she talks about her current CIO strategy for making that happen, with responses edited for brevity and clarity.
Setting CIO strategy and direction
What are your top IT priorities now?
Sheila Jordan: There are six big priorities for the IT organization. The first is all around simplify, consolidate, innovate; for us, that means thinking how we can innovate on infrastructure. And also it's around security.
The second is we're pivoting. In the past four years, with acquisitions and integrations and insourcing, we've been driving efficiencies and effectiveness. Now, we want to move to a smart organization, so it's, 'How do I take all the work we've done around data consolidation and apply AI and machine learning to make it more predictive, so we can be smarter and more forward-looking?'
The third is contributing where we can to optimize and wherever we can to growing the company's revenue.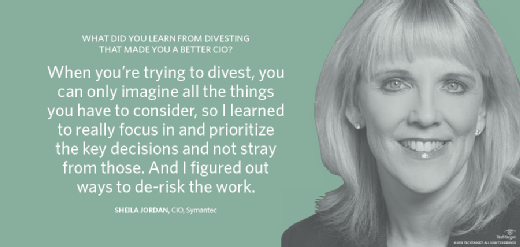 The fourth is continuing to deliver operational excellence; we have strong delivery around operational excellence, but we want to continue to optimize that.
The fifth is kind of a new one. We talk about digital transformation, but it's really going back to this horizontal view of the customer experience. To deliver an effective customer journey, it touches many functions in the company. So, how am I enabling that to make sure the customer journey and partner experience are the best they can be, so it's simple and easy to do business with Symantec.
And [the sixth is] to continue to develop and grow the most coveted and talented IT team in the world.
Why are these on your list?
Jordan: It's the natural evolution of IT. You have to make your priorities and your strategies for each year the items that will really add value and impact to the organization. These are the six most critical things we could do for the business.
How do you go about achieving those?
Jordan: Every CIO I've ever talked to has limited resources, so we have to constantly prioritize and evaluate what we're doing to add extreme value to the organization and optimize the resources we have.
We're constantly seeing what's new and asking: Does the business want to do something new? It's a constant checking in to make sure ours and the business's priorities are the same. It's a much more iterative process than it was historically.
And it's a balance: The CIO has to maintain the focus and commitment to deliver those, but you have to have enough give in the system to add and delete as appropriate. That's the fluidness that is today. You have to react to market conditions, trends, competitors. You have to be able to respond to those.
CIO strategy for becoming a successful communicator
What are the obstacles associated with those priorities?
Jordan: I don't really see them as obstacles. One of the biggest reasons we've been so successful is the level of alignment we have here; it's complete alignment. The other thing I would suggest is that you cannot over-communicate in transformation work. There are so many moving pieces and parts happening today, and as the IT shop is delivering capabilities, [the stakeholders] have to understand what's happening. You have to over-communicate to employees, partners and customers.
What makes you successful as a communicator?
Jordan: You have to understand your audience, you have to be relevant to the audience you're speaking to. We get so excited about the technology in IT which may or may not resonate with the business. So, you have to figure out how to communicate in ways that are impactful to the audience that you're talking to. It's a real art. Not everyone is excited about the technology we've chosen, but [we can speak to] what new thing they could do that they couldn't before, how it will make their job easier. You have to speak in business terms and change the communication based on the audience you're talking to.
How did you learn this art form?
Jordan: I'm not a marketer, but sitting with marketing at Disney for 10 years [in a previous job], I learned a lot about communication and how people absorb messages. But I also use our internal communications team here, which does a lot of our messaging. I would say, in general, IT professionals need a little help here.
Editor's note: In part two, "Symantec CIO: Digital transformation plan shaped by cloud, AI," Jordan defines digital transformation and discusses the key technologies and management practices she's using to drive IT transformation at Symantec.