carloscastilla - Fotolia
Sysco's network backbone spans clouds, speeds data
Food for thought: Sysco worked with interconnection company Equinix to create a backbone that brings together Equinix data centers, Sysco data centers and cloud service providers.
Sysco Corp. faced two key IT infrastructure challenges running its food service distribution business: keeping pace with an accelerating flood of data and providing user's access to that information around the clock. It was a task that called for a faster network backbone.
Sysco, based in Houston, operates in more than 90 countries and posted sales of $58.7 billion for its 2018 fiscal year, which ended in June. Its broadline distribution operation is the company's largest business segment, offering meat, seafood and produce along with paper products, cutlery and other non-food items.
Thousands of Sysco sales representatives sell the company's product line, which spans hundreds of thousands of stock keeping units. Orders are processed at 330 distribution facilities and transported to more than 600,000 customer locations, including restaurants and institutional clients, such as hospitals.
Two years ago, Sysco decided to address the crush of data the company was facing in light of its wide-ranging and increasingly globalized operations.
"There was a constant push, or need, for consuming data faster than ever before," said Frank Merli, vice president of technology infrastructure at Sysco. "With changing consumer habits, there was a constant need to be mining trends and understanding consumer demands. And we were working very hard to keep up with the influx of data we were getting."
Dealing with the data deluge was perhaps Sysco's biggest concern, but it was not its only consideration.
"The other challenge for us was reliability," Merli said. "We have a constant mantra here of being always on and always available -- making data available anytime, anywhere for our users. That was a challenge in the past."
Sysco's sales and supply chain teams required access to a wide variety of data, he noted. The company also needed a new take on infrastructure to support the migration of more workloads to the cloud computing model.
Sysco's approach to improving data management, data transfer and reliable access needed to take its diverse set of IT resources into account. The company's systems and data span its Houston data center, outsourced data centers and the public cloud. As for the latter, in recent years, Sysco decided to deploy any new applications in the cloud, while also re-platforming as many legacy systems as possible to run in cloud environments.
Merli said the company has moved more than 50% of its workloads into the cloud -- or, more specifically, clouds. Sysco is pursuing a multi-cloud strategy, using Amazon Web Services, Microsoft Azure and IBM SoftLayer -- now IBM Cloud.
Building a network backbone
Sysco tapped Equinix Inc., a global interconnection and data center company, to address its various infrastructure challenges. Equinix worked with the food service distributor to build a high-speed, private network backbone. That backbone, in place for about two years, connects Sysco's IT resources.
"Between our internal network and outsourced data centers and our cloud providers, we saw Equinix as the right partner to connect all of those different platforms together," Merli said.
Kirk Joubert, director of network services at Sysco, said the backbone's connectivity, in addition to connecting various Sysco data centers, also extends Sysco's enterprise WAN to the cloud and provides an on-ramp for users.
"Our user community comes in [through Equinix] to get access to our back-end solutions that reside in the cloud," Joubert said.
Equinix provides private, direct interconnection to link an organization's IT platforms, bypassing the public internet. The aim is to provide more speed and greater security. Digital transformation projects are driving enterprises to pursue interconnection, according to Equinix.
Equinix helped Sysco construct a backbone consisting of local network service providers (NSPs). Each NSP, often a telecommunications carrier, sells access to the internet and Multiprotocol Label Switching backbone infrastructure and services. Equinix aggregates those NSPs within its colocation facilities operating around the world.
Those Equinix facilities serve as interconnect gateways that integrate with cloud providers such as AWS, Microsoft Azure and IBM Cloud. The interconnect gateways also integrate with Sysco's legacy data centers.
Joubert said this approach creates a meshed network layer between Sysco's enterprise network and the cloud providers. The layer, he added, offers a level of capability the company would not have seen had it linked directly to cloud providers.
Equinix's "Global Interconnection Index: Volume 2" report predicts that installed interconnection bandwidth capacity will exceed 8,200 terabits per second by 2021, a five-fold increase from 2017. The Equinix report anticipates double-digit growth in capacity across all industries. The report also noted that expanded use of interconnect bandwidth among enterprises is "driven by the transformation of their IT platforms for digital business."
We have a constant mantra here of being always on and always available -- making data available anytime, anywhere for our users.

Frank Merlivice president of technology infrastructure, Sysco
Geoff Woollacott, senior strategy consultant and principal analyst at Technology Business Research, a technology market research firm in Hampton, N.H., said interconnection projects along the lines of Sysco's are not unusual among large enterprises and could become even more mainstream as hybrid and multi-cloud environments grow in popularity.
This interconnection approach is "probably going to ... become increasingly common as multi-cloud becomes the de facto compute instance for enterprises," he said.
Woollacott said the types of businesses most likely to pursue interconnection include enterprises with a pressing need for real-time data access and a low tolerance for network latency. He cited banks' transaction processing systems and logistics firms' inventory management systems as examples.
An organization embarking on a worldwide SaaS application deployment may also require network virtualization with an interconnection approach to optimize access across geographies, he added.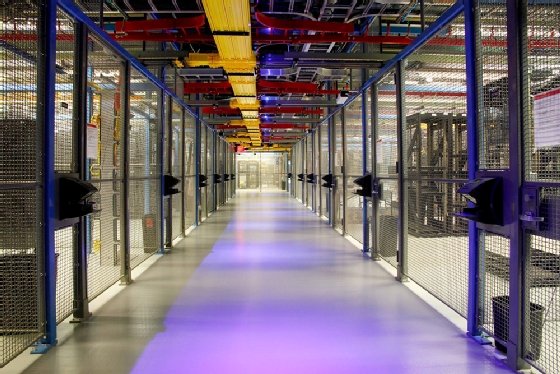 Interconnection provides speed, reliability
Speed is one of the benefits of interconnection (see sidebar). Joubert said the Sysco user community sees faster and more consistent response times, noting that internet-facing applications, in particular, have provided mixed user experiences in the past.
Interconnection also helps Sysco bring together old systems and old data sets in the cloud, where company IT personnel aggregate the data to present a simplified data set for users.
"We have a lot of legacy data running the legacy data centers, and we are doing a lot of manipulation behind the scenes to give the user the best experience," Merli said.
What makes an interconnected network backbone faster?
Ryan Mallory, senior vice president of global solutions enablement at Equinix, said an interconnected network backbone provides faster and more predictable response times in a couple of ways. First, network interconnection lets customers choose the optimal path between geographic locations.
"There's so much choice, they can architect the network appropriately depending on what they are trying to do," Mallory said, citing large-scale data transfers and video conferencing as examples.
Second, the ability to build an Equinix Performance Hub -- a physical interconnection point -- in geographic areas where customers have latency-sensitive applications can also improve response times.
The network backbone, and the ability to connect several disparate systems, has also boosted mobile ordering.
"We are placing more orders through our mobile ordering systems," Merli said. The backbone, he noted, "makes it faster to get data from different systems in order to make the end-user experience response time acceptable."
Sales reporting utilization has also seen considerable growth. Sysco's sales reporting system combines data from different sources on different platforms, according to Merli.
Another area in which interconnection provides an edge is redundancy and failover. Sysco can make use of multiple Equinix data centers -- the company operates 200 facilities worldwide -- for geographic redundancy. Sysco is also able to mirror data from its private data centers to Equinix data centers in Dallas and Ashburn, Va. Very large networking pipes between the Sysco and Equinix center permit server and database synchronization, Joubert said.
According to Equinix, its data centers provide a global average uptime of >99.9999%.
Woollacott cited redundancy, along with latency and security, as two factors driving network backbone projects.
Future expansion
Looking ahead, Merli said the Equinix relationship will also support the food service distribution company's continuing global expansion.
"I know that Equinix is available in 20-plus countries," he said. "That is a plus for us in terms of scale as we move into more of a global footprint."
Sysco also plans to deploy the Equinix Cloud Exchange Fabric, which connects digital ecosystems, including cloud service providers Sysco already works with.
"We are looking to leverage those interconnections," Joubert said.
Dig Deeper on IT applications, infrastructure and operations