Conversational AI: Start by enlisting the big vendors
It's time to develop a conversational AI strategy, according to Gartner analyst Svetlana Sicular. Her advice: Stay focused on the business case and lean on the AI platform vendors.
Look who's talking now. According to Gartner analyst Svetlana Sicular, the next wave of artificial intelligence...
Continue Reading This Article
Enjoy this article as well as all of our content, including E-Guides, news, tips and more.
will focus heavily on voice-enabled analytics -- or to use her words, "making analytics talk."
"We're witnessing a new way of communicating with data and information," Sicular said to a crowd of data and analytics leaders at the recent Gartner Data & Analytics Summit. "Things will be changing for developers, for data management people, for designers, for management and for leaders."
Being able to converse with our devices for the purposes of learning and imparting information we can use in real time is especially important since phone apps will become "more or less obsolete," according to Sicular. Indeed, Gartner predicts that by 2021, more than 50% of enterprises will be spending more each year on bots and chatbot creation than on traditional mobile app development.
Where does the enterprise march to conversational AI begin? Sicular advised digital leaders to concentrate their efforts on their own business case and their own data and lean heavily on inventors of conversational AI platforms like Siri, Cortana and Alexa and other voice assistants for the technology.
"Think about general purpose assistants as the platforms that enable you to create your narrow AI while [the vendors] are participating in the competition and in the race to improve those [conversational AI] qualities," she said.
We're witnessing a new way of communicating with data and information.

Svetlana Sicularanalyst, Gartner
Sicular pointed out that enterprise digital leaders don't have to do everything -- and shouldn't. Advancing natural-language processing capabilities or improving algorithms is probably better left to the vendors. But one critical component of conversational AI is very much in the enterprise domain -- the data. The data provided to the conversational assistants and the data being received by the conversational assistants, as well as decisions around how to best enable conversational assistants, must be governed by the enterprise's data experts, she said.
Another reason it may be wise to rely on the big players in conversational AI rather than reinvent the tech? Gartner predicts that by 2020, 40% of bot virtual assistant applications launched in 2018 will have been abandoned. That's partly why Sicular recommended attendees reject a "tools-based" strategy for conversational AI and instead develop an "options-based strategy," or one that is based on their organizations' AI guiding principles.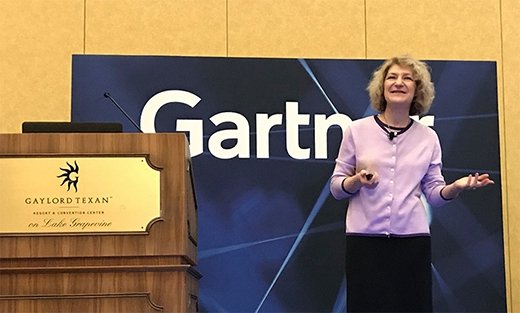 AI conversational platforms
The platform options are abundant and each has its own strengths, Sicular said. She named a few: Siri is deployed on over a billion phones and it owns iOS. Cortana owns the corporate desktop and the Windows OS. Alexa is the exit or entrance to tens of millions of consumers. Google is becoming an AI virtual assistant by itself and has 25 years' worth of search knowledge. Which you choose depends on your use case.
Sicular said IT and data organizations should use platform developer kits to tailor their conversational systems to their environments. All major conversational AI platforms have developer kits and components available to organizations, she said, and added that digital leaders can also combine platform elements by taking the platform apart and using just the components. Components like speech to text, natural language processing and text to speech are available on most major platforms through services like Amazon Lex, Microsoft Bing Speech and IBM Watson.
Unsurprisingly, a lot of the responsibility for facilitating an enterprise conversational AI strategy will fall on developers, Sicular noted.
"Instead of developing apps, they will be developing skills. They will be figuring out how to put those skills together to fulfill intents," she said, using Amazon's term for training AI voice assistants. Google refers to these skills as actions.
Meanwhile the tech giants are engaged in a conversational bot proliferation race, she said. In 2016, for example, Google acquired API.AI, a company that provides tools to developers to help them build conversational bots. Amazon currently has more than 30,000 skills in use.
Sicular's advice to IT leaders when it comes to their developers: "You need to talk to developers and have a strategy for engaging them -- bringing them to a decent level of data literacy so they won't mess up with the data right now."
It's also important to find your domain experts," according to Sicular. It's domain experts who decide what is necessary to propel a conversational AI strategy forward and lock down an organization's data and capabilities.
But, in a more general sense, her task for digital leaders is simple: to learn.
"The sooner you learn, the better off you are in the long run," Sicular said.
Dig Deeper on Digital transformation