CES 2017 for CIOs: Making consumer tech business-ready
Artificial intelligence and the internet of things were big at this year's extravaganza. Here's what IT chiefs need to know.
A scarf designed to filter out harmful elements in city air. A breast pump that fits into a bra and keeps track of pumping volume. A drone that can dive into water and help anglers catch a big one.
CES 2017, the consumer tech event held in Las Vegas this week, featured vendors with automated baubles, humanoid robots and "smart" everything -- a dishwasher, hairbrush and lawnmower, to name a few. But it's not so much the gadgets as their underlying technology that will make CIOs -- who seek out new tools for business, not the home or yard -- stop, look and listen.
"The underlying theme is, everything's becoming connected and everything's getting smarter," said Mark Hung, an analyst at research outfit Gartner.
Hung spoke to me from the show floor of the Las Vegas convention. The internet of things (IoT), which links devices, sensors and appliances to the web, and artificial intelligence (AI), which is getting better at mimicking the human kind, played big at CES 2017 -- and they'll eventually have an enormous impact on business applications.
The manufacturing industry is already taking advantage of IoT, Hung said. For example, companies are connecting field equipment, so when things like turbines malfunction, they can notify a remote repair technician. One "huge potential market" that will eventually connect more of its machines, Hung said, is healthcare, where mobile medical applications and wearable devices can help improve patients' health.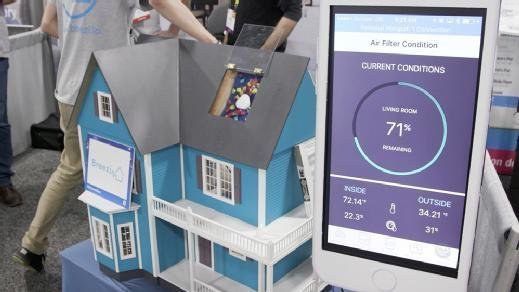 Smart, augmented consumer tech
AI will have an equally seismic effect on business, said Alan Lepofsky, an analyst at Constellation Research Inc. He wasn't at CES, but he said the advanced AI software showcased there -- digital personal assistants like Microsoft's Cortana, which automakers Nissan and BMW will incorporate into their cars to help drivers form itineraries or shift into park -- gives a sneak preview on an improved way of working.
"In the past, machines augmented our physical capabilities. Now, AI is augmenting our mental capabilities," said Lepofsky, who recently completed research on AI's impact on work.
For example, Cortana can help someone writing a report by looking up related information, adding context and citations, he said.
And then there's augmented reality, also turning heads at CES 2017. Known by the shorthand AR, the technology superimposes what people see with their own eyes with computer-generated information. An architect, say, looking at a recently constructed building can hold an iPad up to a wall and see the blueprints overlaid on top of it.
AR's effect will be immense in businesses, Lepofsky said, even more so than cloud computing, which companies are adopting to reduce the cost and maintenance of IT and to experiment with new technologies, or mobile devices, which millions of employees use for work tasks.
"Is cloud really a new way to work? Well, no, most people don't care where the back end of their stuff is stored," Lepofsky said. "Is mobile a new way to work? Well, I could access my information more often than I could [on a PC], but really I'm doing the same things -- I'm reading email or going into Slack."
But AR -- long before its cousin, virtual reality, which is geared toward entertainment like gaming or videos -- is going to be used "to add context and information to our business scenarios," Lepofsky said.
New iterations of existing technology like smart glasses could hasten the arrival of AR in businesses. Startups like ODG and Lumus, showed off glasses that can display more information than what prototypes like Google Glass could a few years ago -- and they look like regular glasses, not a mad scientist's headgear.
"The whole category of smart glasses absolutely will make [AR] more mainstream," he said. "They're getting to the stage with computing power and battery life that they will become smaller. Not next year, not the year after -- but the nirvana will be that these will be in your contact lenses."
New tools, new tests, no privacy
CIOs pushing for digital transformation -- helping their companies build new business models using digital technology -- will be at the forefront of efforts to introduce cool new consumer tech into business, Lepofsky said. But even they will face big challenges as they start introducing things like digital assistants and AR. One is how much information people will let their employers know about them.
"As these devices and IoT and digital assistants become more ingrained -- tracking my heart rate, tracking my respiratory system, tracking my blood sugar, tracking my cholesterol -- how much do I want my employer to know that?" Lepofsky said. "Privacy versus convenience is a huge thing for CIOs to focus on."
And then there's the question of how to best store the massive amounts of data such applications require -- something CIOs are already grappling with, Hung said. And cybersecurity -- making sure that information is viewed only by people who are authorized. It's something CIOs without cutting-edge AR implementations know well.
"The past couple of years, every other week or maybe even every week, you hear these security attacks that happened on unsecured endpoints," Hung said. "So how to balance ease of use with security is definitely an ongoing challenge."
CIO news roundup for week of Jan. 2
The technology press was focused on consumer tech at CES 2017, and we were along for the ride. But it was a big week for other news, too.
Senate hearing on U.S. cybersecurity and Russian hacking. Top U.S. intelligence officials asserted their confidence in Russia's involvement in a series of hacks into Democratic Party databases and candidate emails, intended to influence the 2016 presidential elections, at a Thursday hearing before the Senate Armed Services Committee (SASC). Congress must work together to "devise comprehensive solutions to deter, defend against, and, when necessary, respond to foreign cyberattacks," Sen. John McCain (R-Ariz.), chairman of the SASC, said during the hearing. President-elect Donald Trump was briefed on the Russian hacking intelligence report Friday. Meanwhile, Minority House Leader Nancy Pelosi said intelligence disclosures in the report, portions of which will be made public Friday, are "stunning."
Apple invests $1 billion in Vision Fund. Apple confirmed Wednesday it is investing $1 billion in the $100 billion tech fund to be run by Japanese telecom and financial conglomerate SoftBank. "We believe their new fund will speed the development of technologies which may be strategically important to Apple," Apple spokesman Josh Rosenstock told Reuters. SoftBank chairman and CEO Masayoshi Son announced the creation of the SoftBank Vision Fund in October with a $45 billion commitment from Saudi Arabia's Public Investment Fund. Qualcomm, Foxconn and Oracle founder Larry Ellison have also since joined the list of investors, according to Benjamin Spicehandler, a representative for SoftBank, making the London-based tech fund one of the world's largest pools of private capital. Apple's $1 billion investment is on par with its investment in Chinese ride-hailing service Didi Chuxing last May.
California outlaws ransomware. On Jan. 1, a new law went into effect in California, making the use of ransomware a felony punishable by up to four years in a state prison. Senate Bill 1137, authored by state Sen. Bob Hertzberg (D-Calif.), was signed by California Gov. Jerry Brown in September last year after a string of ransomware attacks hit California hospitals. "This legislation provides prosecutors the clarity they need to charge and convict perpetrators of ransomware ... This bill treats this crime, which is essentially an electronic stickup, with the seriousness it deserves," Hertzberg said in a statement issued in 2016. Wyoming was the first state to outlaw ransomware, in 2014.
Verizon still unsure about Yahoo deal. Marni Walden, a Verizon executive vice president, said the company is reviewing the impact of the billion-user data breach that Yahoo reported in December last year and is unsure whether Verizon will proceed with closing the $4.8 billion Yahoo deal. "Unfortunately, I can't sit here today and say with confidence one way or the other because we still don't know," the Wall Street Journal reported Malden as saying at an investor conference in Las Vegas on Thursday. Earlier Thursday, AOL Chief Executive Tim Armstrong told CNBC he "remains hopeful the deal will close."
Assistant editor Mekhala Roy contributed to this week's news roundup.
Next Steps
Check out our previous Searchlight roundups on the EU's charge against Facebook, the billion-user Yahoo breach and the Trump effect on tech spending.