Natallia Vintsik - Fotolia
Smart glasses technology embraces AR -- will enterprises and consumers?
Ready for augmented reality smart glasses? As smart glasses technology continues to advance and starts looking more like prescription glasses, smart glasses will gain acceptance.
Imagine checking a building design by walking through to see if you like the look and feel of any changes being considered -- it can be an extreme time, cost and frustration saver. This is just one quick example of what the world of augmented reality smart glasses enables.
"Billions of dollars are being invested in this technology, and we've seen significant improvements in the size, weight and design of smart glasses within the past 12 months," said George Jijiashvili, senior analyst of wearables and augmented reality and virtual reality (AR/VR) for CCS Insight, a U.K.-based market research firm.
While adoption rates for smart glasses have been disappointing so far, "this technology's potential is clear," Jijiashvili added, even if most companies are only evaluating a few units at a time to explore how the technology can fit into their operations.
Today, enterprises are using smart glasses primarily for design, manufacturing and people working remotely in the field.
So, which smart glasses technology is most popular with enterprises? "The one that gets everyone's attention is Microsoft HoloLens," said Ramon Llamas, research director of mobile devices and AR/VR for market research firm IDC. "But here's the thing: There are a lot of other really good AR solutions out there. Epson has a line called Moverio that garners a lot of attention from enterprises. Then there's Vuzix, which offers an attachment to work glasses to bring up a Google Glass-type experience. Others include Google Glass Enterprise Edition, ODG, Realwear and Daqri."
Augmented reality smart glasses bring a number of benefits. "Sometimes you just need several lines of information to come up to your screen or to enable 'see what I see' types of experiences," Llamas said. "This is great if you just want simple instructions, and it's why we see companies like Vuzix, Google Glass and ODG in there."
If you want a fully featured, three-dimensional rendering of an engine, for example, Microsoft HoloLens and a couple of other smart glasses technologies have you covered. But it comes at a cost upward of $3,000, according to Llamas, and that's before you've paid for the software. With the slightly less fancy Epson Moverio, he added, "for about $1,000, you can get all that information and keep your hands free to maneuver tools or machinery."
Tech behind the 'smart' in smart glasses
Augmented reality experiences require a fast processor. "As your eyeballs move around a room and you try to look at a virtual object sitting on a table, the glasses are processing millions of data points to scan for space, surfaces and the speed at which you're moving so that you won't experience a herky-jerky reaction," Llamas explained. "No one wants to get sick with these things on, so you need a robust processor capable of making all of these computations within seconds and that shows you the image and data you need in a smooth, bright enough way so you can see it clearly. This is a very tall order."
The display is also critical for smart glasses and needs to render images clearly and brightly enough. And comfort is right up there, too -- if you're going to wear smart glasses for hours on end or a full work shift, "it's not going to help if they conk out after six hours," Llamas said. "So, most companies are aiming for nine to 10 hours' minimum battery life."
Hand-tracking and interaction are just beginning to take off, but some companies are moving faster in this area than others. This is where Microsoft really stands out. "I tip my hat to the folks in Redmond, Washington, for doing a bang-up job of this," Llamas said. "Other companies are waiting to decide whether to embrace it, and it may take a few years before we see more proofs of concepts coming out. No one wants to invest a lot of money now when they can invest a lot less by waiting."
Microsoft HoloLens
How is Microsoft differentiating its smart glasses technology? "Microsoft HoloLens is the world's first self-contained holographic computer," said Joel Gunderson, spokesperson for Microsoft HoloLens. "It runs Windows 10 and is completely untethered -- meaning no wires, phones or connection to a PC needed. You can pin holograms in your physical environment, which provides a way to see your world."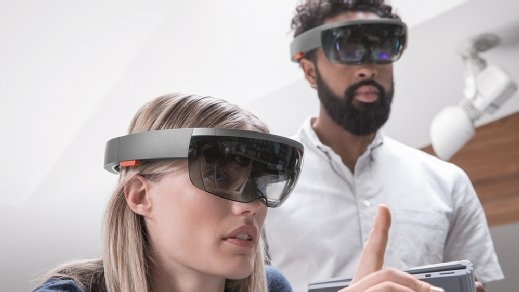 HoloLens features an Intel 32-bit architecture and is powered by a custom-built Microsoft holographic processing unit. "This custom silicon efficiently processes a large amount of data per second from the sensors," Gunderson added. "As a result, HoloLens understands gestures and where you look, and it maps the world all around you in real time."
Windows Mixed Reality is the name of the operating system elements that enable devices like HoloLens and its partner devices to blend the physical and digital worlds in three dimensions. "These elements comprise the head-mounted-display device driver model, mixed reality and perception APIs, middleware, mixed reality shell and cloud services that are consistent across all implementations," Gunderson said. "We're unifying the mixed reality ecosystem around an immersive and compatible platform that enables shared experiences and interoperability among a range of headsets from multiple hardware manufacturers. We believe that full-featured mixed reality experiences should be attainable for everyone."
Microsoft HoloLens is already being used by a wide range of developers, commercial organizations, designers and creators. One of its most eye-catching applications is that scientists at NASA are about to explore Mars using holograms of Mars Rover images to see if they will work and make it feel like they're walking on the surface of Mars -- an experience previously impossible.
Epson Moverio
Printers notwithstanding, Epson's strongest expertise and market presence is in projectors, now shrunk into a tiny form factor and embedded into each side of the Epson Moverio smart glasses for the display. And Epson's parent company, Seiko Epson Corp. in Japan, holds several patents in precision micromanufacturing, which helps immensely when building augmented reality displays.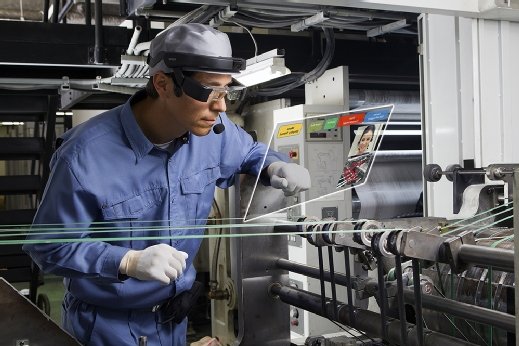 "We embed a lot of AR technology into our smart glasses," said Michael Leyva, product manager of augmented reality solutions for Epson. "As enthusiasm and interest in the category started to grow, we realized that we needed to put in the sensor technology to track your head movement, a camera to sense your environment and recognize objects and a high-power mobile processor to do the necessary AR calculations and processing. But the core of our glasses is really our displays -- we're confident we make the best displays on the market. They're built using custom silicon OLEDs (organic light-emitting diodes)."
It's critical to be able to render a fully transparent screen for AR, according to Leyva. "Using OLED-based projection allows us to render true black, meaning there's no light," he elaborated. "For AR, it's very important that digital data, information, 3D hologram or whatever you're putting in front of the person feels natural and doesn't block the rest of their view. OLEDs are our enabling technology when it comes to AR."
Leyva is quick to point out that Epson won't win any style awards for its smart glasses -- yet. "From an aesthetic, style perspective, we wish we could get away from having a wire that comes down to an offboard controller with the battery and processor in it," he said. "But our enterprise customers say that function is more important than form. They need it to last the majority of a shift, and we need a good-sized battery to do that. Candidly, we've looked at putting a battery and processor in the headset, but they can both heat up, which people don't like, and battery life isn't as good."
Since Epson launched its smart glasses technology, it has shrunk to one-third of its original weight, while adding more capability and a stronger processor. "Within another five years, we'll get them down to the size of a pair of prescription glasses," Leyva said. "It's everyone's goal."
The biggest markets for Epson's smart glasses today are commercial drone aviation and the enterprise, and within the commercial space it focuses on museums, theme parks and stadiums.
Vuzix M300 augmented reality smart glasses
The AR technology in Vuzix's smart glasses "doesn't include flying dragons or the ability to manipulate digital objects in the real world today," said Matt Margolis, director of corporate communications and investor relations for Vuzix. "With our smart glasses and a camera, our devices allow users to augment the real world around them."
Vuzix is differentiating itself within the enterprise by focusing on lightweight wearable smart glasses. "Our enterprise workhorse, the M300, can be worn with safety glasses, medical headbands, existing glasses, or clipped onto an industrial hard hat," Margolis said.
Enterprise customers are using Vuzix's smart glasses' camera to read QR codes, which superimpose information right onto the display of the glasses. The wearer sees loading instructions for cargo in real time, which allows planes to be turned around within 15 minutes per flight. "Within logistics, customers are using our smart glasses to scan pick lists, which provide the wearer with digital information to assist with the picking process such as location, quantity and item details," Margolis added.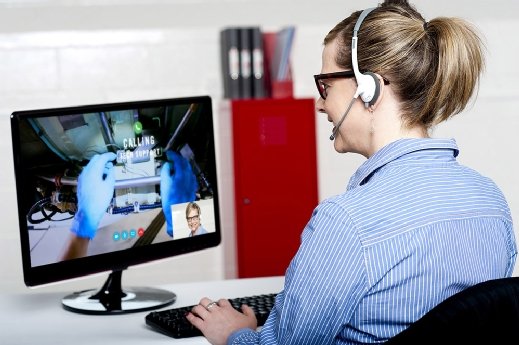 At CES 2018, Vuzix introduced the Vuzix Blade smart glasses technology, which is next-gen waveguide optics-based smart glasses that deliver an entirely new class of smart glasses for the enterprise and consumers. "These are an incredibly normal-looking and lightweight pair of smart glasses," Margolis said.
On the consumer side, Vuzix and industrial partner Cyber Timez developed a software application called Cyber Eyez for the M300 Smart Glasses that allows legally blind individuals or those with low vision to read mail, shop or identify currency without connecting to the web.
"The advent of a truly wearable and fashionable pair of AR glasses will mark the beginnings of leaving your phone in your pocket and open up a new world of hands-free AR experiences," Margolis said.
Dig Deeper on Internet of things platform