Oracle's IaaS, cloud database in the spotlight at OpenWorld
This year's Oracle OpenWorld should provide answers for customers eager to understand its plans for IaaS, cloud databases, AI and machine learning.
Oracle's annual OpenWorld conference is one of the world's largest enterprise technology events, and the company has an equally big challenge in front of it this year: how to convince customers it has a cohesive strategy for cloud computing.
After years of effort, Oracle's IaaS still trails far behind those of AWS, Microsoft and Google, although it still continues to offer one after other companies, such as Cisco and HPE, ceded defeat to the hyperscalers.
Oracle's cloud-related success mostly lies with SaaS applications, bolstered by deals such as the $9.3 billion acquisition of NetSuite in 2016. Oracle's PaaS offering, however, has been in the market for years but hasn't attracted a broad amount of buzz.
All told, Oracle and co-founder Larry Ellison have an opportunity with this year's event, analysts said.


"They need to come out with something to make people excited," said John Rymer, an analyst with Forrester Research who has tracked Oracle for decades. "Last year [OpenWorld] was dead. I'm hoping I will hear a credible view of Oracle in the cloud era."
Oracle seeks its place in the clouds
Ellison, who has a penchant for competitive barbs, has taken serious shots lately at AWS, and AWS executives have returned fire. Meanwhile, a landmark partnership with Microsoft forged in June aims to improve interoperability between Azure and Oracle's IaaS, known as Oracle Cloud Infrastructure, with a dedicated, high-speed interconnect between Oracle and Azure data centers. Customers can run Oracle applications on Azure infrastructure and tie them back to an Oracle database hosted on OCI, particularly via Exadata appliances.
I'm hoping I will hear a credible view of Oracle in the cloud era.

John RymerAnalyst, Forrester
The companies presented the pact as pragmatic and good for customers, but it also represents a shift in Oracle's ambitions away from direct competition with the industry's largest cloud providers and toward a more specialized role.
OCI is Oracle's second take on an IaaS, and features many technical advantages over OCI Classic, which had its roots in OpenStack and is being phased out.
OpenWorld will feature OCI prominently. A keynote by senior vice president Clay Magouyrk, who came from AWS (along with executive vice president Don Johnson), will focus on new OCI features. Other OpenWorld sessions will discuss how customers can save money on OCI versus alternatives, as well as use it at massive scale for HPC workloads such as video renders and risk analysis jobs. Yet others hone in on how to run an organization's most critical workloads, such as ERP, on Oracle's IaaS.
Finally, one session, titled "Microsoft Azure and Oracle Cloud Infrastructure: Seattle's Newest Power Couple," will likely fill in some blanks on the partnership, such as a shared support model that was teased in June but not described in detail.
Double-down on database
Oracle's Ellison recently turned 75, and reportedly took the reins of product development after last year's departure of longtime executive Thomas Kurian, who is now CEO of Google Cloud.
An early skeptic of the cloud computing model, Ellison built Oracle's roughly $40 billion business through a slew of business application acquisitions – Siebel, J.D. Edwards, PeopleSoft and NetSuite, among others. Ultimately, though, its database remains the company's flagship product.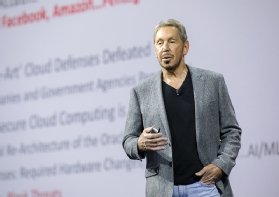 Oracle likely won't announce major changes to the database. The current version 19c, which shipped earlier this year, has been characterized as a stability release, and a target for upgrades by customers on older editions.
More than 200 OpenWorld sessions this year relate to the database, and many hone in on its autonomous features, which are supported by machine learning. The agenda also features many sessions on AI and machine learning workloads.
While Oracle has high hopes for cloud-hosted databases, a big chunk of that installed base will remain on premises, said R "Ray" Wang, founder and CEO of Constellation Research in Cupertino, Calif.
"A number of customers will be using it in the cloud, but the biggest challenge there is that a lot of folks are using Snowflake," Wang said, referring to the up-and-coming cloud data warehouse startup.
Oracle is well-positioned to compete effectively in the AI age, and could go heavy on that messaging at OpenWorld, Wang said. He pointed to the capabilities of its database and access to massive amounts of information sources, including consumer data through Oracle Data Cloud, a division it built through acquisitions such as BlueKai.
"Without your own compute power, you will not win in AI," Wang said. "They're still talking a lot about AI and autonomous database. That is the big thing for them."