Sergey Nivens - Fotolia
Oracle 19c database software promises stability, compatibility
Oracle Database 19c offers automatic indexing and support for external data partitions but carries upgrade issues like apps certification and index creation agreement.
Viewed essentially as a stability update, Oracle Database 19c is the final version of the 12c Release 2 line of Oracle's flagship software. It also brings new features that include automatic indexing, support for external data partitions and a limited ability to write to standby databases along with upgrade issues for existing users to consider.
As potential early adopters kick the tires on the Oracle 19c database software, they'll find that the same core technology runs on all supported platforms. There's "100% compatibility" between the on-premises and cloud versions of 19c, same as with the Oracle Database 18c update that was released in 2018, said Penny Avril, vice president of database product management at Oracle.
Don't throw caution to the wind
Nonetheless, enterprises should observe a few cautions before upgrading to Oracle 19c, according to several database consultants who work on Oracle implementations.
"Upgrading to a newly released version can bring issues," said Luke Davies, a principal consultant at database consultancy and IT services provider Pythian Group. As a result, he doesn't recommend immediate upgrades of production databases to 19c, which is named in accordance with the year of its release in keeping with an annual update process that started with Oracle 18c. But because the new release promises to be more stable than 18c and 12c Release 2, Davies said users of those systems should look to upgrade after some further testing and trial usage of the software.
"You usually don't want to be the first one to upgrade, as you don't want to be the one to find all the issues in a new version," said Rich Niemiec, chief innovation officer at consulting firm Viscosity North America. That's especially so if you use features that many other users don't, he added.
However, Niemiec said Oracle is better at beta testing new releases than it was in the past. Some earlier migrations "caused me pain," he recalled. By comparison, he said Oracle 19c database upgrades are likely to be easier, since the automatic indexing feature should help database administrators (DBAs) address potential performance problems associated with upgrades.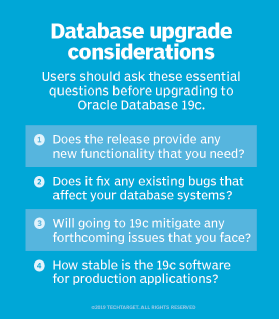 Bharath Terala, Oracle database administration practice manager at consultancy Apps Associates LLC, noted that a few existing features will no longer be supported in Oracle Database 19c, including Oracle Multimedia and the Oracle Streams data replication tool.
Oracle's more advanced GoldenGate software will take over all replication functions from Oracle Streams, which the vendor stopped updating when it released the first incarnation of Oracle Database 12c. Meanwhile, Oracle recommended that 19c users with existing Oracle Multimedia applications move their multimedia content to its SecureFiles LOBs storage architecture for large objects and use third-party products to do image processing and conversion.
App certification is essential
Organizations looking to upgrade to Oracle 19c may also initially face challenges if the applications they use aren't yet certified to work with the new database software, said Julian Dontcheff, managing director at Accenture. Like Davies, though, Dontcheff said that since 19c is the last release in the 12c Release 2 line, users should consider upgrading once their applications are certified to take advantage of the improved stability.
Once companies are running Oracle 19c database systems, another challenge that Dontcheff sees is for DBAs and developers to agree on enabling automatic index creation. Automatic indexing could be a big deal for Oracle users who have neglected index optimization, he said. Many IT teams struggle to decide what database indexes to create and which ones already set up are no longer needed, according to Dontcheff. "I have seldom seen agreement and consensus on the topic," he said.
I have seldom seen agreement and consensus on the topic [of database indexes].

Julian Dontcheffmanaging director, Accenture
Dontcheff also has worked with users that created indexes larger than the underlying database itself. For example, he pointed to a telecom client on a mission-critical database that had a 4.5 TB index but only 0.5 TB of actual data. "This is what happens when indexes are created on the fly to 'fix' problems," he said.
Oracle 19c's ability to identify index candidates based on database workloads and validate whether they'll improve performance before implementing them should help ease the indexing process, Dontcheff explained. But the automated indexing feature only works if it's turned on, he added -- and deciding whether to do so may become a new point of contention in organizations.
Automatic indexing spells relief
Niemiec said automatic indexing is the top new feature in Oracle Database 19c. Other automated capabilities also have been added, including functions that can help users collect statistics on query performance and prevent runaway SQL statements. The increased automation will limit some of the performance tuning work that DBAs and developers need to do, enabling them to "focus on the fewer tuning issues that may come up from time to time," Niemiec said.
A hybrid partitioned tables feature is another notable addition. Oracle 19c database users can set up integrated sets of internal and external tables to incorporate more types of data into applications or break up large tables as part of a dynamic archiving strategy.
You usually don't want to be the first one to upgrade, as you don't want to be the one to find all the issues in a new version.

Rich Niemiecchief innovation officer, Viscosity North America
DBAs, for example, will be able to move partitions with data that isn't actively used to file systems outside of a database to reduce storage costs, Dontcheff said. The hybrid partitioning capability makes it possible to create read-only tablespaces in cloud object storage services, he added. Supported external data sources also include CSV files and the Hadoop Distributed File System.
Oracle Database 19c also adds new capabilities for standby databases, which run in sync with a master database and can be turned on if it fails. Updates to Oracle Data Guard, the database software's high availability and disaster recovery component, ease flashback processes for restoring standby databases to an earlier state. Some write operations can now be performed on standby databases through the extra-cost Active Data Guard option, making it possible to execute small inserts, updates and deletes on the standby side, according to Oracle.
Security enhancements in Oracle 19c seek to reduce the impact of internal threats -- a danger that Apps Associates' Terala said organizations often ignore. Notable among the new security features, he reported, are predefined default metadata schemas, new encryption algorithms and the ability to focus audits of database usage on SQL statements generated by top-level users.
A privilege analysis tool that DBAs can run to find unused user privileges is now a standard feature in the 19c Enterprise Edition; it previously was part of the Oracle Database Vault add-on software.