Fotolia
Veritas, Veeam top choices of data backup app users
Data backup app users are tough critics, but Veritas NetBackup and Veeam Backup & Replication won over users in this year's Quality Awards.
Backup software and storage managers are the odd couples of the data center. Each one can't do without the other, although they probably would very much like to at times. But whether it's seen as a necessary evil or a savior, a data backup app is an essential component of data center infrastructure that every storage jockey and data protection admin learns to live with.
Some of that love-hate relationship spills over into the results we see on our Quality Awards for backup and recovery software surveys. It's the only software category we poll our readers about and, frankly, it's the one that they judge most critically. Against that backdrop, two vendors' backup products stood out: Veritas NetBackup and Veeam's eponymous Backup & Replication app.
Leading a combined field of 15 enterprise and midrange product lines, Veritas is back in the winners' circle -- albeit with a new/old company name -- four years after stringing two consecutive wins together with its flagship NetBackup. For Veeam, this year's win represents an unprecedented three-peat for the upstart backup vendor.
Those exceptional achievements were the results of tallying the valid responses of 233 storage pros who provided a total of 632 product evaluations. Our finalist product lines included six enterprise vendors and nine midrange backup vendors.
About the Quality Awards
The Storage magazine/SearchStorage.com Quality Awards are designed to identify and recognize products that have proven their quality and reliability in actual use. The results are derived from a survey of qualified readers who assess products in five main categories: sales-force competence, initial product quality, product features, product reliability and technical support. Our methodology incorporates statistically valid polling that eliminates market share as a factor. Our objective is to identify the most reliable products on the market regardless of vendor name, reputation or size. Products were rated on a scale of 1.00 to 8.00, where 8.00 is the best score. A total of 233 respondents provided 632 backup and recovery software product evaluations.
Products in the survey
These 33 products were included in the 11th Quality Awards for backup and recovery software survey; the number of responses for each finalist product is shown in parentheses.
Enterprise
Asigra Cloud Backup (on-premises software only) *
Catalogic Software DPX *
Commvault Data Platform (formerly Simpana) (26)
Dell NetVault Backup *
EMC NetWorker (31)
HPE Data Protector (24)
Hitachi Data Instance Manager (HDIM) *
IBM Spectrum Protect (formerly IBM Tivoli Storage Manager) (43)
Microsoft Azure Site Recovery (formerly InMage Scout) (32)
Veritas NetBackup (formerly Symantec NetBackup) (45)
Midrange
Acronis Backup & Recovery (60)
Archiware P5 Backup *
ASG Data Protection and Management Suite (formerly Atempo) *
Arcserve Backup (21)
Barracuda Backup or Yosemite Server Backup (20)
Code42 Software CrashPlanPro *
Dell Data Protection/Rapid Recovery (formerly AppAssure) (22)
Dell vRanger *
Druva Software inSync *
EMC Avamar (25)
FalconStor FreeStor *
Microsoft Data Protection Manager (DPM) (29)
Nakivo Backup & Replication for VMware *
NovaStor NovaBackup *
Paragon Protect & Restore *
Retrospect Inc. Retrospect *
StorageCraft ShadowProtect *
Unitrends Enterprise Backup *
Unitrends Virtual Backup *
Veritas Backup Exec (formerly Symantec Backup Exec) (63)
Veeam Backup & Replication (47)
Vision Solutions Double-Take RecoverNow *
VMware vSphere Data Protection (49)
*Too few responses to qualify
Overall Rankings: Veeam continues to dominate, Veritas bounces back
Enterprise. Four years ago, Commvault and then Asigra displaced NetBackup from the top ranking. Back then, NetBackup's first name was "Symantec," but this year, not only has it regained its winning ways, it has also regained its Veritas moniker, which was lost soon after its 2005 acquisition. Veritas NetBackup won enterprise honors with an overall mark of 5.92. It led the field in four rating categories and finished second in the fifth. NetBackup earned very consistent scores, ranging from 5.78 to 5.89 plus a gaudy 6.29 for its feature set. EMC's NetWorker finished second overall (5.81) by copping the category Veritas ceded -- sales competence -- and coming in second in the remaining four. Commvault, a previous five-time winner, ended up in third this time with a 5.67 overall score.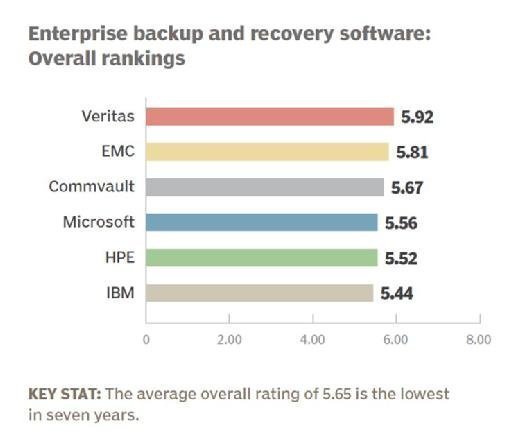 Midrange. Veeam is a veritable juggernaut in the midrange data backup app arena, having racked up three straight overall wins to go along with a second-place finish seven years ago. And Veeam doesn't just win -- it wins convincingly, as it did this time with an overall 6.24 score that easily outpaced it nearest rivals, Barracuda (5.85) and Acronis (5.78). As it did last year, Veeam posted the best marks in four ratings categories and just missed the fifth by a whisker. Veeam was the only product in both the enterprise and midrange groups to tally 6.00-plus scores in all categories. Barracuda notched a couple of category marks over 6.00, highlighted by a win in the sales competence competition. Acronis and Dell Data Protection/Rapid Recovery finished in a dead heat for third place, with each posting 5.78 scores.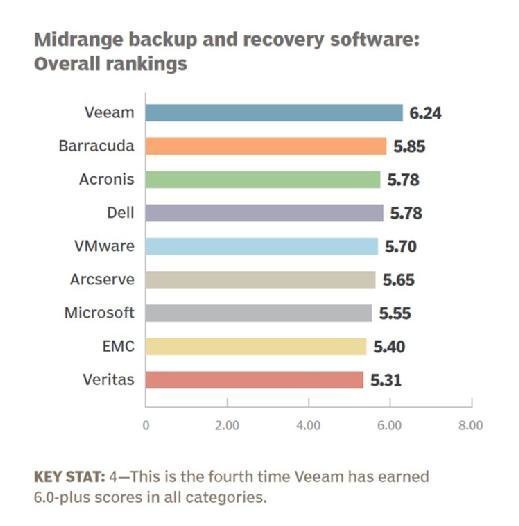 Sales-force Competence: EMC and Barracuda wow backup buyers
Enterprise. EMC and its NetWorker received the best ratings for five of seven statements to cruise to a sales competence category app victory. EMC's best performances were for the "My sales rep is knowledgeable about my industry" statement (6.03) and for having a knowledgeable sales support team (6.00). Commvault and Veritas each had leading statement scores: Commvault's 6.04 was the best mark for "My sales rep understands my business," and Veritas' 5.79 set the pace for "The vendor's licensing formula offers good value" -- an area that was once an Achilles' heel for the NetBackup vendor. Interestingly, the next three finishers (Hewlett Packard Enterprise, IBM and Microsoft) all earned their best sales marks for the knowledgeable support team statement. As a group, the overall poorest showing was an average 5.41 for "My sales rep is easy to negotiate with."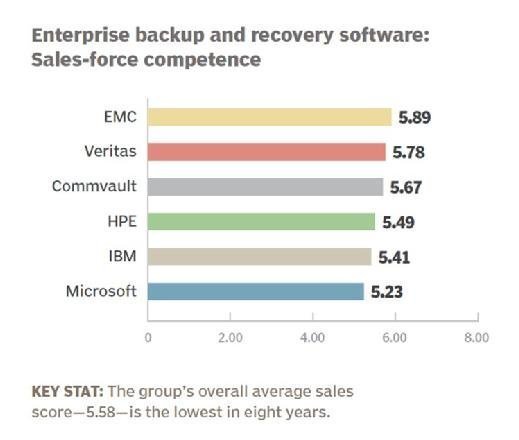 Midrange. Barracuda gobbled up four statement wins to roll up a sales-force competence score of 6.11 to squeak by Veeam (6.08) by a very slim margin. Barracuda posted its best mark (6.50) for reps who are knowledgeable about customers' industries; it also had a couple of 6.36s for flexible sales reps and for "My sales rep understands my business." Barracuda also had the high mark (6.29) for licensing formulas that offer good value. Veeam set the pace for the remaining three statements, highlighted by a 6.23 for having knowledgeable sales support teams and 6.09 for "My sales rep keeps my interests foremost." Microsoft placed third in the category, aided by a flashy 6.27 for sales reps who are knowledgeable about their customers' industries.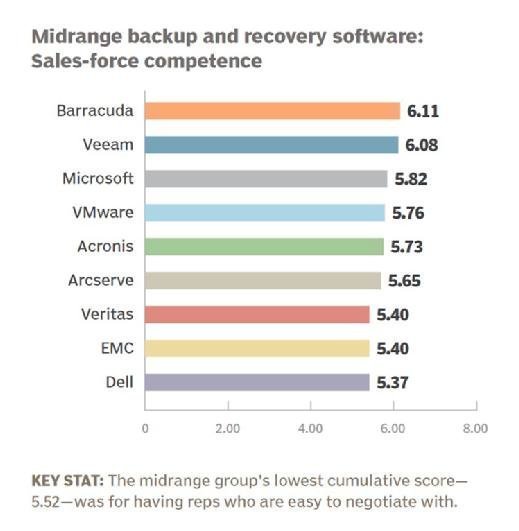 Initial Product Quality: NetBackup, Veeam net top out-of-box experience
Enterprise. Category winner Veritas shared statement honors with EMC and Microsoft for a 1-2-3 finish, respectively. Veritas' top mark -- and the highest mark for any initial quality statement -- was a 6.29 earned for its proficiency with tape (EMC did well on the tape statement too, earning a second-best 6.00). It also led the group for the key statement, "This product delivers good value for the money," with a 6.05, and copped another win for products that don't require professional services. EMC landed in second, propelled by top marks for ease of configuration (5.81) and products that require little daily intervention (5.78). Microsoft tied EMC for easy configuration and posted a head-of-the-class 6.19 for ease of use. Commvault snared the last statement with a 6.12 for "This product was easy to install."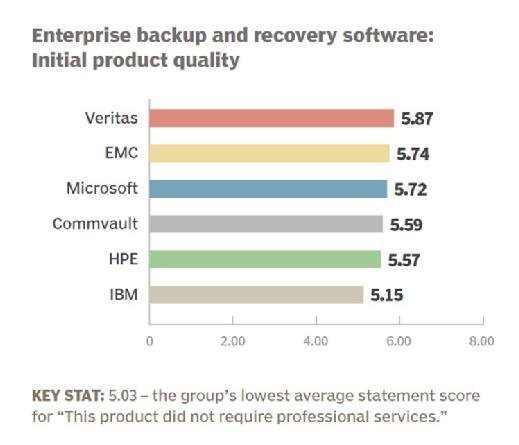 Midrange. Veeam prevailed on five of the seven statements for initial product quality, and just missed the high mark on another for an impressive romp through the category, marred only by a substandard mark for tape handling. It earned its highest grade (6.51) for easy configuration, which was complemented by a 6.49 for ease of use and 6.33 for the "good value for the money" statement. Coming in second and third, respectively, Barracuda and Dell snapped up the remaining two statements. Barracuda's 6.71 for easy installation was the highest statement score for the category. And while Dell posted consistently high scores with its best mark (6.32) for ease of use, its group-leading tally was a 5.94 for "This product uses tape efficiently."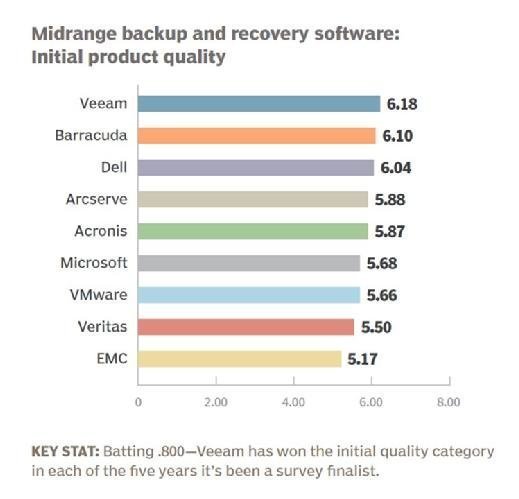 Product Features: Veeam and Veritas boast glitzy feature sets
Enterprise. Veritas' NetBackup showed off its maturity as a full-featured app by sweeping through the features category, winning seven of eight rating statements. It was also the only product that netted 6.00-plus grades for all statements, highlighted by a pair of 6.41 scores for "This product's file system backup features meet my needs" and for database backup features. Veritas also scored well for archiving features (6.36), management features (6.34) and backup to disk functionality (6.33) -- coming in second to EMC (6.45) on the latter statement. EMC also did well for file system backup features (6.24), and tallied 6.00 scores for database backup and being a "complete solution." Commvault's feature set garnered four 6.00-plus scores for a second-place tie with EMC. Commvault highlights included a 6.32 for backup to disk functionality, and two 6.12 marks for archiving and database backup.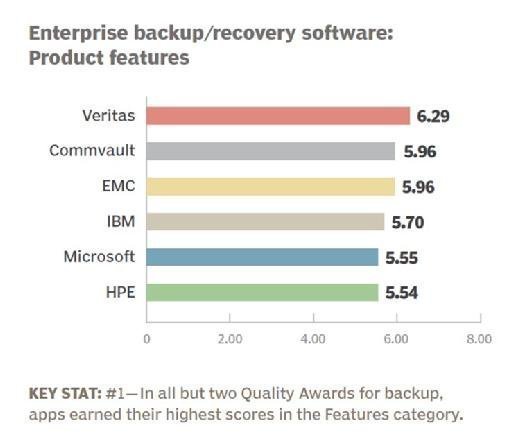 Midrange. Whoosh! That was the sound of Veeam tearing its way through the features category, scoring highest on every rating statement. Veeam's performance reads like a looping highlight reel, but its standout grades include a 6.60 for backup to disk functionality, 6.52 for file system backup, 6.41 for database backup and 6.37 for management features. In the face of that stiff competition, Acronis and Dell also fared well with Barracuda nipping at their heels. Acronis second-place finish came courtesy of a 6.21 for the backup to disk statement, along with solid scores for file system backup (6.05) and ability to scale to meet new requirements (6.00). Dell also fared well for backup to disk (6.05) and added twin 5.95s for management features and interoperability with other products.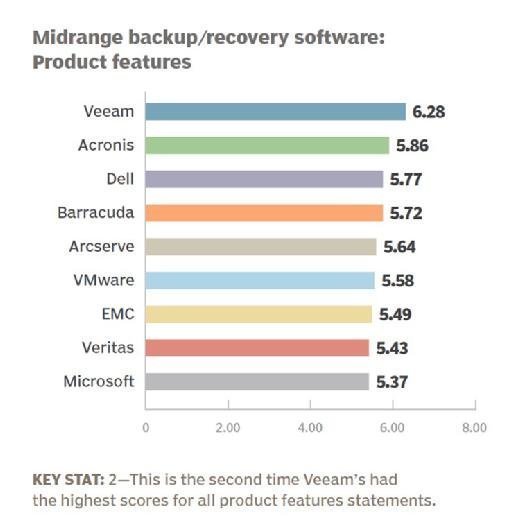 Reliability: "V" apps -- Veritas and Veeam -- lead reliability ranks
Enterprise. Reliability is a key trait for any piece of software, but even more so for data backup apps, which tend to have for-better-or-worse relationships with data centers. Veritas NetBackup has been in the trenches for a long time, and its record of reliability is reflected in the vendor's six of eight category statement wins. Its top tallies came for OS and platform support (6.26) and a 6.14 for "The product meets my service-level requirement." Microsoft, a first-time finalist in the enterprise group with its InMage Scout-based product, finished third with the best marks on the remaining two statements: 5.83 for patches and upgrades that can be applied nondisruptively, and 5.79 for being able to run in lights-out mode. Sandwiched in between in second place, EMC NetWorker scored consistently across all statements, with a high of 5.92 for its OS and platform support.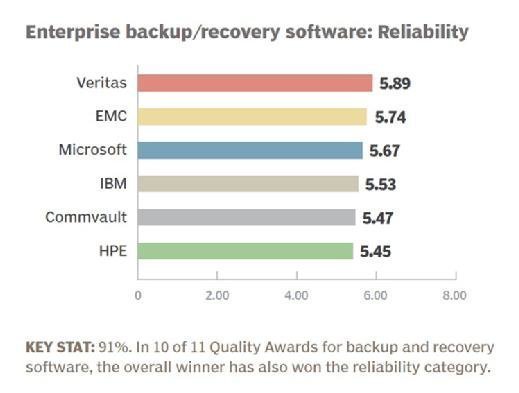 Midrange. Whoosh (again)! Yes, once again, that's the sound of Veeam scorching a path through a rating category, winning all eight statements. Highlights of this, Veeam's highest category, include a 6.58 for meeting service-level agreements, 6.53 for "This product experiences very few bugs" and 6.47 for OS and platform support. The rest of Veeam's statement scores were all north of 6.00 -- the only product with that distinction. Dell snagged second place with an impressive 5.92 score, based on a 6.09 for meeting SLAs and two 6.00s for OS and platform support and easy and intuitive error handling. Acronis rolled up a series of consistent scores to finish third, with its best showings coming on the platform support statement (6.18) and meeting SLAs (5.95).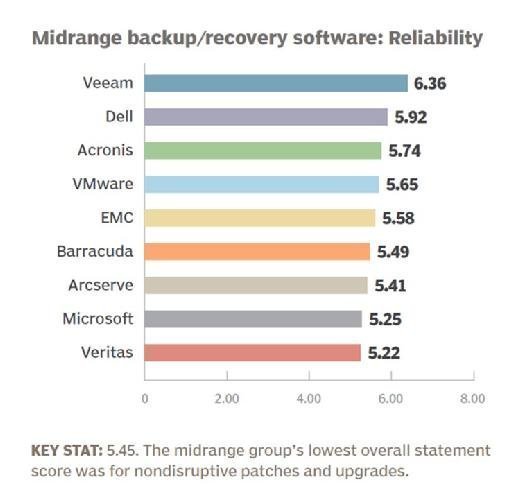 Support: Veritas and Veeam claim tech support wins
Enterprise. Support was the most closely contested category, but Veritas -- leveraging four of seven statement wins -- prevailed once again, with a 0.04 point margin over EMC. Commvault snapped up the final two statements to outdistance Microsoft and claim third place. Veritas collected the best marks for documentation and supporting materials (6.02), for having knowledgeable third-party partners (5.91), for the statement "Support issues rarely require escalation" (5.76) and for providing adequate training (5.74). EMC copped the highest single statement score (6.14) for supplying support as contractually specified. Commvault earned its statement wins for having knowledgeable support personnel (5.88) and resolving problems in a timely manner (5.60).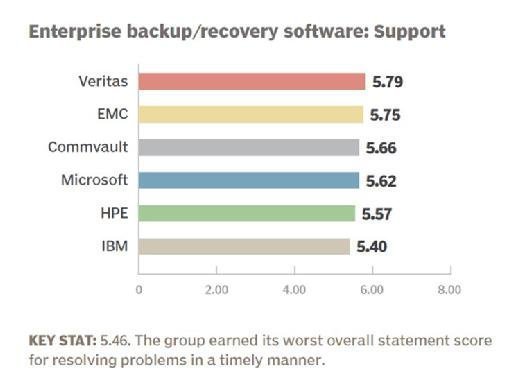 Midrange. Veeam enjoyed its widest margin of victory in the support category, as its 6.31 outstripped second-place VMware by 0.46 points. With victories in six of the seven category statements, Veeam was once again nearly infallible. VMware (5.85) made it to the awards podium without winning a statement, but with exceptionally consistent marks across the board, highlighted by a 6.02 for "Vendor supplies support as contractually specified." Third-place Barracuda fell short of tying VMware by the smallest of margins (0.01 point), but posted an impressive 6.50 for delivering support as promised. Still, Veeam dominated again, earning a 6.56 for that same statement while adding high marks for knowledgeable support personnel (6.50), support issues that rarely require escalation (6.37), having knowledgeable third-party partners (6.37) and for its documentation (6.31).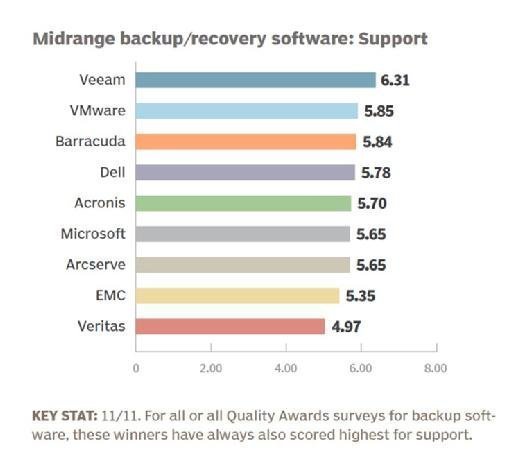 Ultimate Decision: Would you buy this product again?
Enterprise. Microsoft came out of nowhere in the enterprise category to claim an overall fourth-place finish -- a very respectable showing for a first-time finalist. But its data backup app is apparently even more endearing to users than fourth place suggests, as 91% said they'd plunk money down again for Redmond's product given what they now know. We've found it's not unusual for the "buy again" percentages to run a bit counter to the category ratings, but the next three on the buy again list -- Veritas (87%), Commvault (85%) and EMC (84%) -- were the overall top three scorers, although not in that order. As a group, the buy again mark was 83% -- the highest (by a single percentage point) we've ever seen for enterprise data backup apps.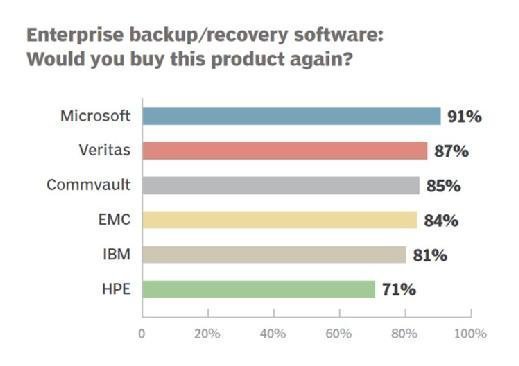 Midrange. The "buy again" scores for midrange backup software were more in line with the results of the category scoring. Veeam stayed on top, with an overwhelming 96% of its users in this survey saying they would gladly come back for more. Acronis and Dell (third- and fourth-place finishers in the overall ratings) each moved up a notch in the buy again sweepstakes, as 88% and 86%, respectively, said they would buy their software again. Barracuda and VMware, which sandwiched Acronis and Dell in the overall rankings, were next in line as 78% of users of both products said they'd make those purchases again.