Sergey Nivens - Fotolia
Micro Focus Data Protector gets Express, Premium treatment
Version 10.10 of Data Protector marks a new chapter in the backup and recovery product's long history, which goes back to years under Hewlett-Packard.
A veteran data protection product has changed its focus.
Micro Focus Data Protector now comes in two editions: Premium and Express. Both are generally available.
Data Protector Premium is for virtual, physical and cloud workloads, while Express protects virtual environments. The sweet spot for Premium is the enterprise, while Express is geared toward SMBs and the enterprise, said Balaji Venkatraman, senior director of product management at Micro Focus, based in the U.K.
Micro Focus integrated Data Protector Premium with its IT operation tools, including its Business Value Dashboard and Operations Orchestration products. Native integration can speed the backup and recovery processes, and it provides common reporting and analytics.
Data Protector Express provides agentless protection for VMware and Hyper-V workloads, virtual machine recovery, and integrated reporting and analytics.
A 'Focus' on streamlining
Data Protector is part of Micro Focus' IT operations management group. Micro Focus also has groups for DevOps, security and data management, and predictive analytics.
Features such as encryption, which were previously sold as stand-alone services by Micro Focus, are now bundled with Data Protector, Venkatraman said.
Those services that used to be "a la carte" are now part of a product set that's reasonably priced and easy to understand, said Steven Hill, senior analyst of storage technologies at 451 Research.
"They're trying to pull everything together," Hill said.
Version 10.10 of Micro Focus Data Protector contains the two new products.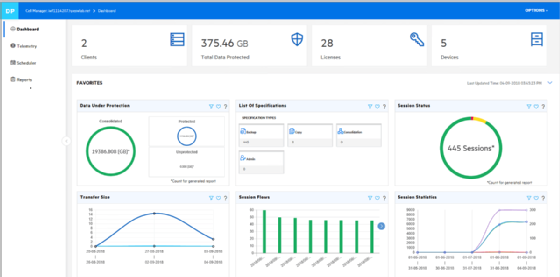 Being able to pull off data protection across all platforms -- virtual, physical and cloud -- is tricky, Hill said, but Micro Focus offers all of the services a customer would need for backup.
Customers are looking for a simple way to deal with data protection and their infrastructure, Hill said, adding that Micro Focus Data Protector would be a good fit for any environment that involves a number of different platforms.
How Micro Focus Data Protector fits in the market
They're trying to pull everything together.

Steven Hillsenior analyst of storage technologies, 451 Research
Data Protector has been on the market for more than 20 years, first under Hewlett-Packard, then Hewlett Packard Enterprise (HPE) and now Micro Focus.
The new Data Protector launch comes a year after Micro Focus closed on its acquisition of HPE's software business for $8.8 billion. That merger brought HPE's longtime Data Protector backup app over to Micro Focus.
Venkatraman cited Veeam, Commvault, Veritas NetBackup and Rubrik as top competitors to Micro Focus Data Protector. Veeam especially has been pushing its capability to protect virtual, physical and cloud workloads, a hallmark of the Data Protector Premium edition.
Data Protector Premium has capacity-based licensing, while Express features socket-based pricing. Customers can upgrade from Express to Premium, if necessary.
Venkatraman said Micro Focus will continue to support the prior product and pricing structure, although that product set will have an end of life. He said he didn't know the exact date yet, but it's typically four years out from general availability of the new product. In addition, Micro Focus offers a migration path from the previous iteration of Data Protector to Express or Premium.
Micro Focus claimed it has 6,500 Data Protector customers worldwide.
Dig Deeper on Data backup and recovery software