markrubens - Fotolia
As public cloud adoption grows, new drawbacks discovered
Public cloud adoption has grown, but some companies find benefits are offset by high egress charges, hidden and complicated bills and added IT complexity.
Public cloud adoption is proving to be more costly for some companies than they expected.
A recent survey conducted by U.K.-based tech research company Vanson Bourne asked 900 IT leaders if the public cloud has delivered on all of their organizations' expected benefits. Only 32.2% of respondents said all their expectations were met, while 58.1% said some expected benefits came to fruition and 9.6% said only a few of their expected benefits were achieved. The remaining 0.1% said they saw no benefit to public cloud adoption at all.
The study, which was commissioned by enterprise storage and data management company Cohesity, also found that 88% of respondents said they were given mandates from their company's leadership to use public cloud more. That number is further broken down into 38.3% who said they are using the public cloud efficiently and fully reaping benefits, 40.7% who said they are struggling to effectively benefit from public cloud adoption and 8.7% who are executing public cloud adoption just to appease leadership.
One of the conclusions of the study is that there is a disconnect between senior management and IT. The expectations of public cloud adoption included lowering costs, simplifying IT operations, increasing business agility and providing insight into the organization's data.
"The mandates may have come from people who aren't IT, but on the business management side of things," said Peter Linkin, senior director of enterprise marketing at Cohesity. "There's a command to move there without fully understanding the implications."
George Crump, founder of storage analyst firm Storage Switzerland, has seen this story play out in his consulting experience. He said companies start off by adopting the public cloud for workloads like backup and disaster recovery (DR) and successfully saving money. The problems begin when there is a long-term vision to shrink the data center or remove it entirely. These organizations are often motivated by a belief that removing the physical footprint would lower costs, free IT staff from mundane maintenance tasks or lead to other benefits. Crump said it's not that simple.
"The cloud at scale becomes expensive and more complicated," Crump said.
Crump said the public cloud's No. 1 expense is egress fees, where organizations are charged to pull data back off the cloud. I/O processing fees also make up part of the costs, along with long lists of line items that cloud service providers (CSPs) might charge. Crump said modern day CSP bills are complex and hard to decipher.
Fred Moore, president of storage consultant Horison Information Strategies in Boulder, Colo., said organizations are frequently blindsided by those costs. He said there is little awareness of things like storage fees, access fees and charges for higher response times and geographic redundancy zones.
The cloud providers don't go out of their way to help you learn these things. They don't like to talk about their pricing models.

Fred Moore President, Horison Information Strategies
"The cloud providers don't go out of their way to help you learn these things," Moore said. "They don't like to talk about their pricing models."
Palmaz Vineyards CEO Christian Gastón Palmaz had to pull his proprietary algorithmic fermentation control system off of the cloud due to egress charges and latency issues. He initially thought public cloud adoption was going to save him more money than storing everything on premises until he received his first bill.
"To put a petabyte on the cloud is one thing, but pulling that data off the cloud was expensive," Palmaz said.
Palmaz Vineyards currently stores most of its data on premises, including backup data. It only uses the cloud for cold storage, with 280 TB of archived data on Amazon Glacier.
"When people come back in from the cloud, that's a real headache," Moore said. "It could take a month to download everything back into the data center. That's when you just want to roll up a truck full of tapes -- it's actually faster."
Aside from egress charges, public cloud adoption can add complexity to an organization's IT infrastructure and lead to lower productivity. In the Vanson Bourne study, 75% of respondents said they had to spend considerable time and effort integrating data center and public cloud environments for effective data management. The survey also found that 45% of respondents believe their IT teams are spending between 30% and 70% of their time managing secondary data across public clouds.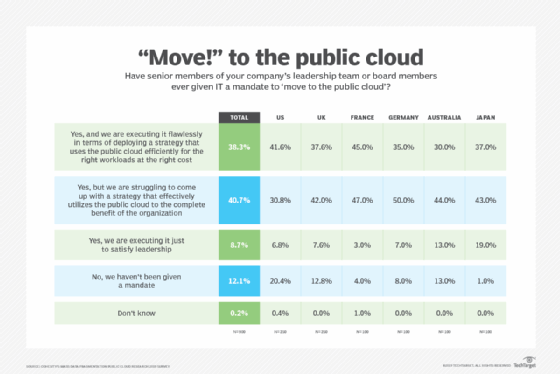 The biggest concern with public cloud adoption was compliance risks, with 48.9% of respondents citing that. Egress charges were actually third on the list, with 42.3% of respondents saying they were concerned about them. However, Crump and Moore said they've seen organizations scale back their public cloud operations as a direct result of the latter.
Crump did pointed out he's not seeing companies leaving the public cloud in droves. Even if they aren't completely happy with their cloud journey, some companies would rather eat the costs than go through the hassle of returning to the data center. This is why it's important for organizations to assess and truly understand what they should and shouldn't put on cloud in order to avoid increasing their overall costs rather than lowering them.
Crump said organizations need to be smarter about differentiating which applications and data sets should go to the cloud rather than assuming the cloud is always the right choice. He said legacy applications that weren't designed to work in cloud environments and workloads that are performance-intensive, either in terms of storage or CPU-usage, usually should likely stay on premises. Backup and DR are ideal workloads for cloud because it is data that isn't accessed frequently.