Minerva Studio - Fotolia
Druva backup user highlights importance of data searchability
Regeneron saved money by switching from on-premises Data Domain to cloud-based Druva backup. But the real value came from creating a searchable data lake for all its research data.
SAN FRANCISCO -- Druva backup wasn't just about data protection for Regeneron Pharmaceuticals. Instead of separated silos for pharmaceutical research data, the biotech company was able to create a consolidated, searchable data lake off of the backups.
At a panel at VMworld 2019, Curt Hayes, senior manager of data protection and recovery at Regeneron, said his problem was as much a data protection issue as it was a data management issue. Regeneron, with headquarters in Tarrytown, N.Y., had different backup products for virtual machines, physical servers and storage devices. This led to multiple silos where backup copies of research data lived, and was compounded by a lack of discipline among researchers on where they stored their primary data.
"We have these scientists who generate a ton of data day in and day out and they're just going to put it anywhere they want," Hayes said.
After purchasing Druva backup, Hayes said he was able to point all the organization's different production environments to Druva's cloud as the backup target, enabling him to create what he described as a consolidated data lake. He is currently in the process of refining a tagging mechanism to make this pool of data easier to search, which would help Regeneron's overall drug discovery business.
"Scientists can now take this data and search it," Hayes said. "It's getting the data to the scientists so they can use it to discover more drugs and help more patients."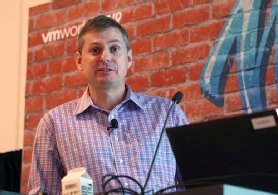 Making the move to cloud-based backup
Regeneron was previously using Veritas NetBackup software and Dell EMC Data Domain hardware, with a little bit of Quest Software vRanger. When the company's Ireland office was due for a hardware refresh, Hayes used it as an opportunity to explore cloud-based backup and switching to a subscription pricing model. Going off-premises was important to Hayes because he didn't want to continually buy more hardware, and pay-as-you-go was interesting because it allowed him to avoid overprovisioning storage space for backup.
"We don't want to build data centers," Hayes said. "Our business is science and data."
We don't want to build data centers. Our business is science and data, and its lab space is for the mice and for the people.

Curt HayesSenior manager of data protection and recovery, Regeneron Pharmaceuticals
Someone in Regeneron's small London office brought Druva to Hayes' attention, which started his plan of deploying Druva backup to all of the company's locations. Hayes said he didn't seriously consider any other backup vendors, as his company already had an established relationship with Druva. He also mentioned there weren't too many vendors offering backup as a service at the time. Now, many vendors like NetApp, Acronis and Actifio offer subscription service versions of their core backup products.
In order to sell the idea to his superiors, though, Hayes needed hard numbers to show that Druva backup was a worthwhile investment. He found that simply switching to cloud-based backup and removing any further investment in hardware and software for his previous backup products would reduce his total costs by 14%. Adding Druva's disaster recovery capabilities boosted those savings to 42%. After adjusting cloud tiering costs using Druva's recently introduced intelligent cloud tiering capability, Hayes said that he would potentially be looking at 70% savings in the near future.
Hayes said saving money wasn't his primary goal, and he was much more interested in a vendor that could simplify his infrastructure. Switching to cloud-based backup as a service gave him more predictable costs, shrank his data center, consolidated his organization's data and made it searchable.
He said the only drawback he noticed was performing backup processes -- such as creating and uploading copies and recovering them from the cloud -- took a couple of minutes longer than with a local, on-premises setup. However, he is still hitting his recovery time objectives and recovery point objectives without trouble.
Regeneron is still in the middle of standardizing all of its backup across all of its offices to Druva. The Ireland office is done but the Tarrytown office -- the company's research hub and the source of most of its research data -- is in the middle of transitioning from legacy on-premises backup to Druva, and some of the other offices are still using tape. Hayes said when he gets Druva working at those locations, he'll simply stop writing to tape. He has no plans of converting the data from the existing tapes to the Druva cloud, as the amount of work that takes isn't worth it.

"We'll probably just let it die on the vine," Hayes said. "We'll keep it around until we are told by legal to get rid of it."