pixel - Fotolia
Commvault acquires Hedvig storage for $225M, moves beyond backup
Commvault makes its first acquisition: software-defined storage vendor Hedvig, with plans of converging primary and secondary storage to serve data management needs.
In a bid to move into scale-out software-defined storage, Commvault dropped a hefty $225 million to buy Hedvig.
Commvault's first acquisition came seven months after Sanjay Mirchandani became CEO, replacing Bob Hammer, who had led the company for 20 years. Commvault disclosed its plans to make the acquisition Wednesday.
Hedvig's software-defined storage expands Commvault's capabilities into primary storage. The backup vendor plans to integrate Hedvig's technology into its products, converging primary and secondary storage.
Rajiv Kottomtharayil, chief product officer at Commvault, said Commvault made the deal to prepare for a hybrid and multi-cloud world that is becoming increasingly fragmented. He said customers find it difficult to manage data created in multiple cloud-native applications and stored in different silos. The quickest way for Commvault to bring a product to market to address the problem was through acquisition.

"We see the convergence of primary and secondary storage happening very soon to take control of data fragmentation," Kottomtharayil said. "Hedvig had all the right capabilities we were looking for."
Hedvig will continue to operate independently at least until the end of the fiscal year (March 31), said Don Foster, Commvault's vice president of storage solutions. As the companies go through a period of "strategic integration," Foster said Hedvig's approximately 50 employees will be offered positions at Commvault, and none of Hedvig's less than 50 customers will notice anything different. Even the partnership and integration programs Hedvig has, such as its relationships with Commvault rivals Veeam and Hewlett Packard Enterprise, will remain unchanged for the time being.

"They'll continue to operate as their own separate entity at least until the end of this fiscal year, and then we'll discuss more strategic integration plans going forward from there," Foster said.

Avinash Lakshman, CEO of Hedvig, will join Commvault's leadership team. He said making this deal with Commvault will allow Hedvig to tap into Commvault's channel partner ecosystem and customer base, accelerating his company into the enterprise market space.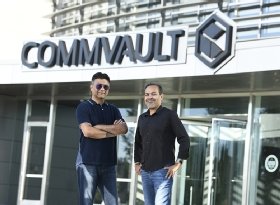 "This will help Hedvig penetrate into the enterprise much faster than we might have been able to do independently," Lakshman said.
Commvault's products include its flagship Complete Backup and Recovery software, as well as a HyperScale scale-out backup product that is sold as software or packaged on an appliance.
The Hedvig Distributed Storage Platform software can run on x86 servers, enabling customers to provision iSCSI block storage, NFS file storage and object storage. Hedvig software supports flash and hybrid storage nodes mixing flash and hard disk drives. Its storage management features include thin provisioning, encryption of data in flight and at rest, volume snapshots and clones and inline data deduplication and compression.
Hedvig can also run on Amazon Web Services, Microsoft Azure and the Google Cloud platform.
Lakshman started Hedvig in 2012, and is credited with helping to develop DynamoDB at Amazon and the Cassandra distributed storage system at Facebook in previous jobs. The startup raised $52 million in funding, with its last round bringing in $21.5 million in March 2017.
Hedvig's product line can help Commvault grow revenue. In Mirchandani's second quarter as CEO, Commvault reported revenue of $162.2 million, down eight percent from last year.
Naveen Chhabra, senior analyst at Forrester Research, noted that Commvault's revenue has been performing shakily the past few years. According to his research, Commvault's integrated backup appliances haven't been selling well, partly because the technology scales poorly as enterprises reach terabyte- and petabyte-levels of data. Commvault lost market share to younger competitors Rubrik and Cohesity, which sell backup products that scale better.
It's about thinking ahead. I think it makes a lot of strategic sense to have Hedvig on their side.

Naveen ChhabraSenior analyst, Forrester Research
Chhabra noted that the acquisition is a positive move for Commvault and showed the company is working to solve its scaling problem. When a company needs a new capability – software-defined storage, in Commvault's case – it typically has to build the technology themselves, partner with a company that has it or buy the company with the technology. Chhabra said Commvault recognized the fastest go-to-market strategy would be to acquire Hedvig.

"It's about thinking ahead. I think it makes a lot of strategic sense to have Hedvig on their side," Chhabra said.

Christophe Bertrand, senior analyst at Enterprise Strategy Group, said Hedvig paves the way to a complete data storage and management platform for Commvault. However, Bertrand doesn't expect Commvault to stop there, and "just be another Rubrik." Rather, Bertrand said he expects Commvault to invest in analytics and compliance -- coming up with intelligent uses of data after building a system to seamlessly capture, protect and migrate it.
"The key isn't where we are today, it's where it can lead to," Bertrand said. "They're putting together the ability to do more with data."