JRB - Fotolia
Emerson Electric consolidates on Nutanix, Commvault
As part of a project to get its branch offices and business units on the same backup product, Emerson Electric used Commvault to simplify, save money and lower its RTO and RPO.
Emerson Electric wanted its many offices and businesses to be on the same page when it came to storage and backup.
The Fortune 500 manufacturing company has approximately 76,500 employees and nearly 1,000 individual business sites. Emerson Electric has had numerous acquisitions over its history, including pneumatic components manufacturer Aventics and food waste disposal system manufacturer InSinkErator.
All of those businesses complicated things because each new acquisition brought in their own IT products for their individual needs, said Zachary Kruszewski, design engineer at Emerson Electric. That forced Emerson's IT team to work with multiple vendors and track which site used which vendor.
"Each business unit is out there doing their own thing," Kruszewski said.

In his projections, Kruszewski found that Emerson Electric will have about 8.5 PB of secondary data by fiscal year 2021, and twice that number on the primary side.
Kruszewski knew he needed a way to consolidate and standardize every office onto the same platform. In 2016, he started deploying Nutanix hyper-converged infrastructure at each remote site, which would give him scalability, centralized governance and a single pane of glass. He estimates about 35% of the sites are on Nutanix now, with the rest on VMware. His goal is to reach 50/50 by the end of this year.
When Emerson Electric adopted Nutanix, the MSP it worked with recommended Commvault for data management and backup because of its deep integrations with Nutanix. Kruszewski said Commvault's workflow automation also influenced his purchasing decision. Before Commvault, Emerson used Dell EMC for data protection.
Kruszewski said while simplification of a complex environment was an incentive, the ultimate driver for standardizing came down to raw financials. He said the Nutanix-Commvault combination allowed Emerson Electric to scale out instead of scale up, which is more affordable and sustainable. Consolidating storage, virtualization and data protection also allowed him to combine roles and reduce his IT staff from 24 people to 18. Lastly, he calculated an overall 45% lower total cost of ownership with Commvault compared to Emerson's previous Dell EMC setup.
"We were supporting many different tools. With Commvault, we went from nine interfaces to just one," said Mark Lawler, data protection service owner at Emerson Electric.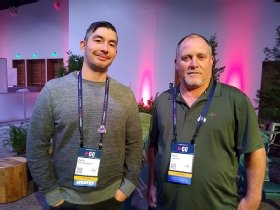 Lawler described Emerson Electric's standardization initiative as part of a mission to find out everything about every office and every business unit within the company. That will enable Emerson to and work out the best way to fold its IT into the Nutanix-Commvault setup. He said Emerson's biggest problem is the lack of visibility on its globally distributed sites, so the first step is gaining that visibility.

"Right now, we don't even know what products people are using," Lawler said.
Kruszewski said he is considering deploying Commvault's recently launched SaaS venture Metallic for the few edge cases where it makes more financial sense for a site to use a separate product. He said ideal candidates for this would be newly acquired companies and remote offices.

"I would say we have a few use cases [for Metallic], like acquisitions and possibly some remote stuff, instead of integrating them into our existing CommCell," Kruszewski said.
However, he is trying to avoid that if possible, as the original mission was consolidation. Also, it would come down to financials -- Kruszewski said Commvault lets him protect data for 5 cents per gigabyte, and Metallic is starting at 20 cents per gigabyte, so there would have to be other factors such as bandwidth or additional network burden to push him to adopt Metallic.