maxkabakov - Fotolia
Quantum tape gets repackaged into turnkey ransomware defense
Quantum says tape's main perk is as an air-gapped defense against ransomware. Its new Ransomware Protection Packs combine tape libraries with a built-in, off-network vault.
Quantum wants to remove the human element from handling tape, which would greatly reduce the chance of tapes getting damaged or contaminated.
Quantum's new Ransomware Protection Packs are hardware and software bundles that combine a Quantum tape library with a built-in vault partition. The partition is not connected to any network or any software that writes to tape. The robot inside the device physically moves the tape into the offline vault, and the backup software will see it as ejected. The goal is to create tape-based backup copies of data and move them to an area ransomware and malware can't reach, but still within the same physical appliance.
Quantum launched three pre-defined bundles, ranging from 600 TB to 2.4 PB of storage. Each bundle includes a Quantum Scalar tape library (i3 model for small, i6 for medium and large) and the Active Vault software that generates and manages the offline partition within the library. Other tape vendors such as Spectra Logic and IBM have similar capabilities that allow for partitioning within their tape libraries. However, Quantum's Active Vault uniquely creates offline partitions that aren't connected to networks or backup applications.
Neither the Scalar libraries nor Active Vault are new products from Quantum. The vendor ported Active Vault to all its libraries and repackaged them together into ransomware protection products. Previously, Active Vault was only offered on enterprise products and used by large media companies to vault their digital data archives.

The idea of moving tapes to a vault isn't new either. Many businesses ship tapes to off-site facilities, often to vendors who offer tape vaulting services such as Iron Mountain. It is a common way to satisfy the 3-2-1 rule of backup.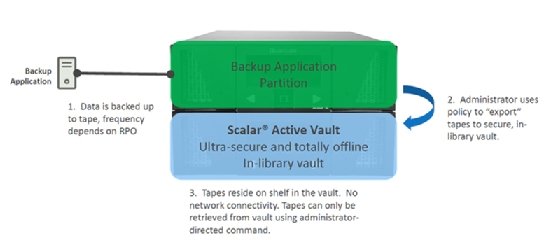 But the new Quantum tape products allow for in-library vaulting, which cuts out the need to handle tapes or transport them. Enterprise Strategy Group (ESG) senior lab analyst Vinny Choinski, who is currently researching how enterprise customers are using tape, said tape is more reliable than disk -- with the caveat that no one ever touches it. Tape is a stable medium at rest, but risks getting damaged or corrupted when moved.
"Tape is actually more reliable than spinning disk. The errors that come in are human errors -- people handling tapes and moving them," Choinski said.
Tape was commonly the method of moving large amounts of data out of a business's data center, and the Quantum Ransomware Protection Packs don't provide that. However, Eric Bassier, senior director of product marketing at Quantum, made the argument that tape is no longer useful as an off-site backup medium -- that's what cloud is for. Instead, tape's advantage comes from being air gapped, and it's still the most cost-effective medium for storing large amounts of data long-term and off-network.

"Tape's role now is about being offline, not off-site," Bassier said.

Christophe Bertrand, senior analyst at ESG, agreed about the shifting role of tape. He said other than archiving massive data sets, the other main use of tape is to create an isolated, disconnected layer. This second use case has gained more relevance thanks to increasingly sophisticated ransomware. Bertrand said businesses no longer use tape as their primary target for backup, but they do still use its air gapping capabilities to keep data out of reach of cyberattacks.

Bertrand said tape still has a role to play in data centers, but there's a skill gap among IT teams as administrators with tape knowledge are aging out of the work force. Although his research did not specifically focus on the tape medium, he found that cybersecurity and data protection expertise is lacking in today's IT world.
"There's a new generation of people in data centers," Bertrand said.

Bertrand said Quantum's Ransomware Protection Packs don't require tape expertise to use and appear to be designed with IT generalists in mind. This accessibility is important, as he foresees tape becoming relevant again because of ransomware's continuing threat.